Highlights

Footballer Ronaldo is set to launch his NFTs soon in collaboration with the Binance exchange
A multi-year partnership has been signed, according to which, Ronaldo will contribute to designs of NFTs.
NFTs have been a mixed bag so far, with some of the artworks from artist Beeple being the most expensive
More than cryptocurrencies, it is the non-fungible token (NFT) space that appears to be buzzing at the moment. Earlier, if it was eBay that acquired a marketplace KnownOrigin recently, and actor Keanu Reeves, who pledged his support to NFT artists, now, it is Cristiano Ronaldo, who is set to come up with NFTs soon.
Ronaldo, also one of the most followed sportspersons in the world, has partnered with a major cryptocurrency and NFT exchange. Let's explore this.
Cristiano Ronaldo to launch NFTs with Binance
Ronaldo has joined forces with the Binance exchange to promote digital assets. Binance is calling this a moment that can bring the footballer's fans closer to Web 3.0. NFTs are considered a critical part of this new iteration of the internet, which is claimed to be decentralised.
Ronaldo and Binance can launch their first collection this year, the exchange has said in a press release. The partnership will extend to multiple years, with Ronaldo releasing a slew of NFT collections exclusively for Binance's NFT platform. The underlying artworks will be designed together with Ronaldo, Binance has stated.
Also read: NFT Corner: Coach's NFT drop; Keanu Reeves to help NFT artists
What are NFTs?
NFTs are a big part of the wider cryptoverse. These digital assets are also based on blockchain technology. Every NFT represents a certain, unique piece of work as art or music. With the use of NFT, the ownership of this work can be registered on any blockchain network like that of Ethereum's.
Ethereum provides major services, from minting to purchasing, in the NFT space.
Also read: What is the link between KnownOrigin, NFT marketplace and eBay?
Expensive NFTs
Cristiano Ronaldo's NFTs are yet to be launched, and it is early to speculate whether they would take the market by storm. The NFT history has been a mixed bag so far.
Last year was exceptionally good for NFT enthusiasts. Some of the assets from the CryptoPunk and BAYC projects fetched millions of dollars in sales. NFT artists Pak and Beeple are the two most popular names. Beeple's previous works are some of the most expensive NFTs ever sold.
This year, from singer Madonna to tennis player Coco Gauff, many have released their NFTs. The success of last year, however, could not be repeated.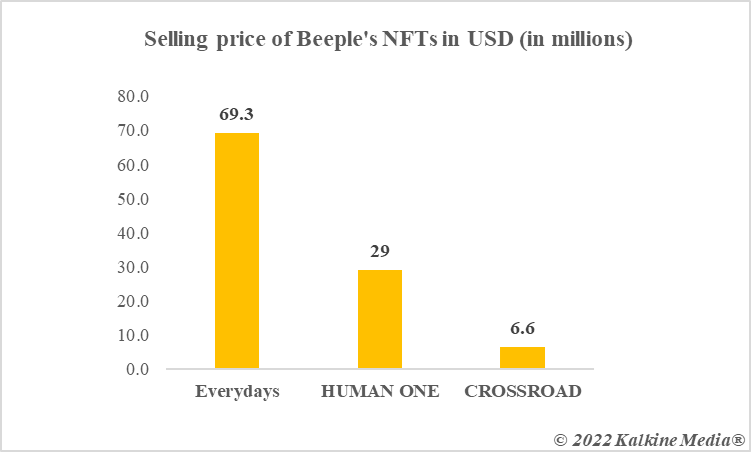 Bottom line
Footballer Cristiano Ronaldo indeed has a global appeal. Across the globe, cryptocurrencies and NFTs are an emerging asset class, but people are wary of wild price swings. Ronaldo's entry into the game through the Binance platform might bring some positive results.
Also read: 2 NFT cryptos to keep a tab on as eBay acquires KnownOrigin
Risk Disclosure: Trading in cryptocurrencies involves high risks including the risk of losing some, or all, of your investment amount, and may not be suitable for all investors. Prices of cryptocurrencies are extremely volatile and may be affected by external factors such as financial, regulatory, or political events. The laws that apply to crypto products (and how a particular crypto product is regulated) may change. Before deciding to trade in financial instrument or cryptocurrencies you should be fully informed of the risks and costs associated with trading in the financial markets, carefully consider your investment objectives, level of experience, and risk appetite, and seek professional advice where needed. Kalkine Media cannot and does not represent or guarantee that any of the information/data available here is accurate, reliable, current, complete or appropriate for your needs. Kalkine Media will not accept liability for any loss or damage as a result of your trading or your reliance on the information shared on this website.