Highlights

NFTs are launched almost on a daily basis, with big names like Coca-Cola also jumping on the bandwagon
Funko Digital Pop! provides access to physical collectibles alongside its digital NFTs
Phanta Bear NFTs are quite new, said to be designed by streetwear fashion brand PHANTACi
If you haven't been living under a rock, you are probably aware about NFTs and cryptocurrencies. Even though both make use of the decentralised ledger tech, the two asset classes are quite different. The former indicates ownership of a unique item, for example a digital painting, while the latter is often a medium of exchange within an ecosystem, for example ETH in Ethereum.
NFTs, short for non-fungible tokens, have their share of enthusiasts. From celebrities like Snoop Dogg and Madonna to brands like Coca-Cola and Adidas, NFTs have been launched by many big names to connect better with their fans. Now that CryptoPunk and BAYC are already so popular, which are the new and relatively unknown NFTs on the block? Let's explore.
Funko Digital Pop!
The Funko NFT project has combined NFTs with physical collectibles. Funko Digital Pop! is essentially an NFT, but can also provide access to real tangible collectibles when redeemed.
The project plans to drop its NFTs first, which after 120 days will allow the holders to receive a "redemption token". This token can be used to grab a physical collectible within a month's time. Funko has dropped its Kellogg's and Nickelodeon NFT series in the past, which according to the website are all sold out. Funko drops can be accessed on a relatively new NFT platform Droppp.
Outside the NFT world, Funko had already been selling its physical collectibles, representing characters from Disney, Marvel, and other spaces.
Phanta Bear NFT
Phanta Bear appears to be a typical NFT and metaverse combination. Each Phanta Bear, it is claimed, will be unlike others. The metaverse of the project is titled Ezek.
A collection of 10,000 NFTs, the Phanta Bear project has used the services of Ethereum's blockchain. Listed on the OpenSea platform, the floor price of each NFT is 0.8 ETH, as of writing. PHANTACi, a clothing brand and creator of Phanta Bear, claims that NFT holders can later have access to physical items like t-shirts and accessories.
Also read: Top 3 metaverse cryptos by market cap: AXS no longer on list
Most popular NFTs
Phanta Bear NFTs are yet to become as popular and expensive as the NFTs of CryptoPunk or BAYC. Artists like Beeple and Pak are by far the most popular names in the NFT world. Beeple's artworks can invite bids in tens of millions of dollars. The digital artist also partnered with Madonna this year for the latter's NFT launch. In terms of NFT and metaverse combination, Bored Ape Yacht Club (BAYC) is arguably the most famous.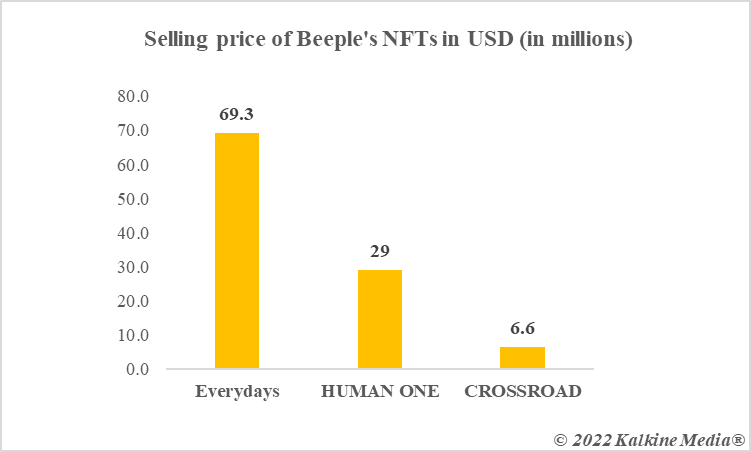 Bottom line
Riding the NFT craze, Phanta Bear and Funko Digital Pop! have launched assets in the market. The Phanta Bear collection is on OpenSea, while Funko Digital Pop! uses another NFT platform Droppp. In comparison to Phanta Bear, Funko Digital Pop! is relatively more recognised due to its previous hold in the physical collectible items space.
Risk Disclosure: Trading in cryptocurrencies involves high risks including the risk of losing some, or all, of your investment amount, and may not be suitable for all investors. Prices of cryptocurrencies are extremely volatile and may be affected by external factors such as financial, regulatory, or political events. The laws that apply to crypto products (and how a particular crypto product is regulated) may change. Before deciding to trade in financial instrument or cryptocurrencies you should be fully informed of the risks and costs associated with trading in the financial markets, carefully consider your investment objectives, level of experience, and risk appetite, and seek professional advice where needed. Kalkine Media cannot and does not represent or guarantee that any of the information/data available here is accurate, reliable, current, complete or appropriate for your needs. Kalkine Media will not accept liability for any loss or damage as a result of your trading or your reliance on the information shared on this website.