A diversified real estate investor, Cromwell Property Group (ASX: CMW) has undertaken an underwritten $375 million institutional placement at a fixed issue price of $1.15 per new security and alongside, is also undertaking a non-underwritten security purchase plan (SPP) to eligible securityholders in Australia and New Zealand to raise up to $30 million.
In order to allow the placement to take place in an orderly fashion, the company's securities were put in a trading halt on 26th June 2019. The underwritten institutional placement of $375 million carries an issue price of $1.15 per security, representing a 7.0% discount to the distribution-adjusted last closing price of $1.237 on 25th June 2019. Further, the issue price also represents a 6% discount to the distribution-adjusted 5-day VWAP of $1.2236 ending on 25th June 2019.
The proceeds from the placement will be used by the company to tap various strategic growth opportunities it had identified across both its Indirect and Direct Property Investment segments.
The company further added that it is progressing on its 'Invest to Manage' strategy with over $1.0 billion of identified acquisition opportunities either in exclusive due diligence or in advanced negotiations. In addition, the company has over $1.0 billion of value-add development opportunities across its existing Australian property portfolio.
It is expected that the opportunities will deliver significant medium-term growth in enterprise value for Cromwell as the Indirect Property Investments will fast-track the growth in the funds management platform and the Direct Property value-add developments will realise significant capital returns for securityholders.
The Proceeds from the Placement will initially be used to repay $366.3 million of bank debt, which will further strengthen the company's balance sheet. The company will then use the Placement proceeds, along with equity from new capital partners and recycled capital from asset sales, to invest in the strategic growth opportunities.
Post re-investment of Placement proceeds, the company expects its gearing ratio to move within its revised target gearing range of 30% to 40% through the cycle. Further, the company will seek to use the leverage capacity on a short term basis to execute on its 'Invest to Manage' strategy. Upon completion of the Placement, it is expected that the company's pro forma Net Tangible Assets (NTA) will increase to $1.02 per security.
Cromwell has continued to reduce gearing over the last 18 months, as depicted in the chart below.
(Source: Company Reports)
The company actively manages the funding mix to optimise its cost of funding and diversify the sources of capital. Cromwell has signed a new loan with Clean Energy Finance Corporation and will be establishing a new multi-currency credit facility in late June 2019. The strong balance sheet of the company provides significant capacity to invest and capitalise on new and existing opportunities.
After completing the Placement, the company will also provide eligible securityholders in Australia and New Zealand with the opportunity to participate in a non-underwritten share purchase plan, under which the eligible securityholders will be invited to subscribe for up to a maximum of $15,000 of new securities. It is expected that SPP will raise up to $30 million and will not be underwritten.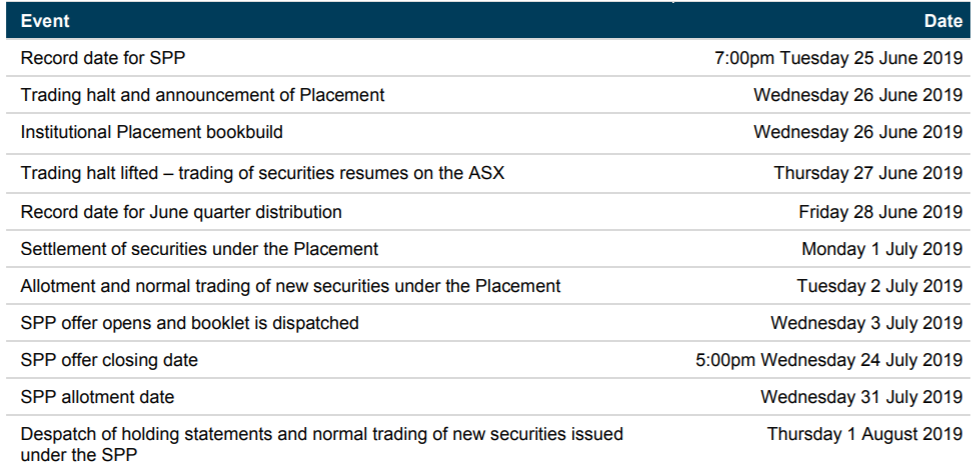 Key Dates (Source: Company Reports)
On 26th June 2019, the company has reaffirmed its FY19 guidance for operating profit of not less than 8.00 cents per share and distributions of 7.25 cents per share. The company has also provided preliminary guidance for FY20, including the impact of the Placement and assumes partial re-investment of the Placement proceeds to be:
Operating profit of 8.1 – 8.3 cps.
Distributions of not less than 7.5 cps.
In its Equity Presentation released on 26th June 2019, the company highlighted that it is actively focused on redeploying and recycling capital across its business to drive long term, sustainable growth.
Three Primary Sources of Capital includes:
New equity from Cromwell securityholders
Global capital partners
Recycling of capital
Capital Flow Across Cromwell's Business (Source: Company Reports)
The company further elaborated that it is in discussions with capital partners on all of its upcoming identified potential acquisitions. The capital partners are global, leading institutional investors with strong track records of investing in European and Australian real estate funds.
In terms of the recycling of capital, the company reported that it will seek to further sell-down its stakes in European portfolio investments, targeting a c.20% to 30% co-investment stake in the medium term. The company is actively managing its Australian balance sheet property portfolio, with capital released from realised profits on the completed development projects and partial sales of interests in assets reinvested into the business.
Looking at the company's upcoming opportunities, Cromwell has pointed out that it is in exclusive due diligence on >$0.5 billion of Australian office acquisitions and >A$0.5 billion of European office and retail opportunities. It is expected that these opportunities will seek to grow Cromwell's funds platform and further transition the funds platform to permanent capital sources through capital partnerships.

(Source: Company Reports)
Recently, on 24th June 2019, the company determined a dividend of $0.018125 for the quarter ended 30th June 2019, with Record Date of 28th June 2019, Ex-date of 27th June 2019 and Payment Date of 23rd August 2019.
In the first half of FY19, the company reported a Statutory Profit of $111.1 million, which was 37.5% higher than the previous corresponding period (pcp). Further, the company reported an underlying operating profit of $82.6 million.
In the past six months, the company's stock has increased by 25.50% as on 26th June 2019. At the time of writing, i.e. on 27th June 2019 (AEST 12:01 PM), the company's stock was trading at a price of $1.170, down 6.773% during the day's trade, with a market capitalisation of circa $2.81 billion. The stock is trading at a PE multiple of 10.580x, with an annual dividend yield of 5.78%.
---
Disclaimer
This website is a service of Kalkine Media Pty. Ltd. A.C.N. 629 651 672. The website has been prepared for informational purposes only and is not intended to be used as a complete source of information on any particular company. Kalkine Media does not in any way endorse or recommend individuals, products or services that may be discussed on this site. Our publications are NOT a solicitation or recommendation to buy, sell or hold. We are neither licensed nor qualified to provide investment advice.