If you still believe that the Sino country, China has been at the most dreadful receiving end of the COVID 19 calamity, we will take this opportunity to give you a reality check- the world's biggest economy (currently!), the United States of America has surpassed the confirmed cases of the novel coronavirus, and as on 28 March 2020, it has over 104k cases against the 81.9k cases of China, states a JHU CSSE COVID 19 dashboard.
IMF MD's Recession Admittance & Recovery Indication
In a press briefing post a conference call of the International Monetary and Financial Committee (IMFC), International Monetary Fund (IMF) Managing Director, Ms. Kristalina Georgieva stated that the world has entered a recession, the degree of which cannot be appropriately and currently assessed.
However, she indicated a recovery in 2021 which could potentially be a sizeable rebound- if the COVID 19 is contained, preventing liquidity problems from becoming a solvency issue.
What's positive is the fact that several countries have already undertaken measures (monetary and fiscal) to address the health crisis and cushion its impact on the economy. Subsequently, fiscal measures amount to ~5 trillion dollars/ more than 6 per cent of global GDP, the G20 reported on 27 March 2020.
The IMF has launched a policy actions tracker for 186 countries to gauge such events.
GOOD READ- COVID-19 Pandemic: An Economic Emergency to be Dealt With
COVID 19- Latest Updates
The virus, that originated in Wuhan City of China last year, has taken a toll on every aspect of lives across over 200 countries. The WHO has been constantly updating the world about the COVID 19 stance. Below are some latest facts, dated 28 March 2020-
How do the above facts make you feel? As much as we hope that "optimistic" would have been your ideal response, we understand that nervousness prevails and you, like a lot of others, remain puzzled with the virus repercussions. What's even worrisome is the fact that we have been guided to sternly adhere to unprecedented war time measures- lockdowns, self-isolation, social distancing and quarantine.
Not All Is Grim!
Even though it seems like we are part ofmovies like World War Z, Outbreak or Contagion, it is our harsh reality today and what we can do best is stay positive. To help you with it, we also wish to acquaint you with some positives that have recently sparked a ray of hope-
The JHU CSSE dashboard affirms that globally, there have been over 131.7k patient recoveries
More than 150 countries and territories still have fewer than 100 cases.
After equipping 74 countries with necessary protective gear, the WHO is preparing to send close to 2 million individual items to a further 60 countries.
There is work in progress to massively increase the production and capacity for medical testing around the world.
Over 45 countries are contributing to a Solidarity Trial conducted by WHO, to compare the safety and effectiveness of four different drugs or drug combinations against COVID-19.
Governments like that the US, Australia and India have been announcing stimulus packages for their economies (USD 2 trillion, $ 66 billion and ~ USD 2.1 billion, respectively) towards anti-COVID 19 movements
Even though businesses across the world remain affected, stock exchanges across the globe have been delivering mixed results at the end of trade sessions, partly driven by macro and micro economic policies.
Now that we have discussed stock exchanges, let us draw your attention to what's happening in the US- besides it being the current top virus hub with maximum number of COVID 19 cases, fretting billions of Americans and other residents in the region-
US Stock Exchanges- Fearsome Figures
Investors in the US did not chant "TGIF" this week- because it was not a pleasant Friday on the Wall Street!
The US markets dropped sharply on Friday, 27 March 2020, eating away the three-day winning streak at the back of national shutdown, regulatory measures and the virus clock ticking aggressively. The $2 trillion rescue package (one of the largest in American history) offered from the White House also could not significantly propel investors to go out and about tapping stocks in the US markets. Experts opine that the furious show on the exchanges was similar to the Great Depression phase!
The Dow Jones industrial average finished with a loss of over 900 basis points
The S&P 500 was down by over 3 per cent
The tech-rich Nasdaq Composite fell by more than 3.5 per cent
The stock stumbling in the US demonstrate increasing doubts amid investors about the fate of the US economy, especially after the virus cases passed 100k and death toll crossed 1.5k. It should be noted that the volume on these exchanges was around 13 billion shares, which has been the lowest in over the past fortnight period.
Stock market participants opine that if there is a major acceleration of the virus cases over the weekend, with hospital system continuing to get jammed up, next week could be another rough tide for investors, propelling a stubborn bear market phase.
However, the fact that even after Friday's disappointing drop, the index has ended the week over 12 per cent higher, marking the best week in years, is the optimism that investors should adhere to as they prepare for next week's enthusiasm.
ALSO READ- COVID Woes-Investors Need to Stay Positive!
"We Must Fight, Unite and Ignite"
The above are words of WHO's Director-General, Dr. Tedros Adhanom Ghebreyesus, as he briefed the media on 27 March 2020. Dr Tedros admitted that viral outbreaks are a fact of life, but the damage they cause is something that we can truly influence.
At the back of stimulus packages andpaced up medical works, it will be interesting to witness businesses being back in the game and stock markets garnering investors' interest. Meanwhile, as we stay in confines, let us focus on the below, as stated by Singapore's Minister of Health, Gan Kim Yong-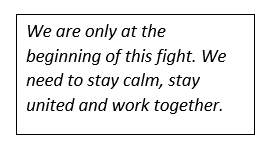 ---
Disclaimer
This website is a service of Kalkine Media Pty. Ltd. A.C.N. 629 651 672. The website has been prepared for informational purposes only and is not intended to be used as a complete source of information on any particular company. Kalkine Media does not in any way endorse or recommend individuals, products or services that may be discussed on this site. Our publications are NOT a solicitation or recommendation to buy, sell or hold. We are neither licensed nor qualified to provide investment advice.