Asian countries have expressed their never-ending love for Gold. Silver, a co-existing metal has faced its share of highs and lows amid the global uncertainties. Can Silver offer an alternative to other safe have assets for investment? The investment pattern does show that Silver might emerge as the smaller yet safe investment to go for amid the coronavirus pandemic.
Silver traded at US$15.08 an ounce as of 6 May 2020 at 5:51 PM AEST, recovering from US$11.98 an ounce on marked on 18 March 2020, the lowest level since the year 2009.
Source: Refinitiv Eikon
Gold and Silver Commodity Performance
Gold is a much more matured investment commodity and witnesses demand from both the institutional investors as well as central banks and sovereign funds. In fact, the consumption demand of gold has been outpaced significantly by its investment demand. The gold demand in Q1,2020 amid the coronavirus pandemic grew continuously to 1,083.8 tonnes, a surprising case in comparison to conventional commodities. The gold ETF inflows holdings grew to the record levels 3,185 tonnes of gold during Q1,2020.
Silver to Get Out of Slumber and Lead the Precious Metals Rally Amidst COVID-19?: Must Read
The Central banks net purchases ended up at 145 tonnes of gold for the March quarter. However, Central banks including the Russians have indicated a slower buying of gold in future. Russian announced suspension of long term buying of gold from April which if followed by other could bring down the future demand significantly. Such actions could be explained by the skyrocketing gold prices.
Gold and Silver Prices Performance Source: World Silver Association
Silver, a lustrous industrial metal, gained an astonishing 12% rise in the investment demand with retail and institutional investors taking notice of the white metal. The year 2019 was plagued by weak global economic growth and the US China trade war, still an unconventional growth was observed in the overall silver demand.
Was Silver emerging as a new safe haven asset among these uncertainties, given that the Gold prices were skyrocketing?
The rising consciousness on the climate issues and carbon emissions resulted in impeccable growth in the renewable sectors especially solar energy. Silver demand for photovoltaic cells grew by 7% to the second highest annual volumes in 2019.
Are Gold and Silver correlated?
Being co-existing minerals with intrinsic values, they should be correlated. Yes, they are.
The correlation between Gold and Silver has actually improved significantly to over 0.751 since the start of 2020, as against 0.533 since 2012. A higher correlation suggests a proportional growth in the prices of Silver as for Gold.
Gold Price Correlations with other commodities and Indices Source: World Gold Council
The Gold spot prices actually grew by ~12% to US$1701 an ounce while, Silver prices declined by around ~15.5% to US$15.08 an ounce for silver since the beginning of 2020. It is to be noted that the Silver prices have actually recovered by almost 26% to increase to the present levels since 18 March, the lowest price of US11.98 an ounce during the year. It would be not wrong to state that at least for now, Gold has easily outshined silver offering a much better returns in the recent times.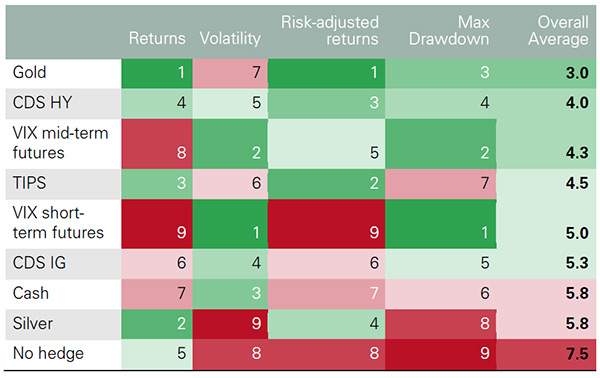 Performance of hedging strategies in an average pension fund portfolio over the past 20 years Source: World Gold Council
Silver to facilitate Rapid Detection of COVID-19
Now that global economies are preparing their pedestrian members to adjust their lifestyles with minimum economic implications, Silver has been found to be helpful for detection of coronavirus. A UK based Dianostics company AgPlus Diagnostics was reported to be progressing on the commercialization of new point of care diagnostics platform based on the reactivity to silver nanoparticles.
The company is developing multiple formats of testing as we prepare to live along with the virus at least for the term until an effective vaccine is out for the general public. Assaying of the fingerstick samples will possibly result in a binary answer if the patient is infected or not. AgPlus anticipates that since their technology uses the chemical reactivity, the assay would also support the drug development activities.
Silver Winds to Follow the Gold Rush Ahead?: Read Here
Future Outlook for Silver
Silver supplies have continued to decline for the past 4 years and a stronger demand in future will result in escalation of the Silver prices unless new major production facilities comes onstream. So, let's see if there is any major upside potential for silver in the upcoming months and years.
Beyond the Coronavirus crisis, on the industrial front, hybrid and electric vehicles could possess a strong demand for silver. Both the technologies require a higher supply of Silver in comparison to the conventional internal combustion engine vehicles.
Source: World Silver Association
The cleaner mobility is anticipated to boost the silver demand in the longer term. Also, a strong and consistent growth can be expected in future from the rising adoption of photovoltaics and solar energy. The unit power costs associated with solar energy has proved the cleaner renewable source as a sustainable option for the energy of the future. Rollout of 5G would further strengthen the demand of Silver in future. Even for the Jewellery segment, the Chinese and several other economies have started to embrace silver ornaments following the recent surge in gold prices.
A recent but favorable change was observed in 2019 when both retail and institutional investors turned to silver for investments. The retail demand grew to 186.1 Moz or 5,788 tonnes, an increase of 12% on a y-o-y basis. The institutional investors turned towards the silver linked Exchange traded products (ETP) which saw a rise in holdings to the record levels. Further recovery in the silver prices will offer excellent returns to the investors which amid the skyrocketing gold prices and limited upside potential in gold may seek other precious commodities for investment as safe haven.
With Silver transitioning to newer applications, from coronavirus testing to electric mobility to delivering sustainable power solution, Silver is for sure growing into a versatile and a diversified metal that it is always known for. With anticipated strong demand in the future, Silver will continue to amuse us and may even emerge as a major safe haven asset for investment.