Leading pure-play metallurgical coal project developer, Aspire Mining Limited (ASX: AKM), based in Australia, has disclosed further updates to the Ovoot Early Development Plan (OEDP) Extended Case Pre-Feasibility Study (PFS) which provides a revised mine plan, the latest mining contractor cost quotes, a review of logistic cost estimates and cost improvements, as outlined in the previously released announcement.
Meanwhile, OEDP's progress remains subject to receipt of the key approvals from the local community level to complete infill and other technical drilling for completion of the Definitive Feasibility Study (DFS) and thereafter proceed to construction and mining.
Read here: Aspire Mining declared Improved Financial Outcomes From updated OEDP PFS
Following is the summary of the latest additions to the Updated OEDP PFS Extended Case as declared by the company on 7 November 2019.
Updated Mine Plan
AKM assumes that the mining for OEDP would be conducted using shovel methods and traditional truck. First three years will target an initial starter open pit, eventually expanding to the west with 16m benches assumed. It shall take about 8 months and 14m Bcm of waste removal prior to establishing secured access to coal.
Updated Operating Costs
The company informed that GT Global provided with CHPP operating costs whereas FMS calculated General administration costs.
Erdenet to Ovoot Haul Road
A special purpose haul road (sealed) is being developed between Ovoot and Erdenet for the delivery of the coking coal volumes to the rail terminal at Erdenet, for which a scoping study was completed, in collaboration with Mongolian road consulting engineers, RCRS LLC. The favoured option was a public road spanning 560 km that would link several soum centres in Khuvsgul with Khuvsgul Capital town of Mörön and cater to truck and trailer combinations of 115t gross vehicle mass and net coal capacity of 85t.
A DFS for the selected route is being advanced by ICT Sain\MIL, who along with the company's Community Engagement Department, continues to engage with local communities to gain important approvals. The scoping level engineering study cost estimate (to an accuracy of +/- 25%) of road construction (before contingencies) is given below-

In addition to using the road for Ovoot, there will be other commercial users who will be charged a toll. Besides, the estimated USD 165 million road capital expenditure is still subject to the final alignment approval and the completion of a definitive engineering study.
Coal Handling and Preparation Plant
GT Global, China's largest builder of washplants, reviewed washability data, washplant design, capital and operating cost forecasts and concluded that the raw coal produces a high clean coal yield with low yields to middlings and refuse. Thus, the final suggested design for the plant would encompass a heavy media cyclone. This was chosen based on its lower power consumption and processing complexity and lower water consumption. There will also be a flotation process to maximise fines recovery.
Power Options Study: Solar and Grid
A Power Options Study for OEDP (maximum power draw modelled at 5MW), was undertaken by FMS, recommending a cost-effective solution comprising solar, diesel and connection to a local power grid. With this combination, the operating and capital costs along with the carbon footprint are estimated to be lower as against using diesel generators alone. A solar photovoltaics power plant would be supported by diesel generator set through its connection to the central grid.
The power supply can be sourced from a third-party via an 18-year contract at an average cost of USD 0.19/kWhr to cover solar PV, diesel genset, grid operating costs and all capital and connection costs.
Mine Infrastructure
The OEDP pre- feasibility study projected ~USD 9.8 million as the mine infrastructure cost covering fencing and security, maintenance workshops, internal mine site roads, and administration building and.
A BOOT (build, own, operate and transfer) agreement is also planned to be executed with a suitable contractor. This agreement will cater to 420 employees, visitors, contractors with no capex costs associated with it.
Transport and Logistics
The coking coal would be first washed at site for reducing ash levels to an average of 10% and subsequently trucked along the aforementioned sealed haul road to the rail head at Erdenet, from where coal will be transported south via rail to the Chinese border at Erlian and thereafter be trucked to Jining in Inner Mongolia for distribution to end customers in Hebei and surrounding provinces. The projected per tonne per km operating costs are based on the trending long-haul contract cartage rates for coal in Mongolia.
The current design of the road may allow for lower than forecast trucking transport costs, which is supportive of 115t gross vehicle mass of each truck with 85t coal payloads.
The company would be coordinating with UBTZ, the manager of the Mongolian railway network and other wagon leasing and manufacturing companies to ensure that the OEDP has access to sufficient wagons (expected requirement 900 to 1,000 coal wagons).
JORC Resources & Reserves
The Updated OEDP PFS, including production targets and financial information, is based on the OEDP PFS Reserve prepared by independent consultant FMS LLC and reported in the announcement released on 28 February 2019 as:
OEDP Reserve

Marketing
The OEDP would produce a mid-volatile, medium ash and sulphur fat coking coal with the following attributes-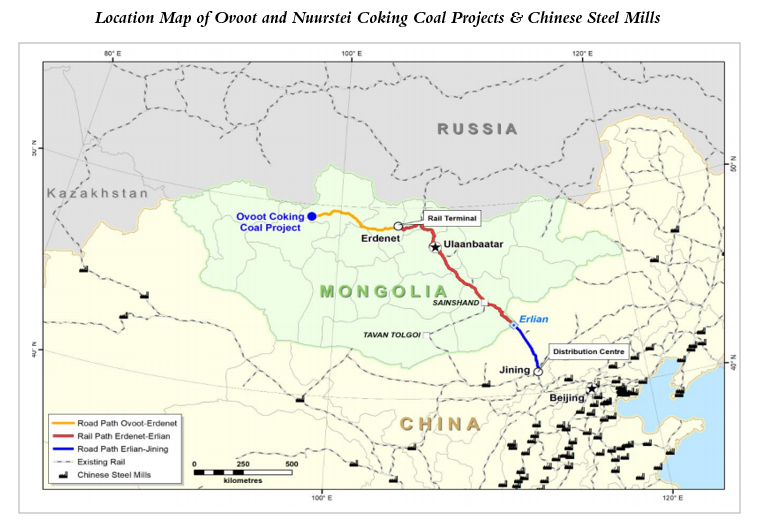 Back in January 2019, Fenwei Energy Information Services Ltd prepared a study for Aspiring Mining, supporting the price assumptions regarding the OEDP Product in the Chinese market. The key study highlights include -
In China, the fat coking coal market currently stands at approximately 75 million tonnes, but the domestic production is expected to decline, which may cause a supply gap of between 16Mt and 22Mt over the medium-term, a key target market segment for the Ovoot's OEDP coking coal.
OEDP coking coal into these markets is estimated to achieve prices of between USD 191per tonne to USD 180 per tonne using an existing branded coal as a benchmark on a delivered-to-customer gate basis.
An equivalent price at the Mongolian\Chinese border at Erlian can be established by adding Chinese trucking costs. The calculated net back forecast price is between USD 156per tonne down to USD 145 per tonne.
More on the company's activities concerning the development of OEDP, the first stage of the Ovoot Coking Coal Project, may be READ here.
Stock Performance
The stock of Aspire Mining ended the day at AUD 0.014, climbing up 16.667% by AUD 0.002. AKM's market capitalisation is around AUD 39.92 million with ~ 3.33 billion shares outstanding.
---
Disclaimer
This website is a service of Kalkine Media Pty. Ltd. A.C.N. 629 651 672. The website has been prepared for informational purposes only and is not intended to be used as a complete source of information on any particular company. The above article is sponsored but NOT a solicitation or recommendation to buy, sell or hold the stock of the company (or companies) under discussion. We are neither licensed nor qualified to provide investment advice through this platform.