Australia-headquartered gold explorer, Middle Island Resources Limited (ASX: MDI) focuses on gold commodity with a belief that gold prices will improve further over the medium and longer term. The company targets gold commodity due to various advantages, including on-site production, air transportation and over the counter sale, and these eliminate the requirement for expensive port and rail infrastructure.
Given the above backdrop, Middle Island's activities are targeted at its flagship, Sandstone Gold Project, situated approximately 12 km to the south of Sandstone, on a sealed highway between Mt Magnet & Leinster, and around 400 km to the northwest of Kalgoorlie. It is worth noting that MDI acquired 100 per cent interest in the project three years ago from the Receivers of Black Oak Minerals Limited for a consideration of AUD 2.5 million.
Sandstone Gold Project Location, Source: Company's Presentation (3rd May 2019)
The Indicated and Inferred Mineral Resources at the Sandstone project comprise an aggregate of 12.7 million tonnes at 1.4g/t Au for 537,000ozs of gold. An additional Exploration Target of 24 to 34 million tonnes at 1.1g/t to 1.4g/t Au had also been estimated for the Two Mile Hill tonalite deeps deposit at the project, representing a further 0.9Moz to 1.5Moz of contained gold.
MDI's Strategy
Following the acquisition of the Sandstone gold project, the company framed an over-riding strategy that constitutes three sequential components, as stated below: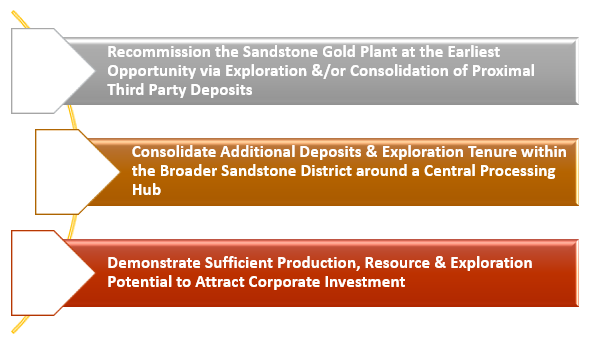 MDI's Prime Asset - Sandstone Processing Plant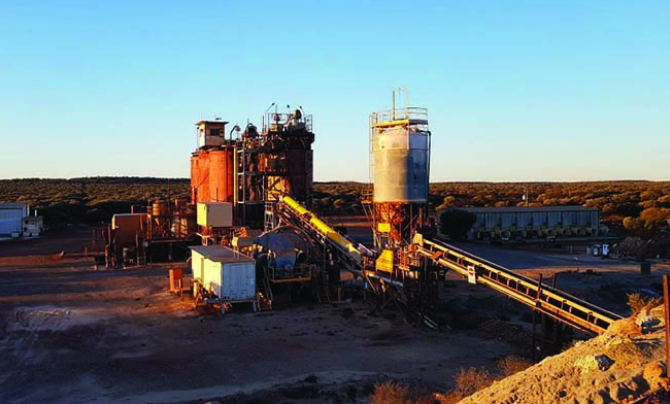 Source: Company Website
Usually, installation of a processing plant requires huge capital; however, MDI holds an upper hand on this front, as its Sandstone project already includes a 600,000tpa gold processing plant on site.
As per MDI, the construction and design of a new processing plant of similar capacity is likely to take at least 12 months and will cost approximately AUD 60 million. However, MDI's pre-feasibility study, concluded in February 2017, estimated the refurbishment and upgrade costs of the plant at just AUD 10.3 million (including owner's costs and a contingency). Also, the refurbishment is expected be completed within 16 weeks from initiation of site works. In a recent ASX update, MDI informed that the AUD 10.3 million refurbishment cost assumes that GR Engineering Services would complete majority of the refurbishment work in line with its 2017 proposal.
Constructed in 1994, the fully compatible CIP processing plant is Middle Island's key asset. It is located on two granted mining leases (M57/128 and M57/129) comprising the core of the Sandstone project. Initially, the plant had a capacity of 250,000tpa; however, it was upgraded by Troy Resources NL to 600,000tpa in 1999. Troy operated the Sandstone plant from 1999 to 2010, processing 4.4 million tonnes of ore at an average grade of 3.6g/t Au to produce ~508,000ozs of gold. Since September 2010, the plant has been placed on maintenance and has not operated, and the cost of refurbishment was based on this understanding.
Middle Island holds an operating license for the Sandstone processing plant, which is the only plant located within a radius of 150km.
Advantages of Sandstone Processing Plant
The Sandstone processing plant is supported by a laboratory, a contracted diesel-generated power plant, fuel tanks, workshops, mine offices, and a substantial inventory of equipment & spares. The plant also includes a CIP (carbon-in-pulp) leach circuit, and conventional grinding and milling circuits. MDI informed that the processing plant will also include a tailor-made contract crushing circuit to treat all ore types in the future.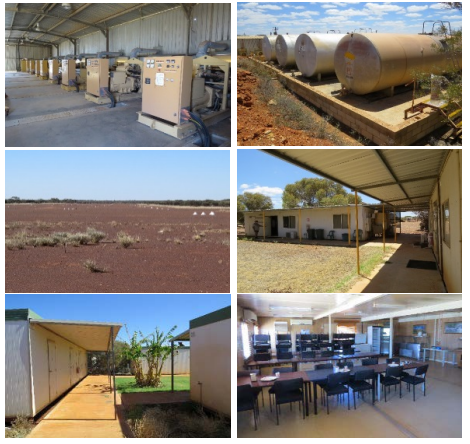 Source: Company's Report
Three fully equipped camps that can accommodate around 100 persons are also available on freehold title in nearby Sandstone township. The three fully equipped camps can be categorised as:
57-person owner's camp
An 8-person exploration camp and core farm, and
A 36-person contractor's camp
A permitted in-pit tailings storage facility that has around six months of capacity and a permitted bore field is also situated close to the processing plant. A well-maintained airport is also available in Sandstone to service FIFO operations. These unique features of the processing plant offer Middle Island an edge over other competitive players.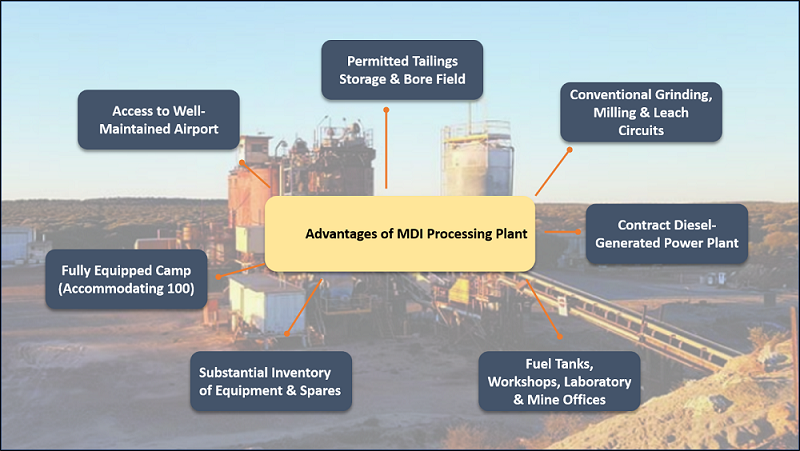 Recommissioning of Processing Plant – Progress So Far!
As discussed above, "recommissioning of the processing plant at the earliest opportunity" is the primary component of MDI's strategy. This component further includes two elements:
1st Element: Progressing and accomplishing one or more of numerous possible consolidations of proximal third-party gold deposits within the Sandstone district in central Western Australia.
2nd Element: Exploring close proximity, already permitted, greenfields targets within Middle Island's existing Sandstone tenure in order to identify low strip ratio, higher grade, open pit deposits to improve the front end of the proposed production re-start schedule.
In line with the 1st element, Middle Island has put forward an all scrip off-market takeover offer for AME or Alto Metals Ltd that involves an offer of 6 MDI shares for every 1 AME share. As per MDI, in case it acquires Alto, it plans to revamp the processing plant within five months of verifying and incorporating the AME Mineral Resources into Middle Island's feasibility study as Ore Reserves. AME's Mineral Resources are situated within 30km of MDI's processing plant, located on, or close to, former haul roads that can be readily re-permitted. This offers an opportunity to MDI to mine, haul and economically process the AME deposits at the plant.
Complying with the 2nd element, MDI has attained substantial success in expanding the proposed production schedule via the Two Mile Hill BIF tonalite deeps and BIF underground deposits. MDI has been undertaking infill and extension drilling programmes, and verification work to upgrade the JORC 2004 Mineral Resource categories and progressively improve Mineral Resources in accordance with the 2012 JORC Code Edition.
One can deduce that the gold explorer, Middle Island, has so far made considerable progress towards attaining the first objective of its over-arching strategy. MDI's existing pace of growth signifies that it is likely to meet all the three objectives of the strategy sooner than expected.
Stock Performance: On 13 September 2019, MDI shares closed at AUD 0.009, surging up by a massive 28.57% as compared to its previous closing price. The stock has generated a YTD return of 100 per cent.
---
Disclaimer
This website is a service of Kalkine Media Pty. Ltd. A.C.N. 629 651 672. The website has been prepared for informational purposes only and is not intended to be used as a complete source of information on any particular company. The above article is sponsored but NOT a solicitation or recommendation to buy, sell or hold the stock of the company (or companies) under discussion. We are neither licensed nor qualified to provide investment advice through this platform.