Let's have a look at some of the winners on Australian Securities Exchange that have registered over 200% returns in the stock price momentum.
In this basket of ASX-listed companies coming from diversified sectors, the pot stocks have been the showstopper on the legalisation of cannabis use in Canada and other parts of the world mainly for medicinal and recreational purposes.
1st Group Limited (ASX: 1ST)
Digital health company, 1st Group Limited has been one of the favourite health care stocks of investors since the start of 2019. This translates a surge of 228.57% in year-to-date performance of the stock with the positive price change of 253.85% in last six months and 87.76% in the past three months.
The start of bullish trend can be tracked down to the mid of March 2019 when 1st Group Limited announced the strategic service agreement it inked with one of Australia's largest private health insurers- Medibank for the first time. 1st Group agreed to deploy its digital health service portal, MyHealth1st.com.au, as the online booking platform for Medibank's dental network.
The deal was made under a monthly subscription contract including setup fees that will allow the access of 1st Group's patient engagement platform (MyHealth1st) to ~2.8 million of Medibank's customers for the purpose of booking appointments online.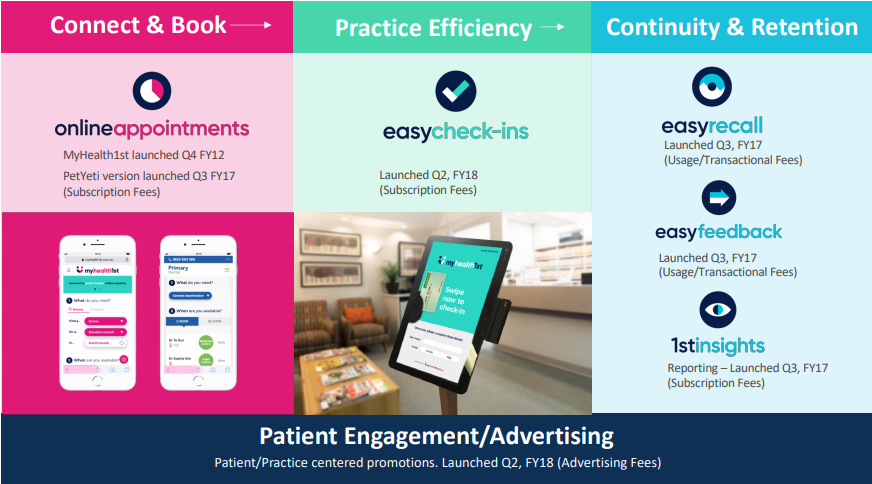 1ST's MyHealth1st structure and timeline of its added features (Source: Company Presentation)
In 2019 Roadmap, 1st Group expressed its objective to grow in both existing and new verticals for the delivery of multiple revenue streams across subscribers and advertisers. The company eyes Total Addressable Market (TAM) in Australia and New Zealand together to be over $1.9 billion per annum driven by its 'world-class' technologies and a range of in-house brands that include online pet service portal PetYeti.com.au, corporate and government solutions platform GoBookings.com and leading health services portal in Australia MyHealth1st.com.au.
The Group also signed a 2-year agreement with Vetcentric to deploy two PetYeti digital products to its' 85+ practices across Australia. Vetcentric is an industry-leading Independent Management Group (IMG) of veterinary practices.
1ST stock is trading at $0.088, down 4.348%, on 23 July 2019 (1:02 PM AEST).
Althea Group Holdings Limited (ASX: AGH)
Althea Group Holdings Limited, a renowned name in the medicinal cannabis industry, has reached to the market of United Kingdom. The company that recently achieved a 1,000 patient milestone in Australia has been selected by the independent scientific committee of Drug Science to supply its medicinal cannabis products in their pilot project 'Project TWENTY21'.
Project TWENTY21 has been officially launched by UK-based drug advisory committee Drug Science with the objective to increase the number of patients that can be prescribed medical cannabis in the United Kingdom. It, moreover, outlines the UK's first national pilot program for medical cannabis that aims to register 20,000 patients prior to the finish of 2021.
The report read that the pilot will use a real word data patient registry to assess efficacy, safety and patient-reported outcomes in patients prescribed medical cannabis and will specifically focus on patients with chronic pain, anxiety, multiple sclerosis, PTSD, and tourette's syndrome in the first phase.
Althea Chief Medical Officer Dr Robert Pawinski stated that it's a matter of proud for Althea to deliver its medicinal cannabis as part of the national pilot rollout. The company believes that Drug Science's pilot program would yield valuable data that can then be utilised to further bolster the case for the wider use of medicinal cannabis.
AGH securities are currently under the trading halt ahead of the pending announcement on acquisition and capital raising program. As stated in the ASX market announcement, the trading halt is expected to remain in place until the earlier of 24 July 2019 or the release of the pending announcement.
AGH last traded at $1.195 with a market capitalisation of $242.96 million. It's the second stock in the list that has returned over 200% on ASX in 2019 with marks the year-to-date returns of massive 350.94% and gains of 132.04% in the past three months.
5G Networks Limited (ASX: 5GN)
Communication services company 5G Networks Limited has recorded a gain of 240.48% in year-to-date return of its stock performance. In the last three months, the stock price surged 52.94%, factoring in the news of expanded debt facility from the Commonwealth Bank of Australia (CBA).
On 23 May 2019, 5G Networks announced that its available debt facility with CBA has been increased to $7.2 million to unlock new opportunities for growth. The increased facility has provided additional firepower to 5GN given the adequate acquisition be presented.
5GN's program to explore and pursue accretive acquisitions is more focused on the search of Data centre facilities, Managed service providers and AWS partners and Software development companies. Moreover, the company confirmed the completion of Melbourne Data Centre (MDC) integration into the 5GN system, thereby strengthening its data centre capacity and increasing market footprints across Adelaide, Melbourne and Sydney.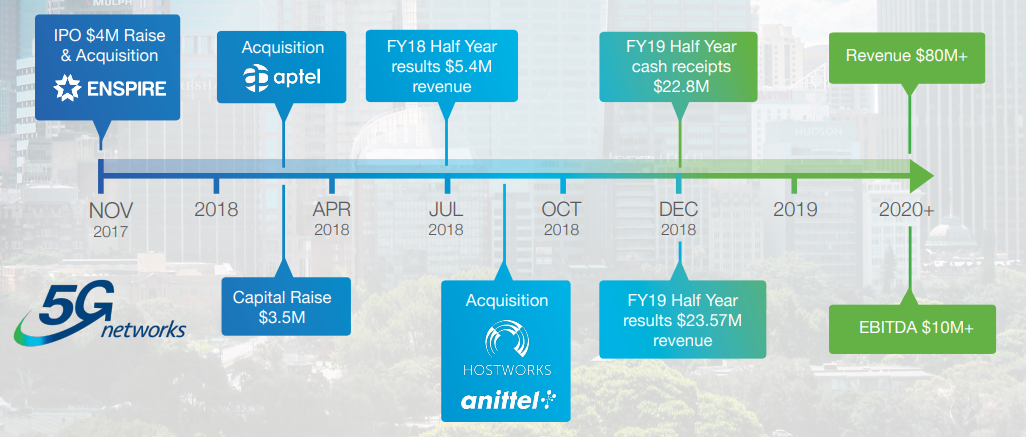 5GN Historical Timeline (Source: Company Presentation)
Recently, 5GN also announced the appointment of Mr Glen Dymond to the role of Chief Financial Officer and Company Sectary of the company. Mr Dymond has been accredited for managing more than $2.5 billion in his over 25 years of career across capital raising, bank debt facilities, refinancing and management of financier syndicate activities.
5GN shares are trading at $1.350, down 5.594%, on 23 July 2019 (2:30 PM AEST).
Botanix Pharmaceuticals Limited (ASX: BOT)
Clinical stage cannabinoid company Botanix Pharmaceuticals Limited stated that as per the new data from studies recently conducted, a new drug candidate 'AB 2367' from its cannabidiol antimicrobial platform is a potent antibiotic effective against human and veterinary hypervirulent strains of the Gram-Positive bacteria Clostridium difficile.
Highly overlooked, Clostridium difficile is recognised as the most commonly acquired hospital infection that poses a serious life-threatening bacterium globally. It is responsible for nearly 50,000 infections and 30,000 deaths annually in the United States alone.
This new data adds to the recently announced BTX 1801 study results that methicillin resistance staphylococcus aureus (MRSA) does not develop resistance to cannabidiol, which underpins Botanix's growing antimicrobial platform.
Botanix recently announced the appointment of a US-based dermatology industry leader Mr Vince Ippolito as President and Executive Chairman of the Botanix Board.
So far, in 2019, the stock has registered 263.01% returns with the positive price change of 253.33% over the past six months. BOT shares are trading at $0.260, down 1.887%, on 23 July 2019 (3:05 PM AEST).
Also Read: Botanix Pharmaceutical Released Its 2019 Business Outlook
CropLogic Limited (ASX: CLI)
CropLogic Limited is an award-winning global agronomy, farm management and agtech company that has experienced a massive bull-run in its stock price momentum this year.
CLI stock price has jumped from $0.016 to around $0.067 in just past five months as at 23 July 2019. The year-to-date performance of the stock stood at +361.54% that includes a positive price change of 328.57% in the past six months.
In the latest announcement to the market, CropLogic announced the successful completion of planting at its Hemp Trial Farm in Central Oregon, United States.
CropLogic's Technology (Source: Company Presentation)
The wholly-owned subsidiary of the company, LogicalCropping would now crop 500 acres of CBD producing hemp following the utilisation and installation of CLI's suite of agtech products such as CropLogic Aerial Imagery and CropLogic realTime in the next phase.
CropLogic's shares are trading at $0.059, down 1.667%, on 23 July 2019 (3:35 PM AEST).
---
Disclaimer
This website is a service of Kalkine Media Pty. Ltd. A.C.N. 629 651 672. The website has been prepared for informational purposes only and is not intended to be used as a complete source of information on any particular company. Kalkine Media does not in any way endorse or recommend individuals, products or services that may be discussed on this site. Our publications are NOT a solicitation or recommendation to buy, sell or hold. We are neither licensed nor qualified to provide investment advice.