The Australian Construction Industry:
Production of buildings and infrastructure is perhaps the most essential requirement of any economy, as every industry can be operational only if this basic need is fulfilled. Besides, the construction industry is a giant contributor to an economy's wealth and capital stock, whilst supporting the future prospects and functionality.
The global building materials markets comprise of industries that deal with primarily concrete, sand, cement, brick and other related manufacturers. The industry is also a supplier to other related industries- the ones dealing with furniture, wiring, and so forth.
Global trends and the future:
As per market experts, the growing population and urban housing demand are expected to make Asia-Pacific the fastest-growing market in the coming years. The Middle East and Africa and the US would follow APAC to be amongst the top regional markets for construction. A market study believes that 2019 is likely to be a breakthrough year for the construction industry space as the total value of this sector is anticipated to exceed USD1 trillion by 2020. This would be driven by improvements in the world's economic outlook and strengthening of the construction activity due to paced up industrialisation and urbanisation. The need for housing, due to population growth and increase in commercial projects is expected.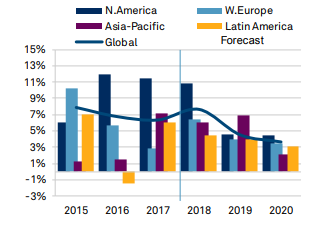 Global revenue growth (local currency) (Source: S&P rating report)
Australian Construction Market Space:
The construction industry is a substantial constituent that drives the Australian economic division and activities. Akin to mining and finance, the construction industry is a significant aspect that contribute towards the country's Gross Domestic Product.
In the country, the construction division is regarded to be in the mature stage of its economic life cycle. With a few tumbles and fluctuations, like the slump of investment in the apartment developments and slowdown in the non-building construction activity, the industry's performance faced an adverse phase in the 2013-14 period. Given this trigger, the revenue generated via construction and related industries is likely to have a marginal expansion over the five years through 2018-19. As per industry experts, the divisional revenue would increase at an annualised 0.2 percent to reach $384 billion.
Few major players of the construction space, which are listed on the Australia Securities Exchange are:
Adelaide Brighton Limited (ASX: ABC)
Global Construction Services Limited (ASX: GCS)
Decmil Group Limited (ASX: DCG)
Acrow Formwork and Construction Services Limited (ASX: ACF)
Scentre Group (ASX: SCG)
Let us now closely look at 3 building material stocks- BLD, FBU and JHX which are listed on the ASX:
Also, the below image shows the respective dividends that these stocks under discussion have generated from 2015 till date. It can be seen that the current performance of these stocks, (similar to most of the stocks in the construction space), has been not on the positive side, when compared to the previous years.
The BLD stock has provided dividend amount of A$0.13 as on the day of writing, 21 June 2019 against the A$0.27 in 2018. The FBU dividend return dropped from A$0.36 of 2018 to A$0.07 in 2019. JHX has yielded A$0.41 when compared to the A$0.42 of 2018. This depicts the previously discussed slowdown that had affected the construction industry.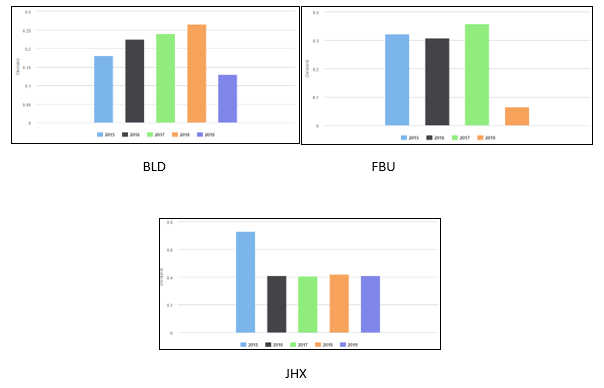 Dividend history of BLD, FBU and JHX through 2015- 2019 (Source: ASX)
Boral Limited (ASX: BLD)
Company Profile:
Listed on ASX in 2000, the company is into the manufacture and supply of building and construction materials. Headquartered in New South Wales, BLD deals with products like asphalt, cement and concrete. Few of its major projects include the Melbourne Metro Rail Project, Sydney Metro Project, Pacific Highway Upgrade, Crown Sydney and Norfolk Island Airport Runway.
Company's Update:
On 21 June 2019, the company announced that it had entered a property development management deed with Mirvac relating to its Scoresby site in Victoria. As per the agreement, Mirvac would be responsible for the management of the urban development of the Scoresby site, which is a spread of 171 hectares.
The company anticipates that it would receive almost $66 million worth of EBITDA through to FY2026 with $3 million to be obtained in FY2019. Besides this, other significant earnings are also expected to be generated from FY2027 till the anticipated project completion in 2035. An excess of approximately $300 million of earnings is expected to be delivered by Scoresby.
Post the divestment of the company's 40% interest in the Boral CSR Bricks JV to CSR Limited (ASX: CSR) in November 2016, BLD retained the ownership of the Scoresby site. A portion of the site remains leased to the CSR. Significant developments have been planned to the site after this lease ends.
The company conducted its Investors Day in Sydney on 31 May 2019 and in the released presentation related to it, stated that it had delivered an EBITDA of A$485 million in 1H19. It had been functional in 17 countries with approximately 670 operating sites. The Australian performance has been strong with EBITDA of A$271 million generated in 1H19.
BLD's EBITDA over the years (Source: Company's report)
Company's Outlook:
In FY2019, the company expects approximately $30 million EBITDA from Property earnings. The company is Shifting segment focus from residential to infrastructure in 2H19.
Trading Update:
On 21 June 2019, BLD's stock closed the day valued at A$5.350, up by 1.326% compared to its last trading. With a market capitalisation of A$6.19 billion, the stock has generated a YTD return of 8.87% and a 6-month return of 9.77%. Its P/E ratio is 12.270x, and the annual dividend yield has been recorded at 5.11%.
Fletcher Building Limited (ASX: FBU)
Company Profile:
Functional through segments like building products, distribution, lamination and panels, concrete, construction and steel, FBU was listed on ASX in 2001. James Fletcher and his brothers started Fletcher Bros Ltd way back in 1915. One of the recent acquisitions of the company was Higgins in 2016. With a dual listing on the NZX and ASX, the company's head office is in Auckland, New Zealand.
Company's Update:
On 21 June 2019, the company announced that it would deliver its financial results for the year ending 30 June 2019 on 21 August 2019. Before this, the company would conduct its investor day for investors and analysts on 26 June 2019 in Sydney and provide an update on its Group Strategy, the Australia Division and the capital structure.
Earlier in June, the company completed the sale of the Formica Group to Broadview Holding, which was one of the key aspects of the five-year strategy, to exit the non-core International businesses. The sale price was US$840 million.
The company made a new appointment on its Board with the inclusion of Hamish McBeath to the role of Chief Executive Building Products, w.e.f. from 17 June 2019.
Company's Outlook:
The company expects the FY19 EBIT before significant items to be range between $620 million and $650 million, which was revised post the Formica sale.
FBU's guidance for FY19 (Source: Company's report)
Trading Update:
On 21 June 2019, the stock of the company closed the day's session, valued flat at A$5.140. With a market capitalisation of A$4.39 billion, the stock has generated a YTD return of 13.72% and a 6-month return of 13.97%. Its P/E ratio is 23.150x, and the annual dividend yield is recorded at 1.27%.
James Hardie Industries Plc (ASX: JHX)
Company Profile:
A player dedicated to the Research, development, manufacture, sale and marketing of fibre cement building materials, JHX was listed on ASX in 2001 and is headquartered in Dublin. The company's present geographic market spread ranges to Canada, Australia, the US, New Zealand, Europe and the Philippines.
JHX spread across the globe (Source: Company's Report)
Company's Update:
On 20 June 2019, the company notified that it would be conducting its Annual General Meeting on 9 August 2019 in Dublin.
Recently, JHX delivered its Annual Review for FY2019 in May 2019 and stated that its overall net sales amounted to $2,507 million and the EBIT was $405 million. The company's adjusted net operating profit was recorded at $301 million.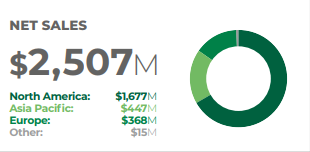 JHX's net sales in FY19 (Source: Company's report)
Company's Outlook:
As per the company's report, JHX's primary focus for FY 2020 would be to return primary demand growth to its target range between 20% and 25% of EBIT margin. In the US, JHX expects a modest growth in 2020. New construction is anticipated to begin which would amount between approximately 1.2 million and 1.3 million. In the Australian market, the addressable underlying market is likely to decrease in FY2020, as compared to FY2019. In the European region, the Europe Building Products segment would achieve modest YOY net sales and EBIT margin growth.
Trading Update:
On 21 June 2019, JHX's stock closed the day's session, valued at A$19.080, up by 2.196% compared to its last trading. With a market capitalisation of A$8.33 billion, the stock has generated a YTD return of 25.22% and a 6-month return of 27.96%. Its P/E ratio is 25.450x, and the annual dividend yield has been recorded at 2.19%.
---
Disclaimer
This website is a service of Kalkine Media Pty. Ltd. A.C.N. 629 651 672. The website has been prepared for informational purposes only and is not intended to be used as a complete source of information on any particular company. Kalkine Media does not in any way endorse or recommend individuals, products or services that may be discussed on this site. Our publications are NOT a solicitation or recommendation to buy, sell or hold. We are neither licensed nor qualified to provide investment advice.