Australian listed lithium explorer and developer, Lake Resources NL (ASX: LKE) owns 100% of Kachi Lithium Brine Project, covering 37 mining leases worth 70,400 hectares in Catamarca province, NW Argentina. Interestingly, it is one of the few assets in Argentina with significant identified lithium brines in salt lakes solely operated by a single owner.
LKE Projects Located Near Lithium Heavyweights
Kachi is not the only project LKE owns in the heart of scalable and sustainable Lithium Triangle (source of 40% of the world lowest cost lithium product), but also possesses Cauchari Project and Olaroz Project in its rich project portfolio, along with one hard rock project.
The Kachi Project is surrounded by Livent's Hombre Muerto Lithium brine operation (NYSE: LTHM) to the North - Argentina's longest operating lithium brine project, and Sal de Vida lithium brine project of Galaxy Resources Limited (ASX: GXY).
The presence of most extended operating lithium brine project of the country with purest lithium brine sourced from LTHM, along with validation of Sal de Vida Project from its recent feasibility study stating technically superior, long life (~40 years), low-cost and highly profitable lithium and potash project may aid significant positivity among the investors and shareholders of the company.
With Kachi being situated competitively geologically, let us now gauge through the recent developments on the project.
LKE Progressing Well on the Kachi Lithium Brine Project
Lake Resources is moving towards Kachi Lithium Brine Project's pre-production phase by March 2020, and is likely to produce large volume high purity lithium carbonate from its pilot plant for the off-takers in Asia mostly from South Korea, Japan, and China.
The positivity accelerated with groundbreaking result, confirming high-grade lithium carbonate battery grade production from the Kachi at 99.9% purity. Presence of low impurities such as iron and boron has created an environment to move towards larger volume samples of battery-grade lithium carbonate from Lilac Solutions ion-exchange pilot plant for potential downstream off-takers.
Lake Resources Pilot Plant
The company is moving towards pre-production from the pilot plant (under construction) by early 2020. For the same, 20,000 litres of lithium brine is shipped to the pilot plant being built in California, USA, by the company's partner Lilac Solutions. The plant, designed by the Lilac Solutions along with Hatch - international engineering company, is expected to validate the direct extraction ion-exchange process on brines generated at the project.
The first module testing delivered the positive result of Kachi project, and it is likely to be transferred to the pilot plant at the Kachi project site once all the modules have been tested.
Must Read: Lake Resources Reports Larger Grade Lithium Carbonates
New Technology – The Game Changer
The direct extraction ion exchange process of Lilac Solutions is an efficient, disruptive and low-cost technology. Lake is expecting to produce high quality, low impurity with the capability of attracting premium pricing for lithium product from Kachi project.
The lab testing depicted that in a few hours, brines of ~300 mg/L lithium can produce around lithium concentrate of 30-60,000 mg/L lithium using the Lilac process. The high recoveries of around 80 to 90% compared to South America's conventional brine operations of recovery 50% in a duration of 9 to 18 months, poses significant optimism around the projects.
The lab result has been integrated into the Pre-Feasibility Study (PFS), which is anticipated to be announced soon.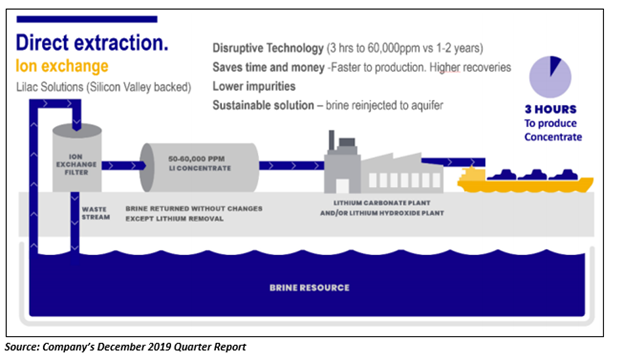 PFS of Kachi Project Nears Completion
The PFS of Kachi project is near to the completion for its maiden Kachi JORC resource of 4.4 million tonnes lithium carbonate (LCE), placing the project among top ten global lithium brine resources. The PFS, along with the information from the pilot plant, will be incorporated into detailed studies to assess the viability of 25,000tpa LCE production plant.
The plant is expected to go live by 2022/2023, in a phased manner starting with 10,000tpa with lower production cost, i.e. lower quartile of the cost curve.
Post Kachi PFS Announcement, Share Price of Lake Resources Surged. Please Click Here to Know More.

Kachi Resources and Low-Cost Curve (Source: Company's Presentation)
Casting Eye on Financial Position
London based, SD Capital Advisory Limited is appointed to secure debt funding of up to US$25 million. The acquired fund is expected to assist Kachi as well as Cauchari Lithium Brine Projects in permitting, definitive feasibility studies (DFS), and pre-production of lithium products. However, the focus remains on the Kachi project given the announcement of PFS is expected soon.
Also recently, Lake announced to raise of $3.5 million funds through private placement ($2 million) and Share Purchase Plan ($1.5 million) to eligible shareholders. The move is meant to close out the convertible securities facility and to increase the value of shareholders and development of LKE's projects, commencing with Kachi Lithium project.
To Know More About Capital Raising Program, Please Read: Lake Resources' Capital Raising Program: A Boost to Kachi Lithium Project and Shareholders
Support from Governors and Regulators
Most importantly, the support from provincial governors and regulators for Lake's flagship Kachi Lithium Brine Project add strong positivity towards the commercialisation of the Kachi project. Also, to assist local people, Morena del Valle S.A., the local subsidiary of Lake Resources employs primarily local people gaining overall support for the company as well as to the nation.
Way Ahead
Hence, the advent of Kachi production is likely to secure earnings for the company with low cost producing capability which may open the way towards other projects in the portfolio, i.e. Cauchari, Olaroz and Paso. Also, the inevitable demand coming from the booming electric vehicle space is anticipated to lower the oversupplied lithium market by 2023-2025, which is naturally mapped to commercial production.
The company is presently advancing discussions with its prospective downstream entities, primarily battery and cathode makers as well as financiers, to jointly develop Kachi projects – ranked top amongst the ten global lithium brine resources in the world.
Stock Price Information – The LKE stock settled at A$0.037 on 17 February 2020 and has a market cap of A$21.37 million.
---
Disclaimer
This website is a service of Kalkine Media Pty. Ltd. A.C.N. 629 651 672. The website has been prepared for informational purposes only and is not intended to be used as a complete source of information on any particular company. The above article is sponsored but NOT a solicitation or recommendation to buy, sell or hold the stock of the company (or companies) under discussion. We are neither licensed nor qualified to provide investment advice through this platform.