The Independent Data Monitoring Committee (IDMC) members have no safety concerns regarding B-cell immunotherapy HER-Vaxx, and biotech player Imugene Limited (ASX:IMU) can continue with its Phase 2 trial without modification, confirmed IDMC chair in a recent meeting.
The IDMC review has encouraged the Company to progress with its important HER-Vaxx Phase 2 study, designed to assess the safety, efficacy and immune response in sixty-eight patients suffering from metastatic gastric cancer that over-express the HER-2/neu receptor.
The Company is conducting the Phase 2 trial at numerous sites across India and Eastern Europe, wherein clinicians find it hard to access approved antibody treatments like Herceptin® commercialised by Swiss multinational healthcare player, Roche Holding AG. Besides, these countries have a high number of gastric cancer cases.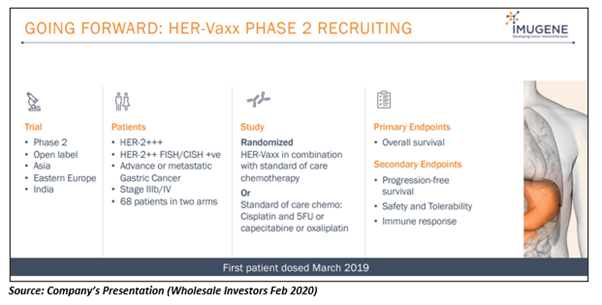 It is worth noting that the patients receiving HER-Vaxx cancer immunotherapy in the Phase 2 trial are responding positively. Moreover, Imugene's MD & CEO, Mrs Leslie Chong is extremely pleased with the Phase 2 study progress so far.
Also Take a Quick Peek into Imugene's Q1 2020 Operational Highlights
Understanding the Role of IDMC
The role of IDMC is to examine the study data and undertake a formal independent review of crucial data like adverse reactions, laboratory results and deaths, which allows the IDMC to clearly estimate the risks and benefits of continued participation in study.
The committee evaluates ongoing data for randomised studies, comprising those involving numerous sites. Besides, it analyses significant clinical endpoints like disease progression or survival, when statistically required per protocol.
The IDMC evaluation of trial data involves an independent assessment to make sure that study participants are not liable to unreasonable or unnecessary risks as a result of their trial participation.
It is imperative to note that the IDMC carries out business in "closed sessions" with meetings being attended only by the IDMC members, consequently maintaining autonomy from the Sponsor. The IDMC ensures that the scientific integrity of the study is maintained between initiation and completion of the trial and the interests of patients recruited on trial are being well-served.
Importantly, the highest ethical and scientific standards are retained in a clinical trial in an IDMC process.
Update on Other Pipeline Projects
In addition to declaring a significant clinical update on its HER-Vaxx immunotherapy, Imugene has also recently updated the market on other projects in its pipeline.
Imugene recently released two presentations at American Association for Cancer Research (AACR) 2020 Virtual Annual Meeting I, held on 27th and 28th April 2020. The two presentations were on:
the clinical plan for PD-1 targeting cancer immunotherapy, PD1-Vaxx; and
the clinical plan for the initial trial of the oncolytic virus, Vaxinia (CF33-hNIS).
The abstract presentation on PD1-Vaxx was presented by the Company's Vice President of Clinical Research Dr Anthony Good, while the presentation on Vaxinia was presented by consulting Medical Director to Imugene Dr Seymour Fein.
Below table summarises the key details of PD1-Vaxx and Vaxinia's Phase 1 trials:
In a nutshell, Imugene is progressing substantially well with the development of projects in its pipeline, backed by an experienced management team with significant clinical development expertise. Moreover, the Company seems to be well positioned to bring the two clinical trials PD1-Vaxx and CF33 into the clinic in 2020.
IMU traded at $0.028, up 7.7% on 5 May 2020 (11:29 AM AEST).