Summary

Great Southern Mining has been aggressively progressing activities at its Projects in Western Australia as well as North Queensland.
Earlier, GSN had received results from the hyperspectral survey carried out over its Edinburgh Park Project.
Recently, additional interpretation of hyperspectral imagery data has been received which shows multiple illumination targets consistent with porphyry mineralisation alteration systems.
GSN looks forward to taking additional rock chip samples from featured outcrops for multi-element analysis and determining alteration mineralogy.
Mineral exploration company, Great Southern Mining Limited (ASX:GSN) with significant land assets in North Queensland and Western Australia has made significant progress at its various projects in both the locations. The Company has received additional interpretation of hyperspectral imagery data from the survey flown on its 100%-owned Edinburgh Park Project in north Queensland.
Latest Update at Cox's Find Project: Deferral of Payment for Acquisition of the Cox's Find Gold Project of Great Southern Mining
Nineteen illumination targets consistent with porphyry mineralisation alteration systems have been identified from the second phase of the hyperspectral processing, out of which three are considered to be high priority targets due to the scale of the alteration zones apparent in the hyperspectral data which can extend up to ~2 km and the evidence of alteration zonation.
Related: Great Southern Mining Reports March Quarter: Significant Progress in WA and North QLD
Moreover, further ten secondary targets have been identified that indicate smaller scale scattered or diffuse target alteration, which may reflect limited outcrop or the effects of vegetation masking.
GSN-owned Edinburgh Park project is constituted by six Exploration Permits for Minerals (EPM) 26810, 26527, 27130, 27131, 25196, and 27506 that cover an area of 1006km2
The project is a greenfields exploration project in the target generational phase, considered prospective for porphyry copper-molybdenum, Intrusive related gold systems (IRGS) deposits and epithermal gold-silver deposits
GSN, in collaboration with Evolution Mining (ASX:EVN), had undertaken project-wide airborne hyperspectral data over the Edinburgh Park project covering some 1,000 km2 in October 2019, from which processed data was received in March 2020.
The details of the same are at: Hyperspectral Survey Highlights Gold Targets at Edinburgh Park Project of Great Southern Mining
Enhanced Potential for Multiple Mineralized Deposits
The current phase of the hyperspectral interpretation was carried out with a focus on identifying porphyry and intrusive related (IRGS) mineralized alteration footprints to enhance the initial interpretation which identified many significant high-sulphidation hydrothermal centres or hot spots.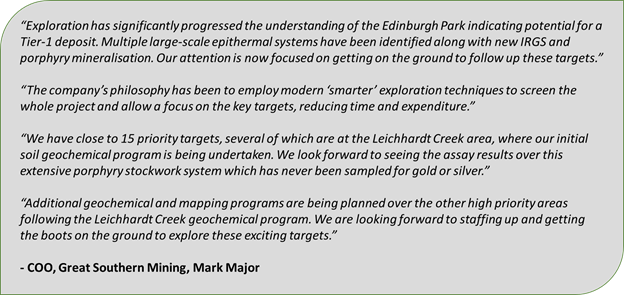 Geochemical Program Initiated
Great Southern Mining has initiated a geochemical survey which is the first systematic gold-focused exploration program undertaken over highly prospective targets, identified from the interpretation of hyperspectral data with geological mapping and geophysics.
The initial geochemical soil and rock chip survey is being undertaken over a 10 km2 area covering the porphyry stockwork north of Beaks Mountain within the Leichhardt Creek area.
GSN has also commenced reconnaissance work over the prospective porphyry and IRGS area with associated epithermal targets centred around Edinburgh Castle region.
Upon conclusion of the Leichhardt Creek program, GSN looks forward to initiating priority geochemical sampling program centred around the Edinburgh castle area. This shall cover an area of around 75km2 with an estimated 2,000 samples that shall be collected along the prominent structural corridor with multiple high as well as low sulphidation targets identified through hyperspectral alteration mapping.
Related: The Unstoppable; Great Southern Mining Identifies Geochemically Anomalous zones at Cox's Find Project
Geology and exploration targets at Leichhardt Creek showing the planned geochemical survey (Source: Company's Report)
Related: Shot in the Arm for Great Southern Mining, Receives $3.15 Million Funding Commitments
New Tenement Acquisition
On 1st April 2020, Great Southern Mining had applied for an additional exploration license (EPM 27506) covering 229.4 km2 broadening the tenement holding in the region at its highly prospective area of Edinburgh project to over 1200 km2.
The King Creek Permit, EPM 27506, is located to the east of Evolution Mining Limited's Mt Carlton Gold Project where the potential for gold along a prominent NNE-trending structural trend has emerged, a structural zone which projects through the King Creek Application area.
Way Forward for GSN
Geochemical mapping and sampling program are underway and is expecting to complete the Leichhardt field program by the end of June 2020 with assays expected to be received within three weeks of submission.
GSN have a busy "boots_on_ground" schedule following this initial program, with another large geochemical program planned for the extensive Edinburgh castle area; and with all the other priority and secondary targets yet to be walked; it will be a very active six months.
Stock Price Information
The GSN was trading at $0.094, with a market capitalisation of $35.55 million. The stock has more than doubled in value just in the past few weeks.