The stock markets in Australia and the US remain gloomy amid the grim situation due to the prolonged COVID-19 crisis, which doesn't seem to end anytime soon. There is no news to bring any comfort to the investors.
Today the Australian stock market settled at 6024, declined by 1.16 per cent when compared to yesterday's closure of 6094.5. All sectors closed in the red zone except consumer staples and Utilities.
In the US stock market, the S&P 500 slipped by ~40 points or 1.23 per cent; Dow Industrials dropped ~354 points or 1.31 per cent, and Nasdaq Composite was down by ~245 points or 2.29 per cent.
Unemployment further increased in the US: With re-imposed restrictions on economic activities, an additional 1.4 million people filed for unemployment insurance.
The stocks that performed the best today are:
IGO Limited (ASX:IGO), which was up by 4.836 per cent when traded at AUD420; and
TPG Telecom Limited (ASX:TPG), which was up by 4.7 per cent when traded at AUD 8.020.
The weak performing stocks in today's market are:
Insurance Australia Group Limited (ASX:IAG), whichtraded at AUD 5.320 and was down by 7.799 per cent; and
Evolution Mining Limited (ASX:EVN), which traded at AUD 5.820 and was down by 7.765 per cent.
See the graph here for the top five best and weakest performing stocks in today's market: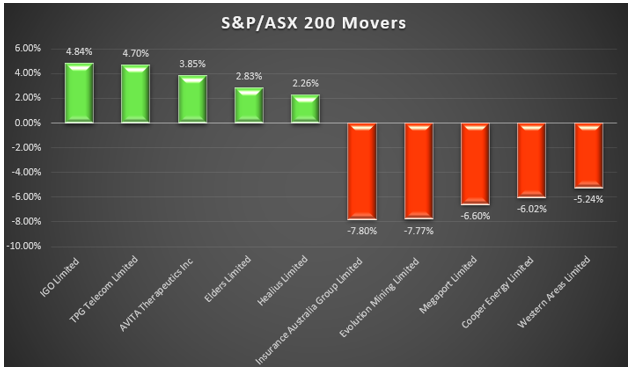 ---
Disclaimer
The video has been prepared for informational purposes only and is not intended to be used as a complete source of information on any particular company. The above video is NOT a solicitation or recommendation to buy, sell or hold the stock of the company (or companies) under discussion. Kalkine does not in any way endorse or recommend individuals, products or services that may be discussed on this site.
There is no one left untouched by the charm of the multibillion-dollar global boom in cannabis. Its glorious journey from a criminalized drug to being used in over 20 countries for treating medical conditions.
No wonder the cannabis stocks are on the edge of a green rush. Don't miss out on the happenings in the cannabis sector and take advantage of the growth phase of this sector by subscribing to our report on Marijuana stocks in Australia.
Find out the drivers for the rise in cannabis stock rates Even though the cannabis sector is in its growing phase, Australian cannabis stocks have already started to rise actively due to a hastily increasing patient base, and a legislative landscape that is gradually beginning to liberalise.
Outreach and future of cannabis stocks As countries liberalise regulation for medical and recreational use of cannabis, it is predicted that the industry would grow sharply in upcoming years The global cannabis market stands currently at around $8 billion and it is expected that the hemp derived CBD market to hit approximately $22 billion by 2022.
Key Players in the sector Althea Group Holdings Limited (ASX: AGH) and Cann Group Limited (ASX: CAN) are amongst the top players. Other Australia cannabis market players are- MGC Pharmaceuticals Ltd (ASX: MXC), Elixinol Global Limited (ASX: EXL), THC Global Group Limited (ASX: THC), AusCann Group Holdings Limited (ASX: AC8)
CLICK HERE FOR YOUR FREE REPORT!