Today, the market witnessed a fluctuating trend and managed to finish in the green zone with benchmark index S&P/ASX200 ending at 5954.4, up by 0.17 per cent as compared to yesterday's closure of 5,944.5.
The world is undergoing a recession due to the virus crisis, and the market is trying hard to remain optimistic amid the uncertain condition worldwide.
The US has suffered a lot in the first wave of the crisis and is now struggling with fresh cases. US stocks are trying hard to remain unaffected due to the negative sentiments in the wake of the new cases. Similarly, China is facing a new outbreak in Beijing, and lockdown measures have reduced the economic activity of the region.
The best-performing stocks for today's market are:
Western Areas Limited (ASX:WSA),up by 16.017 per cent when traded at AUD 2.680, after WSA announced promising results from the initial diamond drill hole at the Sahara prospect in South Australia.
Cromwell Property Group (ASX:CMW) which was up by 8.046 per cent when traded at AUD 0.940.
The worst-performing stocks for today's market are:
Challenger Limited (ASX:CGF) which traded at AUD 4.800, down by 9.774 per cent, and
Mesoblast Limited (ASX:MSB) which traded at AUD 3.390, down by 8.378 per cent.
Let's see the graph below to view the top five best and worst-performing stocks today: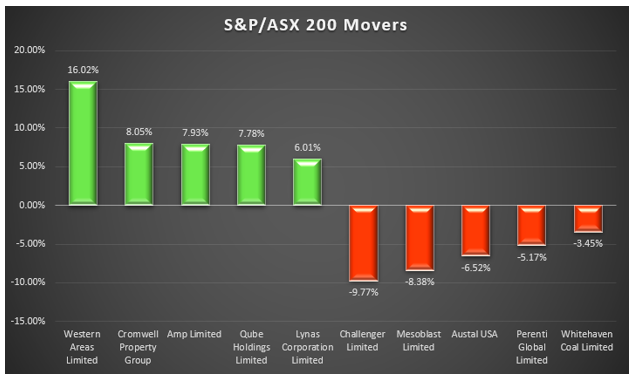 Which stock gained the most attention in 2019? Find out in our exclusive report on the much talked about lithium stocks which gained the most investor attention amidst the volatile and high drama electric vehicle market.
Read about the shift in the Electric Vehicle market in 2020 and the consequent focus on Lithium in our report.
Get an insight into the lithium prices and the trends. The supply glut kept the lithium prices in check. The escalated bilateral trade dispute between the United States and China significantly impacted the lithium chemical prices.
Understand the performance of mining companies. The lithium mining companies managed to sail through the turbulent white gold market by limiting the production in correspondence with the demand from the offtake partners.
CLICK HERE FOR YOUR FREE REPORT!