Amongst affordable fashion brands in Australia, SHEIN is a go to place for trendy clothes. It is a big fashion brand, popular across various social media platforms. SHEIN is also one of the most downloaded shopping apps globally on iPhone. It has held rankings as the top fashion brands in Australia, the US and the UK. Since its beginning in 2008, SHEIN has evolved as the fashion brand of Gen Z. Young shoppers on Instagram and TikTok are always looking for latest arrivals and new trends on SHEIN.
Let's make you scan through the latest deals on SHEIN?
Some of them we have covered here, read further to know-
Top 10 trends on SHEIN Australia
6 SHEIN brands for Halloween
Pros & Cons of shopping on SHEIN
Payment options on SHEIN
So let's first explore,
Top 10 Trends on SHEIN Australia-
Halloween is soon arriving and SHEIN's Australian site is up with new trends. Stock for upcoming Christmas are already trending online. Here is a list of 10 popular trends on SHEIN Australia.
Image Source -© 2021 Kalkine media
Under these tabs all your shopping needs inspired by these trends are pooled together. While top two trends are because of the upcoming festive season, others are based on most like prints and designs amongst Aussies.
You can explore more details at -
https://au.shein.com/shein-picks.html?ici=au_tab01navbar02&scici=navbar_WomenHomePage~~tab01navbar02~~2~~Special_discountList~~~~0&icn=shein-picks.html&srctype=category&userpath=category%3ETRENDS
7 SHEIN brands for Halloween-
SHEIN website has under its Sale category listed the following six brands you can explore for Halloween shopping-
MOTF- It is SHEIN's premium brand of elevated essentials made using higher quality materials.it is a high- end category of saleable once offered under its premium category.
EMERY ROSE- is its floral design affordable clothing range. This brand from SHEIN offers discounts from Afterpay.
SHEGLAM- is the makeup brand from SHEIN. It offers a palette of skin essentials at worthy prices. Oh without makeup how can you get that scary Halloween look?
PETSIN- It is SHEIN's range of pet costumes available online. With this collection pet parents can get the best fit for their babies this Halloween.
LUVLETTE- as the name suggest, a love letter to herself from a modern woman, it is SHEIN's elegant laced lingerie's that you can find here.
DAZY- Want to look like BTS this Halloween? DAZY can help you. It is a cool and trendy streetwear label. The collection is said to be inspired by Korean fashion and was earlier only popular in Asia. But with K-dramas and K-pop, it has established itself even in Australia.
CUCCOO- The everyday sneakers and loungewear brand is another popular shop category from SHEIN online. Of course you would need shoes on Halloween, unless you plan to be Cinderella!
Explore more brand offerings at -https://au.shein.com/
Pros & Cons of shopping on SHEIN-
Like any other website even SHEIN has a few positives and negatives, let us get you familiar with those too.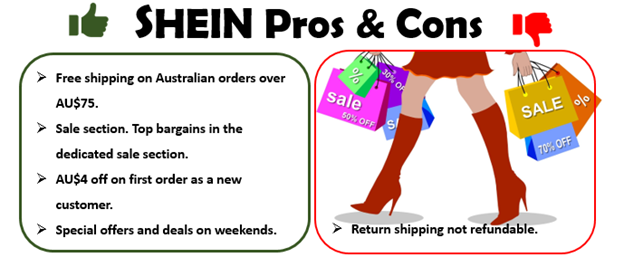 Image Source -© 2021 Kalkine media
Payment options on SHEIN-
You can pay for your shopping from SHEIN using your Debit or Credit Cards. American Express, Mastercard, Paypal, and Visa all cards are accepted on its website. SHEIN also offers
Buy Now Pay later option through its partner Afterpay. On Afterpay it also offers a 60-day returns window. Furthermore, you can always pay via cash!
Another SHEIN special is the SHEIN gift card which you can give on trick or treat this Halloween. It offers a range of budget friendly gift cards ranging from AU$5 to AU$500.
Disclaimer-Kalkine Media certifies that it has no commercial or business relationship with the entities mentioned herein and has not been offered any incentive/ compensation from them to write this article.