Oil & gas entity Calima Energy Limited (ASX:CE1) published May 2020 Investor Presentation on the ASX, which revolves around its core assets - the Tommy Lakes Facilities and the Calima Lands lying within a liquids-rich sweet-spot of the Montney Formation in Northeast British Columbia, Canada.
CE1, which owns and operates 100 per cent interest in 63,103 acres of Montney drilling rights in British Columbia, has recently finalised the acquisition of Tommy Lakes Infrastructure, providing the Company with pipeline access to regional, national and the US markets.
It is imperative to note that the Company's Calima Lands are now development ready, with a pipeline capacity of up to 50 mmcf/d and 2,500bbl/d.
Know More About CE1 Assets
With respect to Calima Lands, the presentation unveiled that McDaniel & Associates has estimated a maiden contingent resource of 1.176 TCFE/ 1,247 Pje for the asset in 2019 resource report, while prospective resources are currently being updated.
Additionally, three wells in 2019 enabled the Company to transform 60 per cent of its key acreage to 10-year production leases, covering 33,643 acres. The presentation mentioned that the remaining leases will expire mostly over 2021/22.
It is worth noting that the initial production test results rank in the top quartile of peer group Montney wells (1,640 barrels of oil equivalent per day).
The presentation also outlined the key benefits of the Tommy Lakes Infrastructure acquisition, which include:
Gas sales pipeline connecting to major growth markets - NGTL/AECO, Alliance and T-North/Station 2 - offer pricing flexibility on future sales contracts.
Liquids stripping, compression and associated pipelines can transport up to 50 mmcf/d of gas and 2,500 bbls/d of condensate before expansion.
Provides a tie-in point to Calima Lands, with permits and authorisations granted.
Access to over 30km of gathering pipelines, including a strategic 10-inch pipeline across the Sikanni River.
Being fully permitted, Facilities can restart within 6 months.
Cost-efficient, with an asset replacement value of $85 million and annual holding cost of ~$400,000 while suspended.
How has Canadian Gas Market Situation Improved?
The presentation also highlighted that the gas market situation of Canada has improved considerably since 2018/19 with respect to different factors, including Egress / Pipelines, LNG Export (West Coast Canada), Clear Government direction on resource project approval, Canadian Supply Pressure, and North American Competition & Associated Gas (see figure below).
Notably, the LNG project approvals, pipeline egress solutions and clear government direction on resource projects offer improved momentum for future gas projects in British Columbia, potentially benefitting Calima Energy.
The Company in the presentation unveiled that the oversupply and disparity of local Canadian and US natural gas derived from significant growth in associated gas volumes (from oil wells) has subsided with low oil prices and caused a rally in local gas pricing.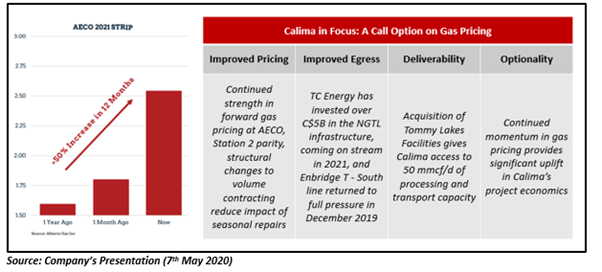 An Added Advantage – Canadian Energy Sector has Robust ESG Score
Canada holds strong environmental, social and governance (ESG) ratings in comparison to other oil producing countries across the world. The following points validate the same:
Canadian LNG is likely to have a greenhouse gas emissions average well below the industry's global emissions output.
Canadian LNG Projects are being designed at 0.06 to 0.15 tonnes of C02 equivalent per tonne of LNG; however, the global average is between 0.26 and 0.35 tonnes of C02 equivalent per tonne of LNG.
Canadian oil sand producers are committing to net-zero emissions by 2050. It is important to note that oil sands consume over 2 billion cubic feet per day of Canadian gas.
Canada leads in methane reductions with the Federal government recently declaring C$750 million in funding to aid the formerly identified targets of a 40 per cent reduction over 2012 emissions levels.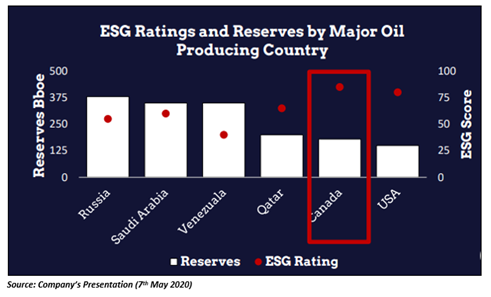 It is worth mentioning that Calima has stayed at the forefront in terms of safety and stakeholder relations, operating with no loss time injuries to employees or contractors since start up and consulting humbly with First Nations on all projects and endeavours to hire aboriginal owned businesses and local contractors.
Way Ahead
Calima Energy has set a range of operational objectives for the year 2020, which include:
Preparing Montney Acreage for Future Development

Manage Tommy Lakes and Montney assets with capital efficiency.
Preserve the asset for future production.
Evaluate potential re-use of Tommy Infrastructure to lower capital costs to bring Montney acreage on-stream more rapidly.

Seek New Ventures

Engage with Canadian E&P producers to unlock and maximise shareholder value through JVs, partnerships, third party investment and/or corporate transactions.
Capitalise on windows for corporate activity as Canadian Energy Policies alter and look to help the sector.
Pursue opportunities directed towards adding reserves that are capable of delivering profitable production in the near-term with growth upside as markets regain further.
Moreover, Calima Energy is sufficiently funded with a working capital of $3.6 million as at the end of April 2020 post the Tommy Lakes acquisition.
On 7th May 2020, CE1 closed the day's trade at $0.006.
Also Read: Take A Ride Through Calima Energy's Spectacular Performance in March 2020 Quarter