Big day for Australia's oil and gas industry (22 November 2019) as Prime Minister Scott Morrison stated to deliver new deregulation measures for Australian businesses. The announcement included the development of a digital environmental approvals process and database aimed at reducing the current approvals process by between six and eighteen months.
The Chief Executive of the Australian Petroleum Production and Exploration Association (APPEA), Andrew McConville, said:
"The measures will reduce red tape and unnecessary regulation, unlocking investment opportunities in Australia;
Ensuring Australia remains an attractive destination for investment is crucial for delivering energy security and sustainability for domestic and export customers;
Modernising and digitising the process means will be able to maintain high environmental standards while improving certainty, consistency and transparency across agencies and jurisdictions".
According to Austrade, fresh and existing developments in various regions across Australia have contributed in the creation of thousands of new jobs in the domestic oil and gas industry and the same is expected to persist in the future.
Moreover, Australia also has substantial shale gas reserves with potential for witnessing significant development in coming years, such as in the Perth, Canning, Cooper and Maryborough basins.
So, is this enough brightness for ASX Stocks?
Actually, No. Let us move out of Australia and trace the opportunity for Australia's Oil industry in the international aspects.
Oil Prices and the related aspects are the all-time hot topics in the international business environment. Recently, looming anticipation was seen in the international oil market due to the damages at the Saudi Aramco Abqaiq oil processing facility (world's largest crude oil processing and stabilization plant) and the Khurais oil field in eastern Saudi Arabia.
However, after a few days from this attack, Saudi Aramco announced that total production would be restored within weeks whereas around 2 million barrels per day of previously shut-in volumes had already returned to production.
As an implication of the above, Brent crude oil prices dropped to $65.59 per barrel, and West Texas Intermediate crude oil prices dropped to $59.26 per barrel by 17 September 2019. These declines in the prices persisted as it became clear the outage would not last for weeks and months whereas shall end in few days.
Further, by 30 September 2019, we witnessed that prices had fallen below the pre-disruption levels. They are averaging approximately to $54.09 per barrel for West Texas Intermediate and $61.00 per barrel for Brent.
Oil export earnings surged 29% in 2018–19
Oil prices had declined in the past few months in times of weakening global economic conditions. Notwithstanding on the favourable anticipations about the oil prices and production globally, Australia's oil production was expected to grow.
Figure 1Australia's annual oil exports (Source: Department of Industry, Innovation and Science)
According to the Department of Industry, Innovation and Science,
Export earnings up to $9.0 billion in 2018–19, a 31% increase on the previous financial year largely-driven by higher crude and condensate export volumes, higher prices and a weaker Australian dollar;
Production forecast to increase at an average annual rate of 11%, strengthening the outlook for crude and condensate, up from 340,000 barrels a day in 2018–19 to 417,000 barrels a day in 2020–21,
With rising export volumes and a weaker Australian dollar, annual earnings from crude and condensate exports are forecast to peak at $11.4 billion in 2019–20;
With Woodside's Greater Enfield expansion coming online in Carnarvon in 2019–20, crude production in Australia is expected to rise to total production in 2020–21 forecasted to be 21% higher than 2018–19;
Forecasted Increase in U.S. Crude Oil Production
In its latest Short-Term Energy Outlook (STEO), U.S. Energy Information Administration (EIA), has increased the forecast for the U.S. crude oil production based on updates to EIA's published historical data and EIA's crude oil price forecast.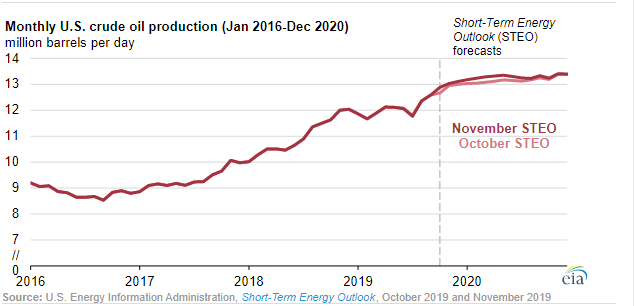 In the STEO report,
EIS increased its forecast of U.S. crude oil production in 2019 by 30,000 barrels per day (b/d) (representing an increase of 0.2%) from the October STEO;
Increased its 2020 crude oil production forecast by 119,000 b/d (representing an increase of 0.9%) compared with the October STEO;
The forecasted increase in the crude oil production in the November STEO were principally steered by:
EIA's upward revision to historical production in the Lower 48 states of about 90,000 b/d for August, based on EIA's most recent monthly crude oil production survey data;
A higher initial production forecast for future wells that will be drilled in the Texas Permian region through 2020;
A slightly higher crude oil price forecast for the November 2019–January 2020 time period than in the October STEO;
WTI Crude Oil Price Forecast Increased by $2 per barrel
In addition to the forecasted increasing production, EIA also forecasts an upward movement in its U.S. benchmark West Texas Intermediate (WTI) crude oil price by $2 per barrel (p/b) in November to $56/b and by $1/b in both December and January to $55/b and $54/b, respectively.
Being prone to be affected by the slight increase in crude oil prices, EIA expects production to increase in the first half of the upcoming year 2020 supported by EIA's assumption of a six-month lag between a production response and a crude oil price change.

Figure 2Monthly U.S crude oil Production by Region from January 2017 to December 2020 (Source: U.S. Energy Information Administration)
Based on the EIA's expectation for WTI-Cushing crude oil prices to stay lower than $55/b until August 2020, EIA further anticipates a continuous decline in drilling rigs as producers cut back on their capital spending, consequently slowing the growth of domestic crude oil production over the next 14 months.
How will ASX be Affected?
The rising Oil prices and favourable forecasts for the US oil prices are bound to influence the ASX and the Australian oil industry. On one hand, increasing oil prices shall increase the cost of running the business for oil-dependent industries such as airlines in Australia.
On the contrary, the increasing oil prices are expected to be a good opportunity for ASX listed oil companies to gain higher returns on their investment in the oil projects. You should know that the extracting oil demands significant investment from the oil extraction companies; therefore, the oil companies shall look forward to clutching this opportunity of generating maximum profitability.
An important aspect of availing these levels of profits for the oil companies is the discovery of oil in the areas where Australian companies are running their projects.
By now you should be able to relate to the general inference that "higher the rise in oil prices, higher is the profit generation possibility for the oil company".
If this stands true, it has a direct relation with the earnings for the shareholders of the company. As the outcome of the higher oil prices, shareholders can potentially gain higher returns in the existing companies and gain exposure to several more opportunities.
In the longer-term, the compelling higher oil prices shall encourage the existing oil companies to expand their exploration activities and provide an opportunity for new oil companies to emerge.
Australia's oil and gas industry is backed by its strong points in the high-tech domestic engineering along with design, geophysics, and electrical and process engineering facilities and capability. According to Austrade, Australia's share of global LNG supply is set to grow from about 8% to over 25%, therefore presenting a huge upcoming opportunity for the players in the local energy industry.
---
Disclaimer
This website is a service of Kalkine Media Pty. Ltd. A.C.N. 629 651 672. The website has been prepared for informational purposes only and is not intended to be used as a complete source of information on any particular company. Kalkine Media does not in any way endorse or recommend individuals, products or services that may be discussed on this site. Our publications are NOT a solicitation or recommendation to buy, sell or hold. We are neither licensed nor qualified to provide investment advice.