Wi-Fi, which is also known as a wireless networking technology, provides high-speed internet access as well as network connections. In a Wi-Fi network, there is no requirement of the wire, which needs to be plugged into the system of the user. Instead, Wi-Fi uses radio frequency technology.
All smart devices use the Wi-Fi technology in the present scenario. These smart devices comprise of smartphones, televisions, tablets, printers, cameras, drones, etc.
The biggest advantage of the wireless network is that it enables multiple devices to get connected through a single network, due to which it is also cost-effective. Not only at home, but users are also able to access the network through public Wi-Fi systems, which nowadays are available at hotels, coffee shops, etc. However, the public network is a bit risky, as there are chances that the confidential information available in the device might get hacked.
Discussed below are three internet service providers, offering Wi-Fi services as well.
Skyfii Limited
About the company:
Skyfii Limited (ASX: SKF) is an ASX listed software technology company, which offers analytics as well as data-driven marketing products. The company focuses on assisting businesses as well as organisations to do well, innovate and drive transformation.
Products:
The products of the company include:
People Counters: This product of the company integrates directly with its visitor intelligence platform and helps the user in analysing visitor traffic across the venues.
Guest WiFi: It is a scalable, reliable, as well as an easy-to-use solution for handling the guest WiFi experience. Guest WiFi provides better visitor experience, higher conversion rates on marketing campaigns and better client profiles.
IO Connect: It helps in obtaining as well as combining visitor and venue data in a single view.
IO Insight: It is a data visualisation tool, which demonstrates how visitors behave in a particular venue. It improves marketing conversions and identifies under- or over-performing assets.
IO Engage: It communicates with visitors via messages at the right time and place.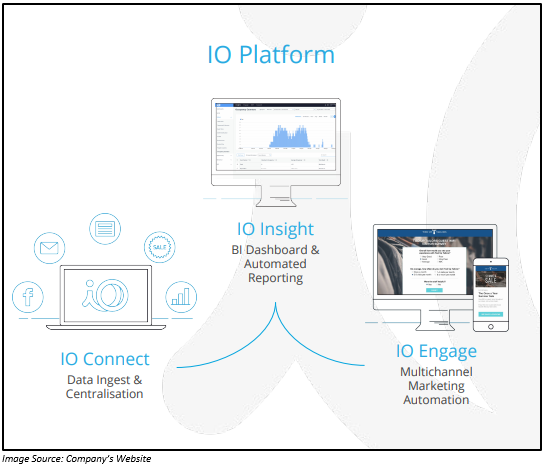 Recent Update/s:
On 9 July 2019, Skyfii declared that it completed the acquisition of Beonic Technologies, which is a top Australian customer insights provider and specialises in camera and people counting technology.
The company had received an immense positive as well as a supportive response from the top customers of Beonic, including blue-chip companies from the retail sector such as AMP, Lend Lease, QIC, ISPT and The GPT Group in Australia. Some of the other new clients like New Balance, Melbourne City Council, L'Oreal, David Jones and National Museum of Australia resulted in a diversified client base across the lucrative retail, cultural centres, municipality as well as education verticals.
Transaction Details:
The deal was completed after the satisfaction or waiver of conditions precedent and other completion requirements. These requirements include an agreement from the top ~30 customers of Beonic to continue the business with Skyfii in the normal course along with all essential permissions that are required under their relevant contracts. In line with the announcement made by the company on 14 May 2019, the company made a payment of $ 0.1 mn in cash and issued 2,500,000 ordinary SKF shares, which are subject to escrow for 18 months from the completion, under the initial tranche of consideration for the acquisition deal.
The final tranche would be of up to $ 1.167 mn.
Stock performance:
In the previous six months, the SKF stock has generated a return of 9.68%. By the closure of the trading period on 17 July 2019, the price of SKF share was A$ 0.155, down by 3.125% as compared to its previous closing price. SKF has a market cap of ~ A$ 54.16 mn and ~ 318.56 mn outstanding shares. Around 108,516 shares of the company traded on ASX on 17 July.
Vocus Group Limited
About the company:
Vocus Group Limited (ASX: VOC) is a provider of telecommunications services and has its operations in Australia and New Zealand. It provides fibre and network solutions, which connect all mainland capitals with Asia.
Brands:
Vocus Communications: It offers forward think solutions such as data networks, internet, unified, comms, cloud services and data centres.
Commander: Commander supports in business communications. For ~ 30 years, Commander is engaged in offering communications along with technology solutions for meeting the Australian business requirements.
engin: engin is one of the top providers of IP voice in Australia. It provides solutions for micro as well as soho businesses.
Dodo: It is one of the leading challenger brands in Australia, which provides easy-to-use internet and mobile products across the country, along with energy products in chosen states.
iPrimus: It is one of the 1st true broadband competitors in Australia. Since 1997, it provides reasonably priced broadband, home phones and mobiles.
Slingshot: It is broadband for Kiwi families. Moreover, it offers excellent broadband, reasonable prices, and good old-fashioned service.
Flip: Flip provides cheap and cheerful broadband.
ORCON: it is engaged in driving innovation in the New Zealand market.
2Talk: It provides VoIP solutions to small businesses and wholesale customers, helping them in managing their telephony.
Recent Update/s:
On 3 July 2019, the company briefed about its three-year turnaround strategy, including:
People and Culture
Planning and Execution
Vocus Networks Revenue Enablers
Strategic Fibre Builds
Technology Simplification and Modernisation
Retail Turnaround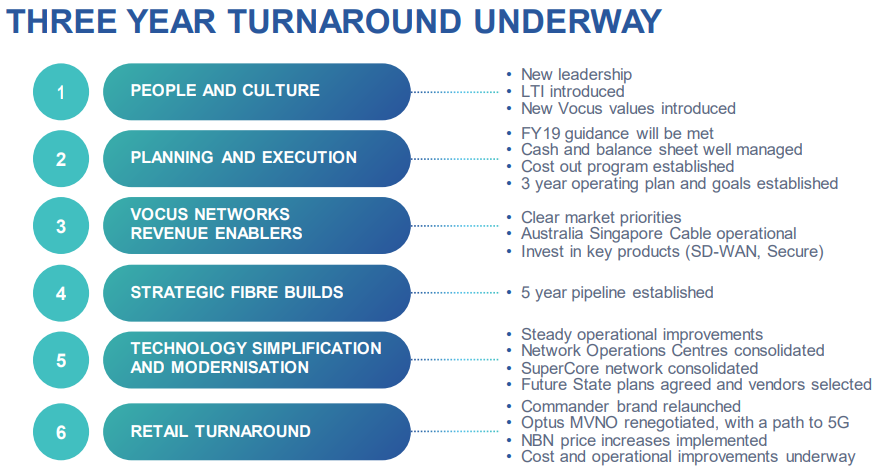 Image Source: Company's Report
The company reported to have simplified into three independent operating businesses, which include:
Vocus Network Services (core business), which has untapped growth potential. It is the top provider of fibre as well as network solutions. The target markets of this business include enterprise, federal, state and local governments, as well as the wholesale. Its network asset comprises of c.25,000km fibre, more than 5,500 on net buildings along with 17 owned data centres.
Vocus Retail, the reseller of broadband, mobile, voice and energy targets price-sensitive customers along with small to medium enterprises.
Vocus NZ, provides a full-service offering of fibre connectivity, broadband, voice energy as well as mobile, focusing on consumer, enterprise, government and wholesale markets. Its network asset comprises of 4,200km of inter capital fibre along with 3 owned data centres.
Outlook:
The company reaffirmed its guidance for FY2019, expecting underlying EBITDA to be in the range of $ 350 mn to $ 370 mn. For FY2020, the company anticipates its underlying EBITDA to be in the range of $ 350 mn to $ 370 mn. The EBITDA growth in the core business is likely to be in between $ 20 mn and $ 30 mn, which would be balanced by an equivalent fall in Vocus Retail.
Stock performance:
In the previous six months, the VOC stock has generated a negative return of 3.75%. By the closure of the trading period on 17 July 2019, the price of VOC share was A$ 2.970, down by 0.336% as compared to its previous closing price. VOC has a market cap of ~ A$ 1.92 bn and ~ 622.26 mn outstanding shares. Around 1,252,496 shares of the company traded on ASX on 17 July.
Superloop Limited
About the company:
Superloop Limited (ASX: SLC), operating in the telecommunication services sector, provides connectivity services designing and development as well as operating networks across the APAC metro region.
Services:
Managed Networks: The company builds as well as manages WAN using IP WAN, SD WAN and managed wireless options.
Security: Through its integrated security services, the company protects the business systems from cyber-attack and data loss. The data gets safeguarded from end to end through managed firewalls, endpoint protection, cyber incident response, etc.
Voice: IP-based voice services offer cost-effective, business-grade telephonic communication through the IP network.
WiFi: The company provides its customer's clients and guests with continuous, high-speed network experience.
Recent Update/s:
On 9 July 2019, the company provided information related to the change of interest of substantial holding of BlackRock Group.
Before 5 July 2019, BlackRock Group was holding 14,581,746 ordinary shares of the company and had a 6.38% voting power. Now, BlackRock Group is holding 13,614,079 shares of the company, translating into a 5.37% voting power.
On 1 July 2019, Superloop Limited released an announcement, under which it provided an update on the FY2019 earnings guidance. In the 1H FY2019 investor presentation, the company had highlighted FY2019 guidance. The company expected its statutory EBITDA to be in the range of $ 13 mn and $ 18 mn and also stated that the guidance would depend on a number of factors, including certain transactions which were expected to finalize and recognized in the current financial year. However, the company could not complete the negotiations by the end of FY2019 in order to secure a significant commercial agreement, which could have contributed in the expected EBITDA.
Owing to this, the company expects a lower EBITDA for FY2019. To read more click here.
Stock Performance:
In the previous six months, the SLC stock has generated a negative return of 26.76%. By the closure of the trading period on 17 July 2019, the price of SLC share was A$ 1.050, down by 2.778% as compared to its previous closing price. SLC has a market cap of ~ A$ 273.57 mn and ~ 253.3 mn outstanding shares. Around 873,265 shares of the company traded on ASX on 17 July.
---
Disclaimer
This website is a service of Kalkine Media Pty. Ltd. A.C.N. 629 651 672. The website has been prepared for informational purposes only and is not intended to be used as a complete source of information on any particular company. Kalkine Media does not in any way endorse or recommend individuals, products or services that may be discussed on this site. Our publications are NOT a solicitation or recommendation to buy, sell or hold. We are neither licensed nor qualified to provide investment advice.