Health care sector in Australia is growing tremendously and players are investing a considerable amount in their research and development for providing new treatment for rare diseases and finding therapies for unmet medical needs. Clinical studies advance medical knowledge and provide benefits to patients. The Australian health care system is primarily funded by Medicare. The Government in Australia is supporting health care companies and research organisations to invest in the research and development for providing better solutions and to find out treatment for rare diseases.
Many new pharmaceutical moieties enter the preclinical and clinical trial phase annually, but not all of them get approval from the regulatory authorities. The new drug molecule needs to provide appropriate efficacy and safety in clinical development.
In this article, we are discussing Starpharma, which has recently reported positive outcomes from the preclinical study for its compound DEP® gemcitabine.
Let's zoom the lens on this health care stock -
Starpharma Holdings Limited (ASX: SPL)
A world-leading Australian headquartered health care company, Starpharma Holdings Limited (ASX: SPL) is engaged in developing dendrimer products for life science, pharma and other applications. The company's main development programs include-
VivaGel® portfolio
DEP® drug delivery
VivaGel® is a proprietary dendrimer based on SPL7013 and is for women's health. VivaGel® BV is available in the market of Europe and Australia for the treatment of bacterial vaginosis (BV). The company submitted a new drug application to the US Food and Drug Administration.
Dendrimer Enhanced Product® (DEP®) showed reproducible preclinical utility across various internal and partnered DEP® programs. The improvement in efficacy, safety and survival were observed in the preclinical study of DEP®. As of now, the company has three DEP® products (internal) under clinical development in patients with solid tumors- DEP® docetaxel, DEP® cabazitaxel and DEP® irinotecan.
Starpharma has licensed VivaGel® BV for sales and marketing to:
ITF Pharma for the United States
Mundipharma for Europe, Russia, CIS, Asia, Middle East, Africa and Latin America
Aspen Pharmacare for Australia and New Zealand.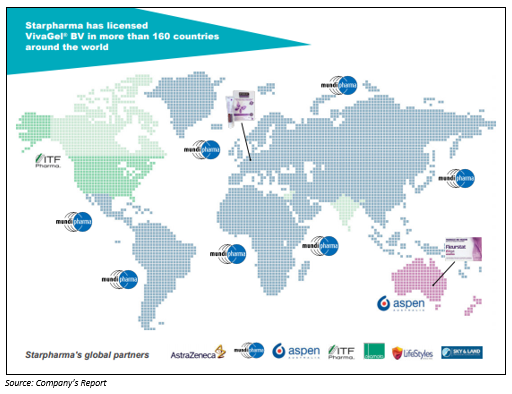 Preclinical Human Pancreatic Cancer Model
The company recently released results for its next internal development compound, DEP® gemcitabine;
The company's proprietary DEP® gemcitabine demonstrated significantly enhanced activity against tumour compared with Gemzar® (gemcitabine) both alone as well as in combination with Nab-paclitaxel in a preclinical human pancreatic cancer model.
Study Results-
Significantly enhanced inhibition of tumour was observed with DEP® gemcitabine as compared to gemcitabine (Gemzar® as standard) in the human pancreatic cancer (CAPAN-1) xenograft model.
The effect of DEP® gemcitabine was also studied in combination with Abraxane® and compared with the combination of Gemzar® and Abraxane®. The anti-tumour effect of DEP® gemcitabine and Abraxane® was significantly better than the Gemzar® and Abraxane® combination.
Study methods-
An internationally recognised translational cancer group conducted the study.
Human cancer cells used for a xenograft study were implanted in a mouse, appropriate for assessing the efficacy of anti-cancer therapies before clinical trials.
Tumour growth was measured twice weekly using electronic callipers, and the growth inhibition data were analysed in GraphPad Prism.
September Quarterly Report
Cashflow: Through an ASX update on 30 October 2019, the company released the Appendix 4C – Quarterly Cashflow Report for the quarter ended on 30 September 2019. According to the announcement-
Cash balance of the company stood at $36.8 million, excluding anticipated $4.9 million R&D tax incentive.
Net operating cash outflow of Starpharma for the September quarter was $4.6 million.
Receipts from customers for the September ended quarter reached $1.1 million.
Key Recent Event Highlights
The US Food and Drug Administration approved the investigational new drug application (IND) for phase I clinical trial of AstraZeneca's first DEP® product, AZD0466. This trial is expected to start at the end of this year after site set-up and ethics committee/institutional review board approvals.
SPL will start phase I/II clinical trial for DEP® irinotecan at multiple sites.
After the launch of Betadine BVTM in Europe and Fleurstat BVgel in Australia, the company continued the promotion and marketing for VivaGel® BV. In many pharmacies, Fleurstat BVgel is available for sale.
VivaGel® BV has received the first Asian regulatory approvals.
Starpharma is expecting the launch of BetadineTM BV Gel in the Asian region in the next few months and the company has already made a regulatory submission in Asian countries and some Mundipharma regions.
The company has filed two new patents for new DEP® candidates, which are currently under preclinical development.
In the DEP® cabazitaxel and DEP® docetaxel trials, promising efficacy results were noticed. In addition, there was no bone marrow toxicity and other side effects.
Annual General Meeting (AGM)
Starpharma is due to conduct the 2019 AGM on Thursday, 21 November 2019 at Melbourne, Australia. The resolutions to be considered during this meeting are-
Adoption of the Remuneration Report
Re-election of Ms Zita Peach
Approval of Issue of Performance Rights to Dr Jacinth Fairley
Starpharma Presents at US Drug Delivery Conference
In early October 2019, Starpharma unveiled to have received initiation to present at the US Drug Delivery Conference in Boston in the US, on 7-8 October. VP of Research Dr David Owen was scheduled to represent the company during the conference and highlight the benefits of the DEP® platform including-
DEP® technology benefits in partnered programs, including AZD0466, which was recently approved by the Food and Drug Administration to proceed under Investigational New Drug (IND) application to human clinical trials.
Recent DEP® results which demonstrated its benefits alone as well as in combination with other oncology agents such as Lynparza® and Erbitux®.
Application of DEP® in radiopharmaceuticals and antibody-drug conjugates (ADCs).
About the internal DEP® program focusing on clinical-stage products

DEP® docetaxel
DEP® cabazitaxel
DEP® irinotecan
Key Highlights for FY 2019 (ended 30 June 2019)
Starpharma generated total revenue and other income of $2.7 million.
Cash position of the company at 30 June 2019 was $41.3 million.
Net cash burn stood at $10.1 million.
In this financial year, VivaGel® BV launched in Europe and Australia by the name of Betadine BVTM and Fleurstat BVgel, respectively.
The company received the first Asian regulatory approval for BetadineTM BV Gel.
VivaGel® condom under the brand name of Okamoto's Zero Zero Three ('003') launched in Japan.
A patent for DEP® dendrimers with AstraZeneca's Bcl2/xL inhibitors, including AZD0466 issued in the United States.
A positive progression recorded for phase 2 clinical trials of DEP® docetaxel and phase I/II trial for DEP® cabazitaxel.
Received approval to start phase I/II trial for DEP® irinotecan.
Various DEP® radiopharmaceutical and other DEP® compounds are under research in different models.
Stock Performance
The company's stock settled at $ 1.190 on 01 November 2019 with a daily volume of nearly 127,202 and a market capitalisation of approximately $431.51 million. The stock has a 52 weeks high price of $1.662 and a 52 weeks low price of $0.870. The stock has delivered a positive return of 9.43% on a YTD basis and a negative return of 8.30% in the last six months.
---
Disclaimer
This website is a service of Kalkine Media Pty. Ltd. A.C.N. 629 651 672. The website has been prepared for informational purposes only and is not intended to be used as a complete source of information on any particular company. Kalkine Media does not in any way endorse or recommend individuals, products or services that may be discussed on this site. Our publications are NOT a solicitation or recommendation to buy, sell or hold. We are neither licensed nor qualified to provide investment advice.