The introduction of innovative technologies in the health care sector has entirely transformed the industry and has appeared as a boon for patients, clinicians, researchers and scientists. Health care expenditure is increasing at the global level, driven by an enhanced demand for medical technology and pharmaceuticals (MTP) solutions as the markets develop and seek longer and higher quality of life. These spending have generated a strong appetite for the novel solutions that could be helpful in cost reduction and at the same time deliver better standards of care.
A lot of innovation in health care industry arise from medical technology and pharmaceuticals sector with data-driven insights providing platforms for innovative and efficient MTP solutions and lowering the costs which are associated with their integration into the health care system. The Australian medical device, biotech and pharmaceutical industries are different but closely related as they have strong inter-dependencies and a flow of ideas among medical research organisations and local health care system.
Medical Technologies and Pharmaceuticals (MTP) in Australia
The MTP sector is considered as the supporting system for the participants who are involved in the research & development, clinical testing, funding, regulation and commercialisation of the services and products that make a therapeutic claim and are regulated by the TGA (Therapeutic Good Act).
On the basis of global megatrends and the competitive position of Australia, there are four significant growth opportunities-
Smart devices, implants and bionics;
Accelerated pharmaceutical development;
Manufacturing high-value pharmaceuticals;
Diagnostics and informatics products and services.
In this article we are highlighting one of the major health care sector players in Australia who has performed well and received valuable returns recently-
AVITA Medical's (ASX: AVH) 2019 performance
Stock performance- AVITA medical has delivered an excellent return of 665.82% on year to date basis, a positive return of 65.75% in last six months and a positive return of 19.80% in last three months. On 9 November 2019, the company's stock quoted $0.570, with a market capitalization of $1.28 billion. The AVH stock has outstanding shares of approximately 2.12 billion. Its 52 weeks high and 52 weeks low price stands at $0.740 and $0.077, respectively.
Let us have a look on the achievements of AVITA Medical in 2019 which drives the company to attain a decent growth-
FDA-Approved Skin Regeneration Platform
The regenerative medicine platform, which is designed by the burn surgeons, is an autologous cell harvesting device using the proprietary enzyme and buffer formulations for the preparation of Spray-On Skin™ cells. This is the first market approved burn care product for over 20 years.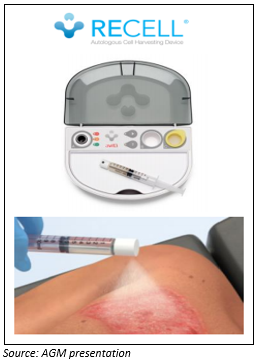 RECELL market in the United States- After receiving Food and Drug Administration (FDA) approval in September 2018, the RECELL market has shown tremendous growth in the US market. More than half of the US burn centres and surgeons are trained in RECELL.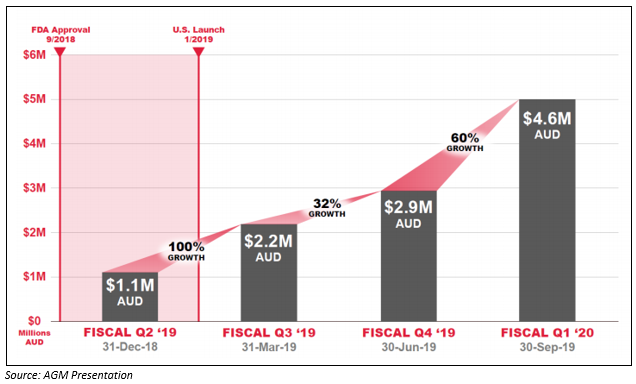 Read more about AVITA's RECELL® system- Click here
Preclinical research collaboration with Colorado University
According to one ASX announcement, AVITA medical highlighted the partnership with University of Colorado School of Medicine for the spray-on treatment of genetically modified cells epidermolysis bullosa patients, having potential applicability to other genetic skin disorders.
With this collaboration, the patented and proprietary Spray-On Skin™ Cells technology of AVITA Medical's and expertise with the Gates Center's novel, patent-pending collective reprogramming and gene-editing technology would be paired for the proper functioning of the cells. AVITA holds the option to exclusively license technologies which will develop from the partnership for further commercialisation and development, under the provisions of the Sponsored Research Agreement.
AVITA medical has secured its place on the S&P/ASX 200 Index
On 8 November 2019, AVITA announced that it is added to the S&P/ASX 200 index from 14 November 2019. The S&P/ASX 200 Index is known as the institutional investable benchmark in Australia and evaluates the performance of the largest 200 companies based on market capitalization on the ASX.
Pivotal soft tissue trial approval
On 17 September 2019, AVITA unveiled that the US FDA approved its company's Investigational Device Exemption application for conducting a pivotal trial for the evaluation of safety and effectiveness of the RECELL® combinedly with meshed autografting for the treatment of acute full-thickness skin defects.
Listing on Nasdaq
The company announced that it has started trading on Nasdaq Capital Market (Nasdaq) on 1 October 2019 under the code "RCEL".
Publication of Health Economic Model
The health economic model of AVH has been published in the Advances in Therapy. This health economic model is for the US burn care pathway and was developed in collaboration with BARDA and IQVIA. According to this, health economic model with the help of AVITA Medical's RECELL® System the cost, as well as the time of hospitalization, can be lowered as compared to the standard of care.
Collaboration with COSMOTEC
On 4 March 2019, the company announced its collaboration with COSMOTEC for the marketing and distribution of RECELL® Autologous Cell Harvesting Device to treat burns and other wounds in Japan. Moreover, COSMOTEC filed a Japan Pharmaceuticals and Medical Devices Act application on 25 February 2019 for approval to market the RECELL System in Japan. COSMOTEC is an M3 Group company which is into sales and consulting of medical devices for endovascular treatment, general surgery and cardiac surgery.
Let's discuss some financial information of the company for the fiscal year 2019 (year ended 30 June 2019)-
The total net revenue of the company is FY2019 was approximately $14,723,422.
The revenue from global sales was nearly $7,705,398.
As of 22 November 2019, the company has approximately $134.5 million cash.
The cash & cash equivalents of the company were $28,983,491.
About AVITA-
An ASX listed health care player AVITA Medical (ASX: AVH) is a global regenerative company which is engaged in developing new and innovative solutions for skin regeneration. The medical device of AVITA work by preparing an autologous suspension RES™ (REGENERATIVE EPIDERMAL SUSPENSION™) which is comprised of the patient's own skin cell. RES™ suspension is easily sprayed onto the area where the treatment is required. The company's patented proprietary collection and application technology provides a new regenerative property derived treatment from the patient's own skin.
The company has a strong product pipeline with a robust growth potential for the upcoming years-
With key milestones achieved in 2019 AVITA medical has a strong position in the health care sector in Australia and has a well-planned pipeline for upcoming years to support the continuous growth of the company in next years.
---
Disclaimer
This website is a service of Kalkine Media Pty. Ltd. A.C.N. 629 651 672. The website has been prepared for informational purposes only and is not intended to be used as a complete source of information on any particular company. Kalkine Media does not in any way endorse or recommend individuals, products or services that may be discussed on this site. Our publications are NOT a solicitation or recommendation to buy, sell or hold. We are neither licensed nor qualified to provide investment advice.