FAANG is the acronym for Facebook, Apple, Amazon, Netflix and Google. Earlier, the terminology FANG was used by CNBC analyst Jim Cramer in 2013, and two years later Apple was added to this group.
FAANG stocks from 2015 to mid of 2018 dominated the market. In 2019, the shares of Apple have zoomed up more than 55%. Other stocks in the FAANG basket, like Facebook, Netflix and Google have soared up by 43%, 2% and 20% respectively.
Since mid of 2018, FAANG stocks have not been performing that great as it was once performing. However, Apple Inc alone has outperformed the entire group of FAANG stocks.
If we take a look at some of the frontline technology stocks on a year-to-date basis till the close of last week, we would observe the following. Shares of Apple Inc on NASDAQ which closed on 2 January 2019 at US$157.92, were at US$246.58 on 25 October 2019, representing a growth of 56.14%. Individually, Facebook Inc gave a YTD return of 38.48%, Amazon.com Inc a YTD return of 14.43% and Alphabet Inc (holding company of Google) that of 19.38%.
Let's look at the recent news trending about these companies and understand the market sentiment behind these stocks:
Apple Inc:
Post the arrival of iPhone 11 Pro, iPhone 11 Pro Max, iPhone 11 and Apple Watch Series 5 in stores, the company had made a couple of announcements.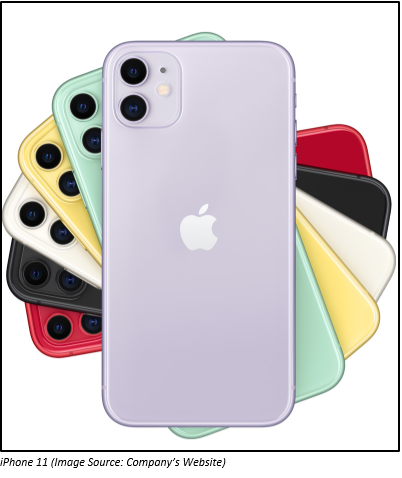 Apple and Oprah Winfrey on 23 September 2019 announced that Oprah's Book Club would link a group of readers around the world to stories that really matter by most thought-provoking authors in the recent times. Oprah is a respected producer, actress, talk show host, philanthropist and Chief Executive Officer of Oprah Winfrey Network (OWN) which will be entering into a partnership with Apple to develop a lively, global book club that has the power to both change individuals as well as take them on a journey of self-discovery.
Through this partnership, readers across the world would be able to discover Oprah's Book Club through the Apple Books app. It would be possible for the readers to discover further about the newest selection as well as look through earlier selections in a beautiful and immersive experience.
As announced on 8 October 2019, the company updated Final Cut Pro X with a new Metal engine that can deliver increased performance. Final Cut Pro X sports a new Metal-based engine. This engine expedites graphics-based tasks and enhances playback experience.
Sentiment surrounding Apple:
Apple Inc is known for its excellent products and people who, like the products, connect themselves with excellence. It has been almost 2 months since the launch of iPhone 11 Pro and the product is in huge demand. The company has asked its suppliers to raise their production by 10% or 8 million units. The increase in demand for the product has motivated the company to reduce the price of its basic model for its upcoming slate of iPhones.
Facebook Inc:
Facebook Inc has become a topic of discussion because of its recent decision that allows politicians to post any claims they wish to post, even the post is a false one. This message was provided by the employees of Facebook. The employees of Facebook are not in favour of the policy on political advertising, as they consider it to be a threat to what Facebook stands for, as per a letter obtained by The New York Times.
Facebook for weeks was being attacked by the candidates contesting the 2020 US Presidential election, lawmakers and civil rights groups.
Facebook in an open letter to the Biden campaign stated that the advertisement that was viewed 5 million times on the site does not violate company policies over its stance on the political ads.
Katie Harbath, who is Facebook's head of global elections policy, wrote in a letter to the Biden campaign that Facebook approach is grounded in its fundamental belief in freedom of expression. She also stated that in mature democracies with a free press, political talks remain debatable.
Sentiment surrounding Facebook:
Facebook, since a long time, has been working on removing any coordinated inauthentic behaviour on its site. Recently, it has deleted four distinct networks of accounts, Groups and Pages as well, as who were engaged in inauthentic behavior on Facebook as well as Instagram. Out of these, three were from Iran, and one from Russia and they aimed various other countries around the world. The individuals related to these activities formed groups of accounts to misrepresent others about their identity and their operations.
Nathaniel Gleicher, the Head of Cybersecurity Policy of Facebook, also clarified in one the announcements that the company is working to identify and stop any such activity as the company does not want its services to influence the audience under false pretensions.
But this appears to be contradictory when it comes to the 2020 US Presidential Elections.
Amazon.com Inc:
Amazon Web Services (AWS) is the most experienced player in the cloud market enjoying larger community support and user bases like Netflix, Airbnb, Unilever, BMW etc. On the other hand, Azure is also growing at a faster rate, and its customers comprise of almost 80% of the Fortune 500 companies.
Although Amazon is the oldest player in providing cloud services, still the Pentagon cloud computing US$ 10 billion contract was awarded to Microsoft Corporation. The contract is known as Joint Enterprise Defence Infrastructure (JEDI) and would offer enterprise-level, commercial IaaS plus PaaS to assist Department of Defence business along with its mission operations.
Sentiment around Amazon.com Inc:
The contract was awarded through a competitive bidding process where apart from Amazon and Microsoft, other tech giants like Oracle and IBM also participated in the process. Amazon is the leader in the cloud services, but the contract was given to Microsoft which has drawn more than the expected attention. The award boosted the share price of Microsoft on Friday, 25 October 2019.
The same week, the company reported its earnings, which indicated that competitive dynamics in the cloud-computing market are changing. Microsoft reported a 59% growth in its quarterly (1Q FY20) sales for its Azure Cloud, whereas the quarterly (3Q FY19) sales of Amazon web services grew only 34.7% from its previous year. Overall, the sales of AWS are much higher than that of Microsoft Azure, however, the gap is narrowing. AWS had 31.5% of the cloud market share in the previous quarter, whereas Microsoft had 18.1% market share.
Through this contract, Microsoft Corporation would be giving a fierce competition to Amazon.com Inc.
Netflix:
Netflix, the streaming giant, is facing criticism from filmmakers over a new test feature that allows viewers to watch their content at various speeds.
Apart from this, Netflix in the last 8 years of its service has lost ~ 130,000 US subscribers due to increased Tariff in January 2019. The company expected to add 5 million new subscribers globally but could only add ~ 2.7 million during the second quarter of 2019.
Early in January 2019, the company increased its rates between 13% and 18%. The cheapest plan, which was available at US$8/ month increased to US$9/ month, HD standard plan increased from US$11 to US$13/ month and its 4K premium plan increased from US$14 to US$16/ month.
Sentiments surrounding Netflix:
As the company could not achieve the new subscribers target during Q2 2019, the company is now being forced to review its strategy to prevent any further loss in the number of subscribers and attract new ones.
Alphabet Inc:
Google has been under discussion because its profit declined in Q3 2019 as compared to the previous year. The company's earnings during the quarter were US$7.07 billion, which was $9.19 billion in the Q3 2018. The company's revenue which was $33.74 billion in the previous year, increased by 20% and reached US$40.50 billion.
As per one of the media releases of ACCC on 29 October 2019, ACCC has started proceedings in the Federal Court against Google LLC for misleading conduct and making false or misleading representations to end users related to personal location data that Google gathers, keeps and uses.
ACCC further claimed that since 2017, Google breached the Australian Consumer Law when it made on-screen representations on Android mobile phones along with tablets and misled end-users about how their location data was gathered or used when certain Google Account settings were enabled or disabled.
---
Disclaimer
This website is a service of Kalkine Media Pty. Ltd. A.C.N. 629 651 672. The website has been prepared for informational purposes only and is not intended to be used as a complete source of information on any particular company. Kalkine Media does not in any way endorse or recommend individuals, products or services that may be discussed on this site. Our publications are NOT a solicitation or recommendation to buy, sell or hold. We are neither licensed nor qualified to provide investment advice.