Dividends are share of a company's profits that are paid to the stakeholders. This means that you can avail a consistent realised income stream in your future years, if you tap the right dividend friendly stock. From your end, constant market vigilance along with dividend knowledge is vital. Dividend ratios should be well screened by the investors to cherry-pick attractive dividend stocks, including the dividend pay-out ratio (percentage of net income paid in the form of a dividend) and dividend yield (an indicator of the value of a company and how well it is performing).
Especially when one is planning retirement, a phase wherein fixed income generation will cease to exist, dividend stocks have been regarded as a safe bet. One can build a safety net and include some of these stocks as a nest egg in their investing portfolios.
However, currently, the market is depicting a sinusoidal path amid the COVID 19 pandemic, exposing the markets to sell offs, hampered business activities, companies shunning guidance, deferred/cancelled dividends off etc.
But not all is grim. The Australian share market is the 4th largest pension pool across the globe and is likely to swell to $ 10 trillion by the mid-2030s. Besides offering enhanced liquidity (a $ 1.75 trillion in trading turnover in 2019), the index has over 2.2k listed companies across multiple sectors and geographies. Many of these are good dividend payers.
ALSO READ- What Do You Understand About The Dividend Stocks?
In this backdrop, let us look at 4 stocks with an interesting dividend story-
Please note that the below should be regarded as potential stocks and not recommendation. Any investment decision needs to be backed by strong fundamental and technical analysis.
Orora Limited (ASX:ORA)
A global business that produces an extensive range of tailored packaging and visual communication solutions, ORA announced interim ordinary dividend of 6.5 cps, 30 per cent franked and 70 per cent sourced from the conduit foreign income account. Interestingly, the interim dividend represented a pay-out ratio above the Company's indicated payout range, demonstrating confidence in the outlook of the continuing business. The payment date for the same is 9 April 2020.
Moreover, the Company has been working with the relevant tax body to ensure capital management options that deliver the most efficient return of funds to shareholders. One option of this is a partially franked special dividend.
Even when the Company acknowledges challenging market conditions to persist for the remainder of FY20, it plans to continue to invest in efficiency, growth and innovation, as well as integrate recent acquisitions and finalise the sale of its discontinued operation of the Fibre business to Nippon Paper Industries Co., Limited for $1,720 million (to conclude in Q320).
Commonwealth Bank of Australia (ASX:CBA)
One of Australia's Big Four banks, CBA recently acknowledged New Zealand Central Bank's (RBNZ) decision to freeze the distribution of dividends on ordinary shares by all banks in the country, driven by the economic uncertainty caused by COVID-19. CBA dominates lending in New Zealand along with the other three Australian biggies- Westpac Banking Corporation (ASX:WBC), National Bank of Australia (ASX:NAB) and Australia and New Zealand Banking Group Limited (ASX:ANZ).
Despite the restriction, CBA further intimated that it is well capitalised with a Level 2 CET1 capital ratio of 11.7 per cent and Level 1 CET1 capital ratio of 12.1 per cent (as at 31 December 2019). Dividends from the NZ subsidiary, ASB Bank Limited, will impact only the Level 1 CET1. The robust Level 1 surplus capital position implies that the bank is in a safe position to soak up the ASB dividends suspension.
However, you should be aware of the bank's current ratings & outlook revisions, before analyzing CBA as a potential future dividend stock: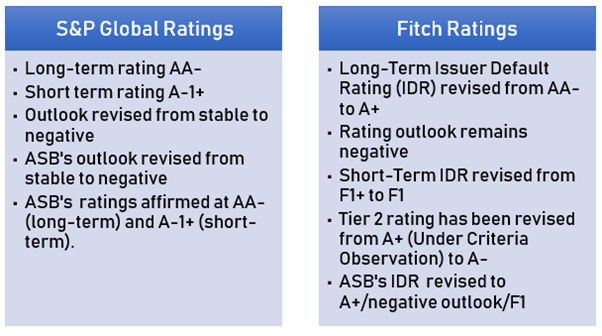 Wesfarmers Limited (ASX:WES)
A renowned name in ASX's consumer discretionary space, this diverse business covers home improvement and outdoor living; apparel and general merchandise; office supplies; along with an industrial division with businesses in chemicals, energy and fertilisers, and industrial and safety products.
It can be inferred that buying WES shares opens doors to a varied portfolio of good-quality businesses. WES is also one of the top stocks by market capitalisation and has a proven track record to tap new market segments.
Amid the ongoing pandemic crisis, the Group paid its previously declared fully franked interim dividend of $0.75 per share on 31 March 2020. The allocation price for shares that were issued through the DRP for the interim dividend was $37.8725. Shareholders representing 10.56 per cent of the Company shares on issue took part in the DRP.
It remains focused on operating its businesses adhering to safety and has been supporting government and the broader community to limit the spread of the virus.
Telstra Corporation Limited (ASX:TLS)
Australia's leading telecom & tech company providing a full range of communications services has an international presence in over 20 countries. It is a world leader in the rollout of 5G services, which gives TLS the opportunity to gain new mobile broadband subscribers from disappointed National Broadband Network (NBN) customers.
The Company has put any further job reductions on hold amid the COVID 19 disruption and is focussed on its productivity program to reduce underlying fixed costs by $2.5 billion annually by the end of FY22.
Rather, additional 1,000 temporary contractors could be hired to help manage call centre volumes. Telstra has also brought forward $500 million of capex from the second half of FY21 into CY20.
Along with these and other measures, the Company had affirmed the payment of its interim dividend, distributing $951 million to shareholders.
TLS' outlook remains within the range of its FY20 guidance-
At the bottom end of the range for Free Cash Flow and underlying EBITDA
At the bottom end of the range of $0-500 million for growth in underlying EBITDA (excl. the in year NBN headwind) and,
At the top end of the range for capex
Below is the stock performance of the discussed stocks after market close on 8 April 2020-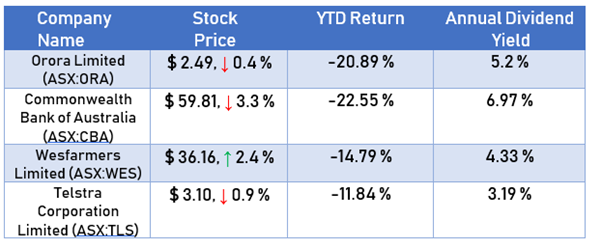 One should remember that a COVID 19 long term recovery seems to be highly likely. Some experts are regarding these as opportune times to capitalise on the softness of global equities to acquire a high income return in future. So, go ahead, hope for better times and continue your research as the stock market continues to surprise the world by the day.
GOOD READ- Why Dividends Are Important And The Take On Franking Credits - A View From ASX: MIR
---
Disclaimer
This website is a service of Kalkine Media Pty. Ltd. A.C.N. 629 651 672. The website has been prepared for informational purposes only and is not intended to be used as a complete source of information on any particular company. Kalkine Media does not in any way endorse or recommend individuals, products or services that may be discussed on this site. Our publications are NOT a solicitation or recommendation to buy, sell or hold. We are neither licensed nor qualified to provide investment advice.