Today "lockdown" and "social distancing" seem to be the new normal for the world, wherein people, businesses and governments are making sure that they distance themselves from each other physically and connect socially by virtual means to keep moving.
With the steep rise in remote working, surged video streaming and global internet communications is bound to give telecom ARPUs a shot in the arm.
Various telecom operators are taking proactive actions to help the country navigate through this crisis with increased data limits, waiver of late payment fees and new and better plans so as to grapple this pandemic. This is unquestionably providing an opportunity to related players in the space to play in the front foot by serving their communities and simultaneously optimizing the balance sheet and build goodwill, while staying afloat during unprecedented times. The telecom players thereby seem to be better positioned to reap benefits in the near to mid-term.
During this time of economic turmoil, let us look at how various telecom operators are giving a glimmer of hope with alignment of the opportunities with the customer needs:
Telstra Corporation Limited (ASX:TLS)
Telstra is known to be a leading telecommunications provider, offering variety of communication services which includes internet, pay television and mobiles.
With the increased strength of people working or studying from home and also streaming OTT services like Netflix during lockdown, there is a need for steadfast broadband services.
During this wave of COVID-19, nation's largest mobile network is providing extra data for the broadband which will be equally beneficial to new and existing customers. TLS is offering more mobile broadband data at no extra cost to Small, Medium and Large Enterprises and wherein the plan is large, double data will be provided for the same monthly cost.
To sustain in the market at this time of crisis, TLS is making every effort to come out stronger by taking following steps:
Planned $500 million of capital investment into the current calendar year (bringing it forward from FY21) so as to boost the demand for its services and quicken the 5G rollout which in turn will help foster its market share and infuse capital into the economy.
Seized further job reductions with a focus on reduction in underlying fixed costs by $2.5 billion annually by FY22 end.
To cater to the increased demand and increase its profitability, TLS will hire more staff (temporary) and revamp its capacity to meet call centre volume spikes.
Waiver of late payment fees, launch of "Bill assistance Hub" to support the default customers
Extension of Covid-19 customer support measures until June 2020
Prolonged sponsorships expiring during 2020 for another 12 months, in order to assure more certainty to partners and TLS support causes.
TLS traded at $3.060 on 6 May 2020 (11:35 AM AEST).
Must Read; ASX Stocks in Wagering and Online Social Gaming amid long tale of the unexpected
Vocus Group Limited (ASX:VOC)
Vocus is a popular unified telecommunications player specialised in fibre and network solutions, with presence across Australia and New Zealand and other parts of the world.
Considering the conditions during COVID – 19, many organisations have faced the challenge of working remotely, video conferencing and team collaboration to continue business and adapt to new ways of working.
VOC has exhibited strategic acquisitions during these critical times to enlighten business issue of enabling remote working by partnering with Zoom on 19th March 2020 and Microsoft teams on 15th January 2020. This timely move puts VOC in a sweet spot and will eventually help to meet the demand for video and team collaboration tools on priority which is pretty strong due to companies working remotely to surpass this crisis.
Vocus is also planning on building network capacity to aid smooth service delivery. For several products the company has waived fees, reduced Data Pack pricing and offered considerable upgrades.
VOC traded at $2.840 on 6 May 2020 (11:55 AM AEST).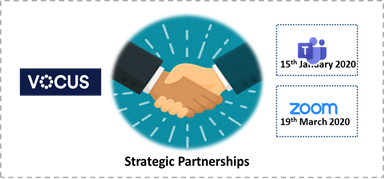 Source: Company's Report
Amaysim Australia Ltd. (ASX:AYS)
Amaysim is a mobile service provider offering mobile as well as energy plans based in New South Wales, Australia.
To accommodate the demand for spike in data due to new remote working scenarios, leisure and entertainment, online learning and binging of OTT services, companies have added free data in the existing plans to address this need.
AYS made sure to help its customers cope with the increased demand by announcing April mobile offer to keep people associated during COVID-19 wherein if any new customer signs up to AYS 55GB plan, he needs to pay $15 for the first renewal.
AYS traded at $0.315 on 6 May 2020 (11:55 AM AEST).
Did you read? Foxtel Partners With Netflix To Bolster Fortunes
Hutchison Telecommunications (Australia) Ltd. (ASX:HTA)
HTA is a North Sydney based mobile telecommunications service provider in Australia which has its 50% interest in Vodafone Hutchison Australia Pty Limited.
As the world is overwhelmed by the COVID-19 pandemic, many telecom operators are taking necessary steps so as to encounter the crisis.HTA has made sure to stay in the game and reap the benefits of steps taken today to curb this crisis:
HTA has made available $10 Stay Connected Cap plan for users who are experiencing financial difficulty for application. Availability of this plan is for 3 months, and may be extend as per the requirement
Free access of key government and health websites until 30 June.
No contribution of data usage on HTA network with unrestricted access to essential information, and accessing of websites like Centrelink, Federal Government Department of Health and state and territory health department websites
Relief provided through remittance of late fee waiver starting 26th March 2020 until 30th June 2020.
To give a vote of thanks to registered health professionals who are working hard during this time, a lucrative offer is made available to them starting 8th May 2020 till 8th June 2020
Applications will be available from May 8th – June 8th via the Vodafone website to customers who are registered with AHPRA. Postpaid mobile plan users will have monthly access fee value credited for two months and for prepaid mobile users, the double value of the current prepaid recharge will be credited.
HTA traded at $0.145 on 6 May 2020 (11:55 AM AEST).
Interesting Read; Technology has changed the way we work amid the COVID-19 crisis: A look at in-demand technologies
Path Ahead
In the wake of the prevailing crisis, it is difficult to time when people would be able to resume their normal lives. Until we sail pass this storm, telecom operators aim to continue to make sure the essentials are available to their users with additional benefits as with current competition they are more vulnerable to losing their customers than they were before. And to survive and thrive through this pandemic they need to make sure they take prompt and continuous action as they play a critical role in keeping people connected amidst social distancing norms.
Users and market participants are closely eyeing the telecom players who are able to withstand current market demand scenario and retain their customer base with support offerings, while ensuring cost control, labour management and balance sheet strengthening measures.