On Monday all big four banks closed lower which was led by ANZ, in order to compensate customers for fees-for-no-service, inappropriate advice and other issues, after it announced that it would take around a $374 million hit to its second-half profit. Australia and New Zealand Banking Group Limited closed around 2.6 percent lower at a market price of $26.990. The ANZ stock has seen a performance change of 3.39% over the past 6 months period as at October 8, 2018. Predominantly related to it international business ANZ has accelerated the amortization of certain software assets and the expense for accelerated amortization will be recorded of $206 million in 2H28.
ANZ's FY18 results will be announced on October 31, 2018 with a result template to be issued in late October. Job ads grew 4.9% y/y to September in trend terms, which is down from 5.8% y/y in August, job ads fell by 0.1% m/m for the fourth consecutive month. Data from ABS job vacancies series suggests that the unemployment rate will head lower over time most likely.
While annual growth in ads slowed further a survey showed on Monday revealed that the Australian job advertisements on the internet and in newspapers improved for a second month in September. Results show that job advertisement, from August when they fell 0.7 percent, dipped 0.8 percent in September. 4.7 percent higher than last year in September, ads averaged out to be at 175,555 a week. That was a slowdown from 5.1 percent in August, a peak above 14 percent in early 2017. Since they jumped sharply at the start of this year, ANZ job ads have essentially tracked sideways.
To reach its lowest in six years at 5.3 per cent, the official jobless rate has gradually declined. Since the start of the year the number of job ads has tracked sideways but the level is still consistent with ongoing employment growth. Other indicators of job growth are more positive as noted by ANZ in the release. ANZ job ads decline is certainly a negative sign so far that has been avoided. [optin-monster-shortcode id="wxhmli4jjedneglg1trq"]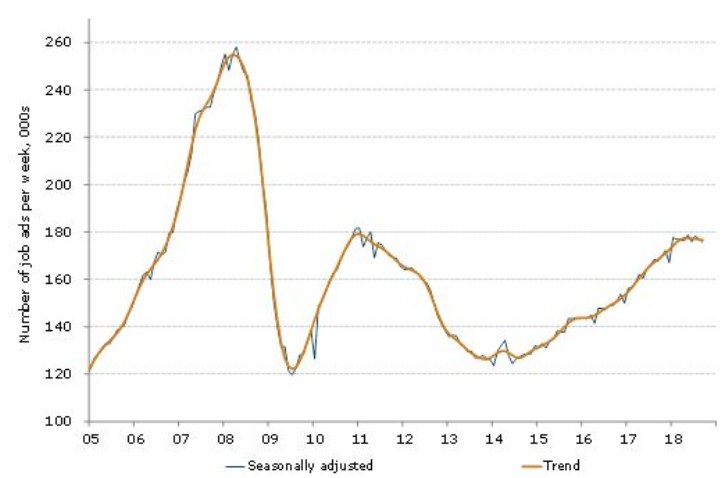 ANZ Australian Job advertisements easing out in September, Source: Company website
As per the reports the average total number of jobs per month in Australia in September 2018, originally were 187,857 and seasonally adjusted number is 175,555 in September 2018 while trend estimated number for the same period is 176,635.
To derive the seasonal adjustment factors the ANZ Job Advertisements series uses a concurrent seasonal adjustment methodology which means that data from the current month are used in estimating seasonal factors for the previous month and the current month. To estimates for earlier periods concurrent adjustment can result in revisions to the seasonal factors each month. The methodology in concurrent adjustment uses the most recent data every month. From the June 2010 reference month, concurrent seasonal adjustment replaced the forward factor methodology. The methodology used by the ABS for its monthly employment data makes the concurrent seasonal adjustment bring the ANZ Job Advertisements series in line.
The Income available from dividends remains attractive for many investors.
We take a look at the best yields on the market and assess what they say about a company's prospect.
One Thing is certain, though, Australia interest rates are still low, making income difficult to come by and keeping the focus for many investors on high yielding stocks. Kalkine's team of analysts bought you handpicked report for "Top 25 Dividend Stocks For 2018."
ASX-relevant Special Reports are published year-round to provide a detailed analysis into an investing opportunity or a potential risk to your portfolio.
Click here to get your free report.
---
Disclaimer
The advice given by Kalkine Pty Ltd and provided on this website is general information only and it does not take into account your investment objectives, financial situation or needs. You should therefore consider whether the advice is appropriate to your investment objectives, financial situation and needs before acting upon it. You should seek advice from a financial adviser, stockbroker or other professional (including taxation and legal advice) as necessary before acting on any advice. Not all investments are appropriate for all people. Kalkinemedia.com and associated websites are published by Kalkine Pty Ltd ABN 34 154 808 312 (Australian Financial Services License Number 425376). website), employees and/or associates of Kalkine Pty Ltd do not hold positions in any of the stocks covered on the website. These stocks can change any time and readers of the reports should not consider these stocks as advice or recommendations.