Highlights:

Day One Biopharmaceuticals Inc company develops therapies for cancers.
It announced positive initial results from its Phase 2 clinical trial on Monday.
It expects the topline results from the study by Q1 of 2023.
Day One Biopharmaceuticals Inc. (NASDAQ: DAWN) stock rose 135.80% to US$15.61 at 9:22 am in premarket on Monday after announcing positive initial data from its Phase 2 clinical trial.
The San Fransisco, California-based company develops targeted cancer therapies. Its lead product candidate, tovorafenib (DAY101), is a brain penetrant, a highly selective type II, oral, pan-RAF kinase inhibitor.
Monday's trial data is from the first 22 Response Assessment for Neuro-Oncology, or 'RANO' patients enrolled in the FIREFLY-1 trial. FIREFLY-1 is evaluating tovorafenib (DAY101) as once in a week monotherapy in patients between the age range of six months and 25 years suffering from relapsed or progressive pLGG, a brain tumor.
There is no approved therapy or standard of care for pLGG as of now. The initial safety data of the first 25 patients indicated the therapy was well tolerated.
Also Read: CELU to CMPI: Explore top 5 biotech stocks with over 100% YTD return
Meanwhile, it expects the full FIREFLY-1 topline results in the first quarter of 2023. It plans to submit a new drug application (NDA) to the US FDA in the first half of 2023.
Day One Biopharmaceuticals was founded in 2018. The company has plans to introduce tovorafenib as the front-line therapy for newly diagnosed pLGG patients.
Also Read: WM to CWST: 5 recycling stocks to watch as climate takes center stage
Samuel Blackman, co-founder and chief medical officer of Day One, said in the press release, "Based on these positive initial data, we plan to begin the pivotal Phase 3 FIREFLY-2 clinical trial evaluating tovorafenib as a front-line therapy in pLGG to evaluate whether tovorafenib can provide benefit early in the disease development."
The FDA has granted Tovorafenib the breakthrough therapy and rare pediatric disease designations. It has also received the orphan drug designation from the FDA for malignant glioma treatment and from the European Commission (EC) for glioma treatment.
Also Read: CTVA to CC: 5 chemicals stocks that returned over 20% gains in a year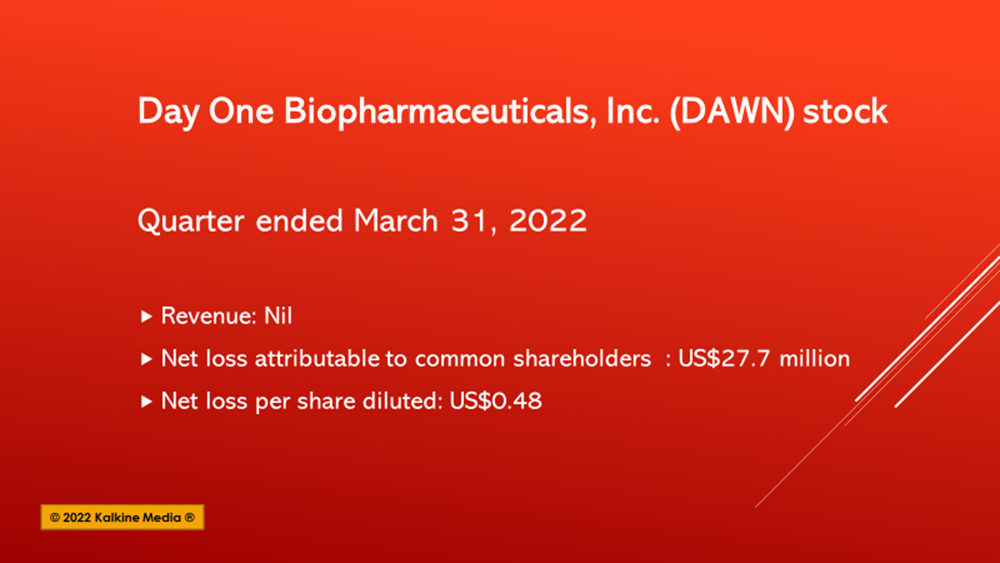 Also Read: RIO to NEM: Should you consider these 5 gold stocks amid inflation?
Financials:
Its market capitalization is US$409.86 million.
DAWN stock touched the highest of US$28.70 and the lowest of US$5.44 in the last 52 weeks. It closed at US$6.62, down 7.02%, on June 10.
The company did not earn any revenue from product sales as it has no approved product for commercial sale. For the three months ended March 31, 2022, it reported a net loss attributable to common shareholders of US$27.7 million or US$0.48 per share diluted compared to US$15.18 million or US$2.58 per share diluted for the same quarter of 2021.
Its cash and equivalents were US$262.7 million as of March 31, 2022. The company's management considers having sufficient capital resources to fund its operations into 2024 based on the current operating plan.
Also Read: Top healthcare stocks to explore in June: JNJ, LLY, ABBV, MRK & BMY
Bottom line:
The company hasn't earned any revenue yet but hopes to start once its drugs get approved from the FDA. Thus, the investors must carefully analyze the stock before investing in it.