Highlights

Moderna's covid vaccine was found to be most effective among four other drugs in a study.


Its vaccine had an effectiveness of 88.8% against covid infection and 93.6% against covid-related deaths.


The MRNA stock price grew over 144% YTD.
Shares of Moderna, Inc. (NASDAQ: MRNA) increased by more than 23% on Friday, a day after a study showed that its covid vaccine was more effective against the virus than four other drugs.
The stock rallied on Friday morning on the news. The MRNA stock was reading at US$336.58 at 10:39 am ET on November 26, up 23.08% from its previous close on November 24.
The healthcare stocks, especially the covid vaccine manufacturers, have been on investors' radar this year due to the pandemic. The Cambridge, Massachusetts-based company specializes in RNA therapeutics and mRNA vaccines.
Also Read: HEX crypto (ERC20) gains 56% YTD: Should you explore this token?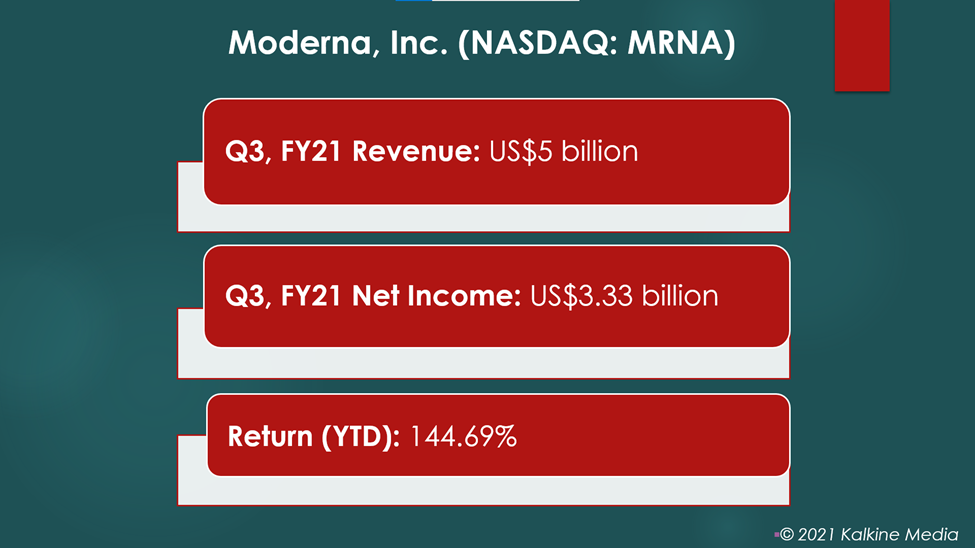 Also Read: Cohesity IPO: SoftBank-backed tech firm gears up for public offer
The Study
The study on five covid vaccines conducted by Hungarian researchers showed that Moderna and Russian vaccine Sputnik V were more effective against Covid-19.
The data, published on November 24 on the website of Clinical Microbiology and Infection, showed that Moderna's vaccine was 88.8% effective against Covid-19 infection and 93.6% effective against mortality, while the Sputnik was effective 85.7% against the infection and 95.4% against Covid-related mortality. In addition, both Moderna and Sputnik had the effectiveness of 84.1% and 90.9% on the population aged 85 and older.
On the other hand, the AstraZeneca vaccine was 71.5% effective against infection and 74.5% against mortality, while Sinopharm was 68.7% and 87.8%, respectively.
The study involved around 3.74 million people.
Also Read: Biofrontera stock (BFRI) rallies 115%, fired up by upbeat rating
Stock performance and financial:
The healthcare firm has a market cap of US$137.58 billion, with a P/E ratio and forward P/E one year of 20.81 and 10.29, respectively. Its EPS is US$16.31.
The stock saw the highest price of US$497.49 and the lowest price of US$98.65 in the last 52-week. Its trading volume on November 24 was 4,760,232.
The revenue was US$5 billion in Q3, FY21, compared to US$157 million in the year-ago quarter. Its net income came in at US$3.33 billion, against a loss of US$233 million in Q3, FY20.
The firm expects its product sales for fiscal 2021 to be between US$15 billion and US$18 billion.
Also Read: Snook crypto (SNK) gains 80% in a single day – know why?
Bottomline
The healthcare sector saw a steady growth this year, thanks to robust covid investments and research. The MRNA increased by more than 144% YTD. By contrast, the S&P 500 healthcare sector grew 16.41% YTD while increasing 3.86% QTD.