Benchmark US indices slipped after a sluggish start on Tuesday, January 18, weighed down by financial and technology stocks as Treasury bond yields climbed to a two-year high, raising investors' concern over the prospect of a sharp rate hike to curb inflation.
The S&P 500 fell 1.84% to 4,577.11. The Dow Jones declined 1.51% to 35,368.47. The NASDAQ Composite fell 2.60% to 14,506.90, and the small-cap Russell 2000 fell 2.99% to 2,097.73.
Investors were worried that high-growth stocks that promise high returns would become less attractive if the expected multiple rate hikes became a reality.
According to economists at the CME Group, a Chicago-based global derivatives marketplace, the Fed might go for at least four to five rate revisions this year to keep inflation under control.
Ten of the 11 sectors of the S&P 500 closed in the red, barring energy. Financial, technology, and consumer discretionary stocks were the bottom movers.
Financial stocks declined after profits of some major banks fell in the fourth quarter. Shares of JP Morgan Chase & Co. (JPM) fell 4.05%, Bank of America Corporation (BAC) fell 3.22%, and Wells Fargo & Company (WFC) declined 2.04%. Charles Schwab Corporation (SCHW) and Morgan Stanley (MS) were down 3.67% and 4.3%, respectively.
In the technology sector, Apple Inc. (AAPL) stock fell 1.73%, Microsoft Corp. (MSFT) declined 2.26%, and Nvidia Corporation (NVDA) plunged 3.57%.
Mastercard Incorporated (MA) and Cisco Systems Inc. (CSCO) decreased by 1.38% and 2.85%, respectively. Alphabet Inc. (GOOGL) fell more than 2.4% intraday trading.
Activision Blizzard, Inc. (ATVI) stock jumped over 27% after Microsoft Corporation announced to acquire the video gaming company for US$68.7 billion in an all-cash deal.
EV charging provider Blink Charging Co. (BLNK) stock rose more than 8% after securing a deal to supply EV chargers to GM dealerships in the US and Canada.
On Tuesday, oil prices rose to a seven-year high as the Organization of the Petroleum Exporting Countries (OPEC) raised the demand forecast by 260,000 barrels a day.
The energy stocks gained traction after the announcement. Exxon Mobile (XOM) rose 1.98%, Chevron Corp (CVX) rose 0.54%, and ConocoPhillips (COP) gained 1.66%. EOG Resources Inc. (EOG) and Pioneer Natural Resources Company (PXD) were up 0.95% and 0.70%, respectively.
The global cryptocurrency market was down 2.35% to US$1.97 trillion, according to coinmarketcap.com. Bitcoin fell 1.33% to US$41,605.20 in the last 24 hours to Tuesday night.
Also Read: Rhodium Enterprises IPO set to debut on Jan 20: Things to know
Also Read: Axie Infinity (AXS) crypto skyrocketed 11,417% in a year - Learn more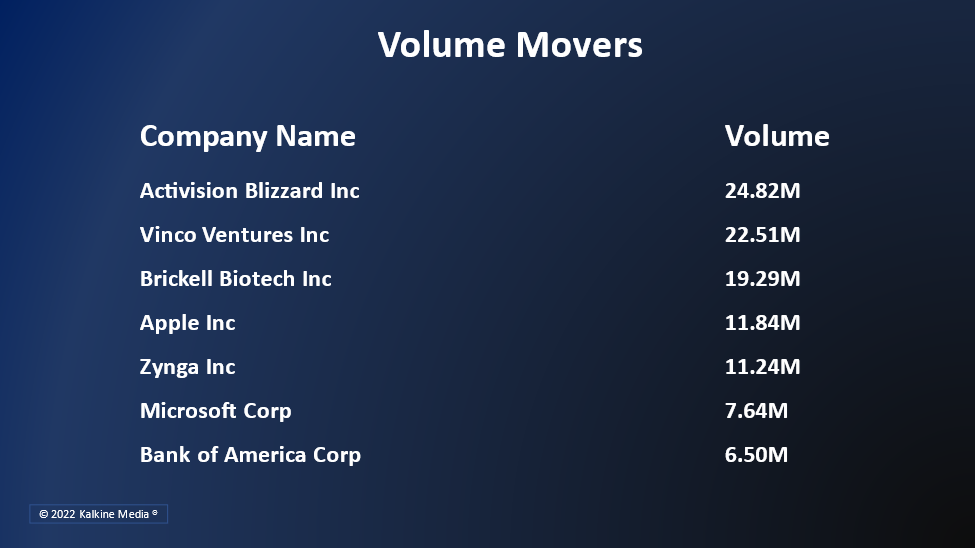 Also Read: 5 best US hospital stocks for 2022
Futures & Commodities
Gold futures declined 0.14% to US$1,813.95 per ounce. Silver futures increased by 2.64% to US$23.523 per ounce, while copper fell 0.59% to US$4.3942.
Brent oil futures increased by 1.69% to US$87.94 per barrel and WTI crude futures were up 2.34% to US$85.25.
Bond Market
The 30-year Treasury bond yields increased 3.83% to 2.196, while the 10-year bond yields were up5.83% to 1.875.
US Dollar Futures Index surged 0.63% at US$95.760.