Highlights

Direct Digital Holdings, Inc. (DRCT) announced the pricing of its IPO at US$5.50 per unit.

Each of 2,800,000 units offeredcomprises one share of Class A common stock and a warrant.

The stocks and warrants were scheduled to start trading on Friday.
Ad technology company Direct Digital Holdings, Inc. (DRCT) was set to debut on Nasdaq on Friday after announcing the pricing of its initial public offering (IPO) at US$5.50 per unit.
The company is offering 2,800,000 shares. It had initially set the price range between US$5.50 and US$7.50. Each unit comprises one share of Class A common stock and one warrant. Each warrant makes one eligible to purchase one Class A common stock.
The underwriters will have the option to purchase additional 420,000 shares of Class A common stock/warrants within 45 days at the offering price in cash of overallotment.
The units will be separately issued in the offering.
The stocks and the warrants will be traded under the symbols DRCT and DRCTW, respectively. They were scheduled to start trading on Nasdaq Friday.
The offering will likely close on February 15, subject to the customary closing conditions.
Also Read: 5 solar stocks to keep an eye on in February
The Benchmark Company and Roth Capital Partners are the joint book-running managers for the IPO. The Texas-based company expects gross proceeds of around US$15.4 million from the IPO before deducting underwriters' discounts and commissions.
The proceeds do not include the underwriters' share and warrant purchase.
The company had filed for the IPO with the SEC on November 15, 2021.
Direct Digital offers products and services like advertising platforms, technology, data optimization, and solutions for the digital ad ecosystem.
Its supply-side platform gives advertisers a deep reach in the market and media properties. It claims to manage 17,500 clients daily.
Also Read: Betting stocks in focus ahead of Sunday's Super Bowl match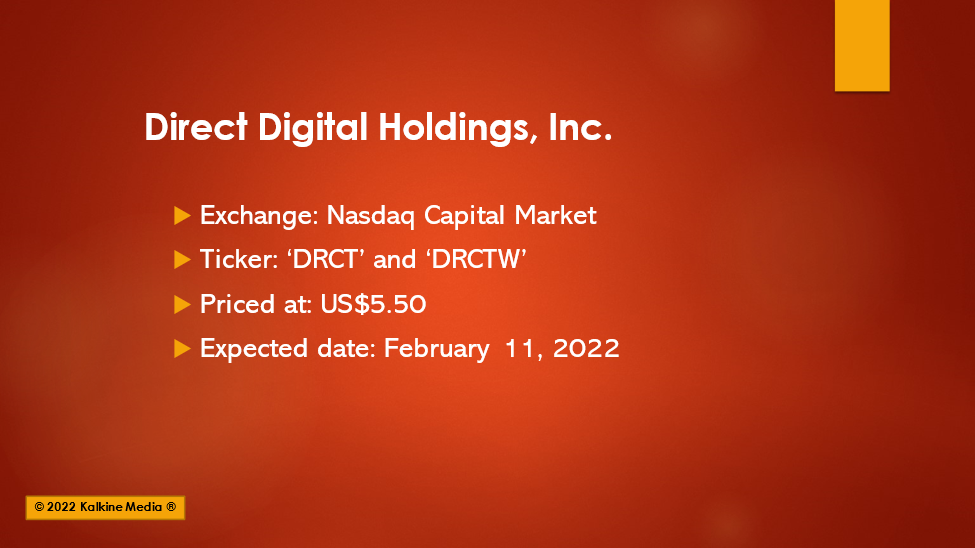 Also Read: From AAPL, NVDA, COIN to SQ, top Web 3.0 stocks to explore in US
Financials
For the first nine months ended September 30, 2021, it posted revenue of US$25.23 million, of which around 79% came from the Buy-side advertising segment and 21% from the Sell-side advertising segment. It reported a net income of US$0.623 million or US$18.25 per common unit/common stock diluted for in the same period.
The cash and cash equivalents were US$2.6 million as of September 30, 2021.
Also Read: KEEP, NU tokens merge to form Threshold token (T), get Binance nod
Bottomline
After a record number of IPOs in 2021, the market has cooled down in the first few weeks of the new year. Analysts expect the IPO market to bounce back in the second half. Several concerns about the macroeconomic and market condition have dissuaded companies from launching public offers.