Summary

EMH had reported service revenue of USD 551,480 during H1 FY21 ended on 31 December 2020.
The Company had completed drilling of twelve holes, with six holes already delivered encouraging results.
Lincoln Palmer Bloomfield was appointed as a Non-Executive Director on 04 January 2021.
European Metals Holdings Ltd (LON: EMH) is the LSE listed mining stock. EMH's shares have generated a return of around 478.57% in the last 12 months. The Company is listed on the FTSE AIM All-Share index.
Company Overview
European Metals Holdings Limited is an FTSE AIM All-Share listed mineral exploration and development company. Moreover, it has an ongoing Cinovec Lithium / Tin Project in the Czech Republic. The brief timeline of the project is shown below -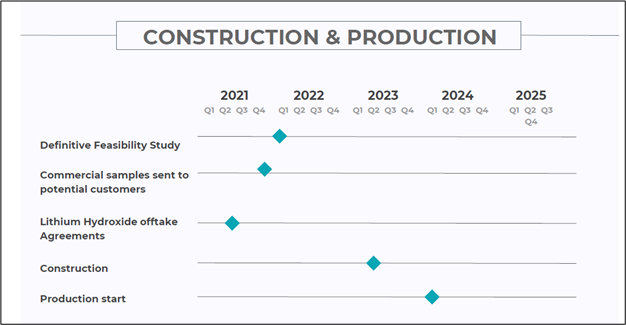 (Source: Company presentation)
A brief about Lithium Industry
Lithium is a chemical element used in batteries, pyrotechnics, and mental health treatment. Moreover, Chile and Australia have the first and second-largest reserves of lithium, respectively, worldwide. With regards to the production figures, Lithium mines had delivered a production estimate of around 82,000 metric tons during 2020, while it was just 28,100 metric tons for 2010. Furthermore, Albemarle is the market-leading lithium company on the basis of supply, and Tianqi Lithium is the top lithium mining company based on Market Capitalization.
Strategic Partnerships
(Source: Company presentation)
Quarterly Report (for three months ended 31 March 2021, as of 30 April 2021)
The Company had stated regarding the accelerated progress made for the Cinovec Lithium/Tin Project in the Czech Republic. EMH had completed significant part of its 19 hole drilling program, and the results had been satisfactory so far. Moreover, the Company had managed to complete drilling of CIS-18, CIS-19, CIS-20, CIS-21, CIS-22, and CIS-23 along with the analytical reports, while holes CIS-24, CIS-25, CIS-26, CIS-28, CIS-29, and CIS-30 have been drilled, but analytical results are pending.
Meanwhile, the Company had invested around USD 137 thousand of cash in the Cinovec Lithium Exploration Project during the quarter. On the operational front, EMH is currently making more use of remote meetings to maintain the project momentum, considering the severity of the second wave of the Covid-19 pandemic. Furthermore, EMH had appointed Lincoln Palmer Bloomfield as a Non-Executive Director on 04 January 2021.
Share Price Performance Analysis of European Metals Holdings Ltd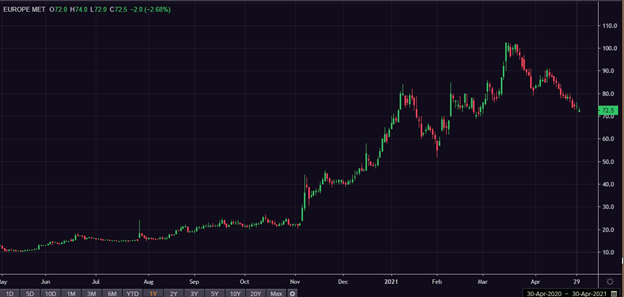 (Source: Refinitiv, Thomson Reuters)
EMH shares were trading at GBX 72.50 and were down by close to 2.68% as of 30 April 2021 at 11:07 AM GMT. EMH's 52-week Low and High were GBX 10.10 and GBX 102.50, respectively. European Metals Holdings Ltd had a market capitalization of around £129.81 million.
Business Outlook
The Company had earned USD 551,480 of service revenue during H1 FY21 by managing the Cinovec project development. Moreover, EMH had announced effective drilling results from the drilling programme comprised of 19 holes at the Cinovec Project. EMH would aim to become one of the lowest carbon footprint producers of battery-grade Lithium Hydroxide and lithium carbonate in Europe. Overall, the primary objective of carrying out this drilling activity is to convert a larger portion of the resource to the measured category to ensure security for the financiers and provide certainty to the financial model.