US Markets: Broader indices in the United States traded in green - particularly, the S&P 500 index traded 11.93 points or 0.28 per cent higher at 4,213.97, Dow Jones Industrial Average Index surged by 70.06 points or 0.20 per cent higher at 34,645.37, and the technology benchmark index Nasdaq Composite traded higher at 13,767.57, up by 31.09 points or 0.23 per cent against the previous day close (at the time of writing - 11:50 AM ET).
US Market News: The major indices of Wall Street traded in a green zone ahead of the critical economic data to be released this week. Among the gaining stocks, Lands End (LE) shares rose by about 3.43% after the Company had reported quarterly revenue and profit more than the consensus estimates. Etsy (ETSY) shares went up by about 2.17% after the Company had announced a deal to buy Depop for USD 1.625 billion. Ambarella (AMBA) shares grew by around 0.94% after the Company remained upbeat regarding the full-year outlook. Among the declining stocks, Hewlett Packard Enterprise (HPE) shares went down by about 1.31% after the Company posted a decline in the hardware profit margins.
UK Market News: The London markets traded in a green zone after the release of the UK mortgage data for April 2021. Moreover, the new mortgage lending in the UK had witnessed a slump to 3.3 billion pounds during April 2021, while it was 11.5 million pounds for March 2021.
FTSE 250 listed Wizz Air Holdings shares dropped by around 0.68% after it had posted a heavy net loss of around 576 million euros for the year. Moreover, the revenue and passenger numbers also plunged amid the Covid-19 pandemic.
Airtel Africa had agreed upon the sale of the Tanzania tower portfolio for a total consideration of around USD 175 million. Moreover, the shares went down by approximately 0.06%.
Bloomsbury Publishing shares climbed by around 13.69% after the Company had reported a surge in top-line and bottom-line business during FY21 and thus, raised the guidance for FY22.
Hargreaves Lansdown had achieved record new business during the first four months of 2021 as people put their money saved during the pandemic into stock markets. However, the shares went down by about 1.29%.
European Indices Performance (at the time of writing):
FTSE 100 Index One Year Performance (as on 2 June 2021)
1 Year FTSE 100 Chart (Source: Refinitiv)
Top 3 Volume Stocks in FTSE 100*: Lloyds Banking Group Plc (LLOY); Vodafone Group Plc (VOD); Rolls-Royce Holdings Plc (RR.).
Top 3 Sectors traded in green*: Energy (+0.85%), Real Estate (+0.70%) and Utilities (+0.28%).
Top 3 Sectors traded in red*: Basic Materials (-0.65%), Technology (-0.58%) and Consumer Cyclicals (-0.47%).
London Stock Exchange: Stocks Performance (at the time of writing)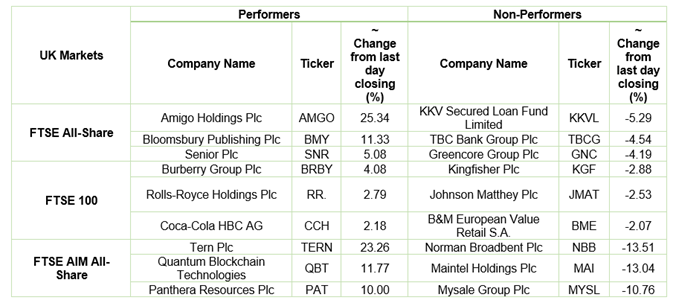 Crude Oil Future Prices*: Brent future crude oil (future) price and WTI crude oil (future) price were hovering at $71.23/barrel and $68.72/barrel, respectively.
Gold Price*: Gold price was quoting at US$ 1,909.85 per ounce, up by 0.25% against the prior day closing.
Currency Rates*: GBP to USD: 1.4174; EUR to GBP: 0.8615.
Bond Yields*: US 10-Year Treasury yield: 1.596%; UK 10-Year Government Bond yield: 0.8000%.
*At the time of writing