UK Market: The UK stock market traded in the positive territory on Monday, with the blue-chip FTSE100 index closing at 7,013.99, up by 0.64%, or 44.26 points. The market showed resilience following the announcement of Rishi Sunak as the UK's new prime minister. Sentiment improved not just in the UK but in markets worldwide, and the weakening has heightened calls for interest rate hikes. The falling long-term gilt yields also showed the strengthening of the market sentiment on Monday.
Frasers Group plc (LON: FRAS): The retail and intellectual property shares of Frasers Group plc surged on Monday, closing at GBX 628.50. This came with its head Mike Ashley increasing his stake in Hugo Boss and Asos.
Prudential plc (LON: PRU): The shares of the global insurance business, Prudential plc, plunged on Monday, closing at GBX 804.20. This happened amidst the possibility of a new obstacle for the insurer's swing towards an Asia-focused approach.
Lloyds Banking Group plc (LON: LLOY): The shares of the financial services firm, Lloyds Banking Group plc, surged on Monday, closing at GBX 42.54. This came with the dipping yield on 10-year gilts.
The biggest risers in the FTSE 100 on Monday were Pearson plc at GBX 965.00, Persimmon plc at GBX 1,273.00, and SSE at GBX 1,508.00. On the other hand, the biggest fallers of Monday's session were Prudential plc at GBX 804.20, Fresnillo plc at GBX 698.40, and Antofagasta at GBX 1,122.50.
FTSE 100 Index Performance (as on 24 October)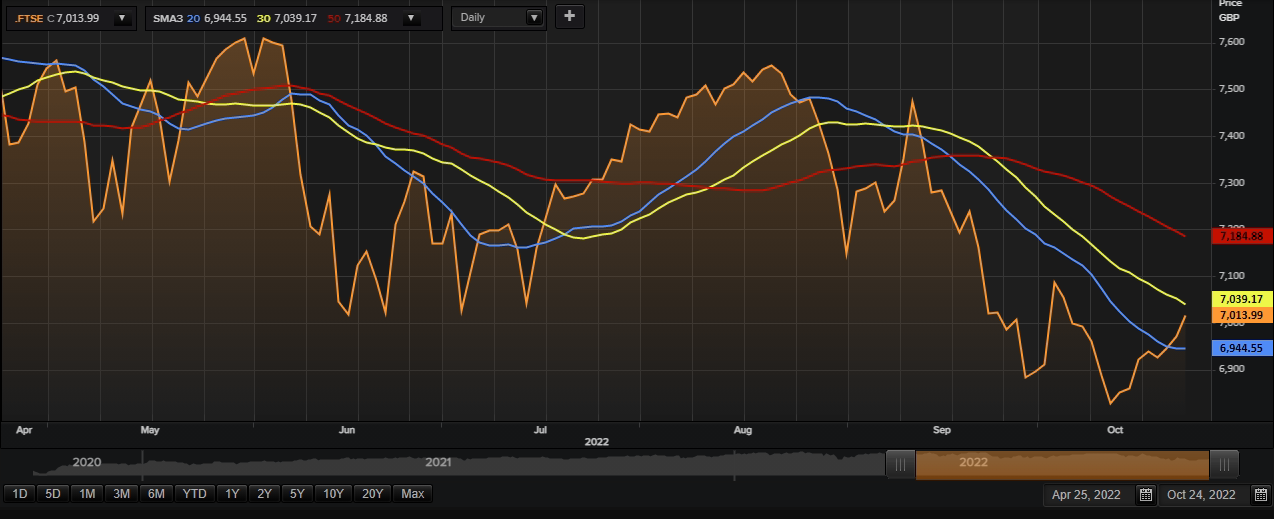 (Source: Refinitiv)
US Markets: Wall Street markets were up on Monday from where they left off at the end of last week. The markets witnessed gains even though the new PMI figures indicated a slowdown in economic activity this month.
Oil prices closed lower following a rough session amidst the rising fears regarding deteriorating demand in China. When the London markets were shut, there was a 0.51% fall in Brent crude oil, which reached $93.02/barrel.