US Markets: Broader indices in the United States traded in green - particularly, the S&P 500 index traded 49.67 points or 1.21 per cent higher at 4,162.17, Dow Jones Industrial Average Index surged by 264.31 points or 0.78 per cent higher at 34,285.76, and the technology benchmark index Nasdaq Composite traded higher at 13,367.56, up by 242.57 points or 1.85 per cent against the previous day close (at the time of writing - 11:30 AM ET).
US Market News: The major indices of Wall Street traded in a green zone driven by the fresh wave of optimism over the economic reopening. Among the gaining stocks, DoorDash (DASH) shares jumped by around 17.83% after the Company raised its financial guidance for 2021. Snowflake (SNOW) shares went up by about 7.74% after the cloud computing Company was upgraded to "Buy" by Goldman Sachs. Airbnb (ABNB) shares grew by about 3.72% after the Company had reported better-than-expected revenue for the first quarter. Among the declining stocks, Walt Disney (DIS) shares plunged by about 4.20% after the growth figures for the Disney+ streaming service fell short of expectations for the first quarter. Aurora Cannabis (ACB) shares went down by about 3.67% after the Company had reported lower-than-expected fiscal third-quarter revenue.
UK Market News: The London markets traded in a green zone after the brutal previous trading session despite ongoing worries regarding the spread of the Indian covid variant in the UK.
Mining giants like Rio Tinto, Antofagasta, and BHP Group shares dropped by around 2.25%, about 1.62%, and approximately 0.67%, respectively, due to the fall in commodity prices. They remained the worst performer on the FTSE 100 index.
FTSE 100 listed Sage Group shares climbed by about 4.61% after the Company had shown a modest 4.4% growth in organic recurring revenue during the first half of FY21. Moreover, the Company had increased the interim dividend.
Asset Management services provider Sanne Group had rejected buyout firm Cinven's 1.35 billion pound proposal. Moreover, the shares surged by around 21.23%.
IOG shares dropped by around 1.56% after the Company had signed a collaboration agreement with GeoNetZero.
Spirits Maker Diageo shares went up by about 0.95% after several brokerages house raised the price target on the stock.
European Indices Performance (at the time of writing):
FTSE 100 Index One Year Performance (as on 14 May 2021)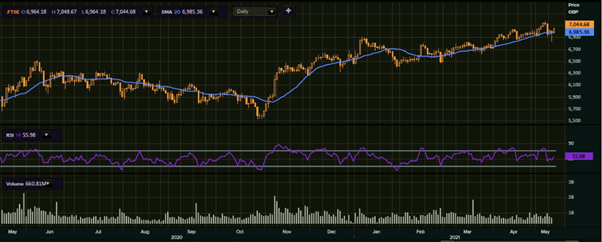 1 Year FTSE 100 Chart (Source: Refinitiv, Thomson Reuters)
Top 3 Volume Stocks in FTSE 100*: Lloyds Banking Group Plc (LLOY); BP Plc (BP.); Barclays Plc (BARC).
Top 3 Sectors traded in green*: Energy (+1.98%), Consumer Cyclicals (+1.65%) and Financials (+1.63%).
Top Sector traded in red*: Basic Materials (-1.14%).
London Stock Exchange: Stocks Performance (at the time of writing)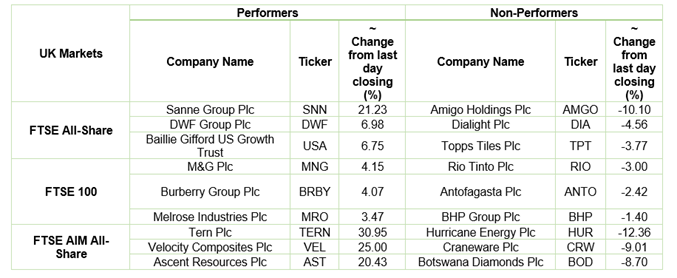 Crude Oil Future Prices*: Brent future crude oil (future) price and WTI crude oil (future) price were hovering at $68.67/barrel and $65.34/barrel, respectively.
Gold Price*: Gold price was quoting at US$1,841.15 per ounce, up by 0.94% against the prior day closing.
Currency Rates*: GBP to USD: 1.4096; EUR to GBP: 0.8614.
Bond Yields*: US 10-Year Treasury yield: 1.644%; UK 10-Year Government Bond yield: 0.8615%.
*At the time of writing