US Markets: Broader indices in the United States traded on a mixed note - particularly, the S&P 500 index traded 2.97 points or 0.07 per cent higher at 4,249.40, Dow Jones Industrial Average Index dipped by 20.81 points or 0.06 per cent lower at 33,924.77, and the technology benchmark index Nasdaq Composite traded higher at 14,279.80, up by 26.60 points or 0.19 per cent against the previous day close (at the time of writing - 12:05 PM ET).
US Market News: The major indices of Wall Street traded on a mixed note after Federal officials calmed the fears of a sharp tapering of monetary stimulus. Among the gaining stocks, GlaxoSmithKline (GSK) shares jumped by about 2.09% after the Company had released the detailed plans to segregate the consumer healthcare business into a separate company. Shake Shack (SHAK) shares went up by about 2.01% after the Company had announced the expansion plans in China. Carrier Global (CARR) shares rose by about 0.74% after the stock was rated as "Buy" by Deutsche Bank. Among the declining stocks, Winnebago Industries (WGO) shares went down by around 1.67%, even after the Company had reported quarterly earnings more than the consensus estimates.
UK Market News: The London markets traded on a mixed note after the release of the UK manufacturing and services data. The IHS Markit/CIPS UK Manufacturing Purchasing Managers' Index (PMI) came out to be 64.2 in June 2021, while it was 65.6 for May 2021. Moreover, the services PMI had declined to 61.7 in June 2021, from the levels of 62.9 for May 2021.
Berkeley Group Holdings shares went down by about 0.12%, even after the Company had reported a rise in FY21 pre-tax profit driven by sales of new homes in London and the Southeast.
Manolete Partners had reported impressive revenue growth of around 49% for FY21. The Company had declared a final dividend of 1 penny per share. Moreover, the shares grew by approximately 1.51%.
Phoenix Group Holdings shares dropped by around 2.34% after Swiss Re sold a 6.6% stake in the Company at approximately 660 pence a share.
Royal Dutch Shell shares went up by around 2.09% after the Company was upgraded to "Buy" by SocGen.
European Indices Performance (at the time of writing):
FTSE 100 Index One Year Performance (as on 23 June 2021)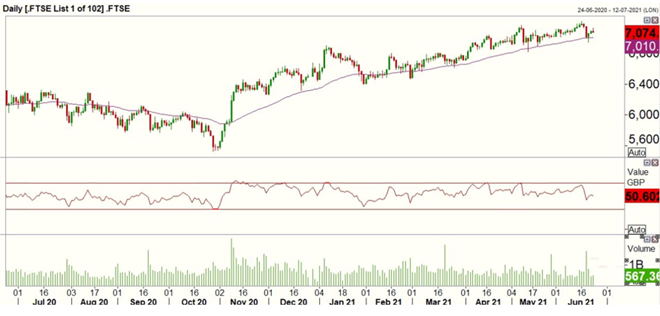 1 Year FTSE 100 Chart (Source: Refinitiv)
Top 3 Volume Stocks in FTSE 100*: Lloyds Banking Group Plc (LLOY); Vodafone Group Plc (VOD); Glencore Plc (GLEN).
Top 3 Sectors traded in green*: Energy (+1.61%), Basic Materials (+0.86%) and Technology (+0.47%).
Top 3 Sectors traded in red*: Utilities (-0.83%), Consumer Cyclicals (-0.60%) and Consumer Non-Cyclicals (-0.51%).
London Stock Exchange: Stocks Performance (at the time of writing)
Crude Oil Future Prices*: Brent future crude oil (future) price and WTI crude oil (future) price were hovering at $75.23/barrel and $73.09/barrel, respectively.
Gold Price*: Gold price was quoting at US$ 1,781.25 per ounce, up by 0.22% against the prior day closing.
Currency Rates*: GBP to USD: 1.3965; EUR to GBP: 0.8547.
Bond Yields*: US 10-Year Treasury yield: 1.489%; UK 10-Year Government Bond yield: 0.7820%.
*At the time of writing