Swedish singer Loreen, who won the Eurovision Song Contest with her power ballad Tattoo, has returned home, saying she was proud to be the second person to win the contest twice.
"I'm so incredibly happy," a smiling Loreen said after landing at Stockholm's international airport from Liverpool, where the event was held.
"On the plane home, I had my first burst of joy and looked out at the sky. I am so incredibly happy about this. I am so proud that Sweden sent me."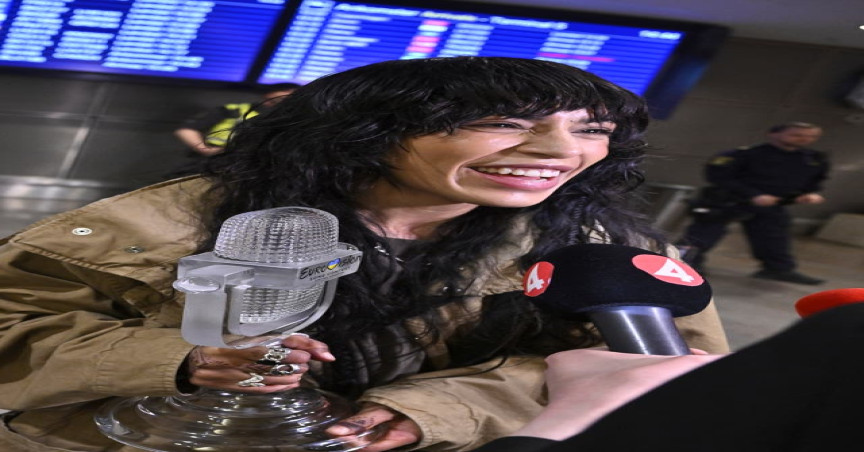 Loreen arrives at Arlanda Airport outside Stockholm (Claudio Bresciani/TT News Agency/AP)
She held the trophy — a handmade glass sculpture in the shape of a microphone from the 1950s — saying it was "brutally heavy".
The 39-year-old later performed the winning dance-pop anthem at a Stockholm park known for its outdoor cafes and open-air concerts, before a cheering crowd of hundreds of people.
The concert was broadcast live on Sweden's public television.
"I am so grateful to have been able to represent you," she said to a screaming audience.
Loreen won the 67th Eurovision Song Contest, billed as the world's biggest music event, on Saturday night. She had previously won in 2012 in Baku, Azerbaijan, with her song Euphoria.
Loreen on stage in Stockholm (Anders Wiklund/TT News Agency/AP)
Until this week, the only person to have won Eurovision twice was Johnny Logan of Ireland, 36 years ago.
Sweden's latest victory was the country's seventh, matching Ireland's record.
It gives Sweden the right to host next year's contest on the 50th anniversary of the country's first triumph — Abba's 1974 victory with Waterloo.
Loreen – born Lorine Zineb Nora Talhaoui in Stockholm to Moroccan parents – had her breakthrough when she took part in Swedish show Idol 2004 and came third.