Highlights

Tech stocks are instrumental in driving the growth of an economy.
EROAD reveals entering into a strategic partnership with Seeing Machines, which is famous for computer vision technologies combating driver fatigue.
Enprise Group paid a final dividend early this week.
In modern times, technology has become an indispensable component of the business.
The technology sector comprises electronics, AI, computers, software, cloud computing providers, and more. The more advancement made by the tech sector, the more progressed a country is.
With this overview, let us have a look at five popular NZX tech stocks with impressive 6-month returns.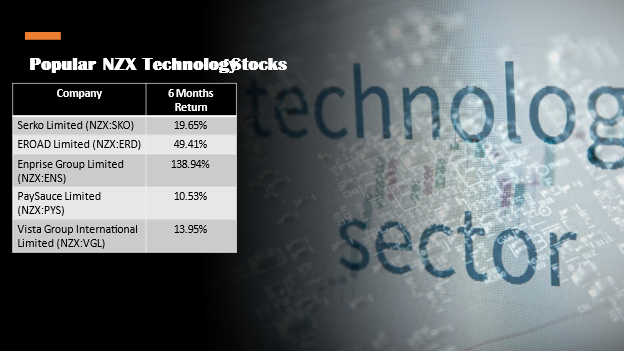 Image source: © 2021 Kalkine Media New Zealand Ltd, data source- Refinitiv
Serko Limited (NZX:SKO)
The tech-driven company centred around providing intelligent travel and expense solutions is Serko Limited. In its recently held Annual Meeting, resolutions were passed to elevate non-executive director remuneration and also for the re-election of Ms Robert Shaw as the Company's director.
Further, the Board has been authorised to determine SKO auditor, Deloitte's, remuneration for the forthcoming year.
At the closing bell, Serko gained 1.25% at NZ$8.090, on 24 September.
Related Read: Which are 5 NZX stocks with the highest monthly returns?
EROAD Limited (NZX:ERD)
Based in Auckland, EROAD Limited develops tech solutions for reliable fleet management.
Recently, the Company announced entering into a strategic alliance with Seeing Machines Ltd (LSE: SEE).
The latter is an industry leader, which builds DMS technology to tackle driver fatigue, thereby improving safety in buses, trucks, and cars.
The said partnership would help ERD to leverage the technology, thereby focusing on its fleet safety by way of better driver behaviour.
Shares of EROAD traded flat at NZ$5.800, on 24 September, at the market close.
Interesting Read: What are the top tech stocks in New Zealand?
Enprise Group Limited (NZX:ENS)
Established in 2004, Enprise Group Limited is an investment company in software and tech space. On 21 September, the Company paid a final dividend of 2.5 cps to its shareholders.
In this regard, ENS had fixed the foreign exchange rate at AU$0.9520.
On 24 September, Enprise Group climbed by 0.99% at NZ$2.040, at the end of the trading session.
Related Read: 5 NZX stocks with highest YTD returns that can be explored
PaySauce Limited (NZX:PYS)
PaySauce Limited was founded in 2015 and works as a fintech company.
Recently, the Company had its Annual Meeting, wherein its shareholders passed resolutions related to the re-election of a director and also authorising the Board to fix the fees of Grant Thornton as the Company's auditor.
Shares of PaySauce fell by 1.59% at NZ$0.310, at the market close, on 24 September.
Must Read: Paysauce (NZX:PYS) What points were discussed during its ASM?
Vista Group International Limited (NZX:VGL)
Another Auckland-based company is Vista Group International Limited, which designs cinema management solutions across the global film industry. In its recently published half-year results ended 30 June 2021, the Company reported financial performance.
Its total revenue stood at NZ$44.9 million and its EBITDA clocked at NZ$6.4 million, owing to a wider industry recovery and a continuous flow of movies into global cinemas.
VGL launched Vista Cloud, thus reflecting its focus on continuous innovation, and expanding the relevance of the product.
The Company forecasts EBITDA in the range of NZ$95 million to NZ$100 million for FY21.
At the market close, Vista Group International was up by 2.75% at NZ$2.620, on 24 September.
Do Read: Could these 5 NZX small-cap stocks be considered for long term?
Bottom Line
The technology sector steers the growth of an economy and has been witnessing a surge in demand for services related to the sector.