During the COVID-19 crisis where numerous companies are struggling to survive with lockdowns as well as social distancing norms impacting their respective businesses, it can be said that technology companies have evolved as a winner during this period. Considering the situation of lockdown in multiple geographies, more and more people are working from home as per the government guidelines so that the spread of coronavirus can be prevented. The impact of COVID-19 was felt across the globe, derailing many businesses. However, tech businesses have managed to sail through COVID-19. This stock has delivered the return of ~98.71% in the span of only 9 months and, in the time frame of past 3 months, the stock rose by ~32.47%.
Plexure Group Limited (NZX: PLX)
Plexure Group Limited is a mobile engagement software company. The company's software integrates with operational systems to eliminate friction and create a smooth purchase experience for consumers.
The company makes the sales procedure for physical retailers smooth, engaging, and profitable by discovering where customers are, what they want and then facilitating their purchases. The company is having more than 191 million end users on the platform in 59 countries. Notably, its clients are McDonald's, White Castle, Super Indo and Loyalty New Zealand.
Summary:
PLX registered double-digit growth in top line in FY20.
The company's cash resources would be allowing it to comfortably finance the organic growth plans.
The global mobile marketing sector is growing rapidly YoY and PLX has been positioning itself to capture this growth.
Over a period of five years, that is from FY16 to FY20, the company has grown its total revenue to $25.25 million from $5.37 million. During the same period, the company's operating income increased to $1.28 million from -$6.59 million. The company registered CAGR of 47.26% in the top-line over the period of FY16-FY20.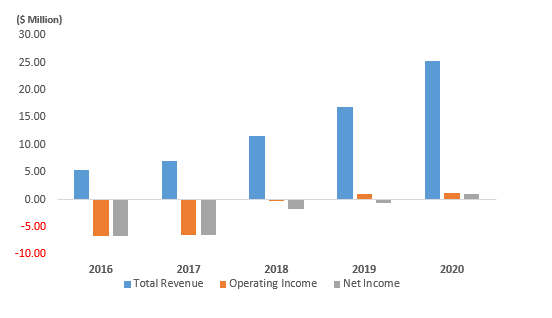 Financial Highlights (Source: Refinitiv (Thomson Reuters))
Strong Reach Over Different Geographies
The company's technology platform is now one of the country's largest as well as busiest cloud-based technology platforms. It has more than 182.7 million end-users on the platform in 60 countries. It is currently delivering ~5.6 million push messages per month in 78 different languages. The company also stated that API calls per month have now reached 23.5 billion. Therefore, these statistics reflect the robustness of the company's platform and its ability to perform at scale.
Business Strategy of PLX
The company aims to become a global leader in the delivery of highly personalised mobile engagement experiences that drive sales. The company further stated that the investment made by McDonald's happens to be a solid validation that the company is well on the way to achieve its goal.
After refreshing its management team, the company has concentrated on profitable growth and have achieved a major transformation in the company's financial performance. This has been achieved through a mixture of improved management of existing customers, new business development, operating cost containment and driving value from the existing technology platform.
The global mobile marketing sector is rising rapidly Y-o-Y and was projected to be worth over US$53 billion in 2018 and is expected grow at a CAGR of 23% from 2019 to 2025. The company has been positioning itself in the market to secure this growth and, in FY21, the company is planning to invest some of its cash reserves to improve its sales, marketing, consulting, product development and platform capability to drive this outcome.
Turnaround Performance in FY20
FY20 was an excellent year for PLX as the company grew from strength to strength. In FY19, the company reported revenue from contracts with customers of $16.828 million as well as reported a net loss after tax amounting to $0.703 million. The performance of the company improved significantly from FY19 to FY20 and the company reported revenue from contracts with customers of $25.251 million as well as a net profit of $1.007 million.
The company has $14.219 million cash on hand and has also achieved positive cashflow from operating activities for the third successive year.
In the month of April 2019, McDonald's purchased a 9.9% equity stake in the company and on the back of that investment, the company's relationship with McDonald's has continued to strengthen across FY20.

Financial Performance (Source: Company Reports)
PLX Plans to Get Listed on ASX
The company is considering undertaking an IPO (or initial public offering) as well as applying for admission to the Official List of ASX (or Australian Securities Exchange). This may require the company to move its primary listing from the New Zealand Stock Exchange (NZX) to the ASX and re-classifying its current NZX listing as an NZX Foreign Exempt listing, which would be allowing its shares to continue to be quoted on New Zealand Stock Exchange.
The company will remain headquartered in Auckland as well as domiciled in NZ.
Outlook
With the increased sales and marketing activity in the US, the company's pipeline of prospective customers has increased significantly; however, it believes that in the near-term sales conversion might be longer in the COVID-19 world. The company's Board is confident with regards to the prospects for the business and the leadership team as well as talented staff are continuing to work hard in order to meet the expectations of customers, capture new customers, build innovative new products as well as refine the technology platform to prepare for growth it expects.
On October 16, 2020, the stock price of PLX ended the session at NZ$1.550 per share.
Perception around gold has been undergoing a paradigm shift and is now seen as a crucial strategic asset, with changing macroeconomic conditions. A vibrant gold market has a positive impact on companies that are involved in the exploration and mining activities.
CLICK HERE FOR YOUR FREE REPORT!