Summary

In the current times, telecom players continue to sway as digitisation is reshaping the industry landscape. Going forth, operators would need to accelerate their pace to enlarge value, while continuing to mitigate connectivity costs and differentiate with an ultrafast network.
Digital transformation with the advent of new technologies like 5G, IoT, AR/VR, microservices and more would help telecom players to shift from perishing to flourishing phase.
Recently, CNU updated on Q4FY'20 wherein it stated that broadband connections during fourth quarter FY'20 returned to second quarter FY'20's level of 1,206k reflecting a growth of 4k. Also, in May SPK launched its first 3D virtual store in consultation with creative agency 99.
In the newly digitised world, the telecom sector is reshaping with a significant transformation. Communication is progressing ahead, adapting to an environment that demands more opportunity, agility, and flexibility.
2020, the first year of a new decade has begun with disruption and changes in the telecom sector.
New Zealand is considered as a mature and competitive telecommunications markets worldwide.
Telecom market is underpinned by strong economic fundamentals and has numerous operators catering to the diverse customer base by offering services ranging from fixed, mobile, broadband, Pay TV, cloud computing and many more.
To thrive in upcoming period, telecom companies would have to encounter an increasing competitive pressure on their core businesses, while finding the path to growth. This might be challenging, but it would certainly open up tremendous opportunities including the following:
5G technology is growing, making way for both mobile and fixed experiences; telecommunications companies can capitalise on the low latency infrastructure to attract and retain consumers.
Telecom firms can become an IoT connectivity service provider and offer Machine to Machine (M2M) devices, which in turn can unlock new revenue streams for them.
In addition to opportunities, telecom operators are also facing several challenges, as follows:
Currently, various new technologies are at people's disposal. The range and quality of services from telecom entities are surging, but profit margins are diminishing, and the lines connecting telecom operators and tech vendors are weakening.
Also, there have been new threats coming to light, fuelled by new technologies. Therefore, security of networks has become a key priority for the Companies, and they need to pull up their socks to create an environment where users can feel secure.
Telecom firms are nowadays offering an array of new products, with bundled and tailormade solutions to millions of customers. The operational support services such as order fulfilment, customer care, service configuration and billing are becoming more and more complex. Hence, the cost of managing these operations demand additional resources and tools; consequently, enlarging the financial overhead.
IoT is leading to fiery growth in the connected devices; generating billions and trillions of new data sources to be handled by networks to zettabytes each year.
Did you read; Disruptive Impact of COVID-19 Pandemic on Energy and Technology Sector
Let us appraise ourselves with a few NZX telecom companies.
Chorus Limited (NZX:CNU)
The Company witnessed a drop of 8.06% in its share price to NZ$7.070, as on 10 July 2020. On the same day, CNU provided Q4FY'20 update ending 30 June 2020 and Commerce Commission stated further steps in the regulatory process.
The restrictions on non-essential activity led to a reduction in fibre installations by ~15 thousand and halted UFB2 rollout.
Fibre connection in Q4FY'20 witnessed a drop to 27,000 from 32,000 in (Q3FY'20) primarily due to reduced fibre installations and constraints on door to door marketing.
Total fixed line connections noted a decline of 4,000 to 1,415,000 (excluding 10k free broadband connections provided to students).
Broadband connections during fourth quarter FY'20 returned to second quarter FY'20's level of 1,206,000, with a growth of 4,000.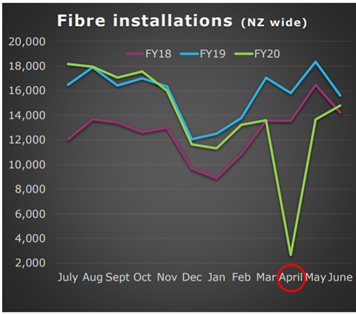 Source: NZX announcement
Did you read; Lockdown Restriction Had Significant Impact on Q4 Operations of Chorus
Additionally, on 10 July 2020, NZ Commerce Commission notified a shift to timing for the subsequent move in its input methodologies procedure. This announcement relates to changes, in the light of their approach to valuing the financial loss asset and related updates to the draft determination provisions.
Spark New Zealand Limited (NZX:SPK)
On 7 July 2020, Spark Sport, a streaming service telecasting live and on-demand international and regional sport to kiwis, hired Whisper, a UK company as its production partner for its domestic cricket contract for next six seasons.
Lately, Spark launched its first 3D virtual store in consultation with creative agency 99.
The virtual store would serve as a new sales channel, wherein customers can browse 3D models of key products, view product demos, pricing, plans and chat with a retail team member via a Live Chat function.
On 28 May 2020, the Company priced an issue of fixed-rate bonds worth AU$100 million, maturing on 5 June 2026. The bonds were issued on 5 June 2020 under its current Australian debt issuance programme. The issued bonds were exchanged into NZD equating to NZ$106.8 million.
The Company expects to utilise these funds for refinancing its debt maturities as well for other general corporate usages.
On 12 May 2020, Spark NZ was given 5G spectrum of 60 megahertz of 3.5 gigahertz (or C Band). The spectrum will facilitate the Company to progress swiftly with its planned 5G rollout.
SPK witnessed a boosted business performance during the first half of FY'20 ending 31 December 2020 and reaffirmed its FY'20 guidance in April.
FY20 Guidance (Source: SPK Announcement)
SPK noted a substantial reduction in the high-margin mobile roaming services, primarily due to border closures and travel restrictions, representing approximately 5% of the Company's total mobile revenue.
Furthermore, SPK witnessed a radical increment in broadband usage, but it did not charge any additional amount from the consumers who were on data capped plans.
On 10 July 2020, SPK' shares closed the trading session at NZ$4.600, declining marginally by 0.11%.
Telstra Corporation Limited (NZX:TLS)
On 7 July 2020, TLS unveiled its plans to expand its network infrastructure in the US with the following-
Increasing bandwidth capacity by more than 1.5 terabytes on its trans-Pacific subsea cables.
Opening two new points-of-presence (PoPs) in Hillsboro, Oregon and LA, California.
Upgrading of its in-country circuits from bundles of 10G transit services to 100G; to enhance network resiliency and diversity.
Expansion of 5G coverage into more of Greater Brisbane
In early June, Telstra announced that over 600 suburbs throughout Australia have more than 50% of 5G coverage and Greater Brisbane's 33 suburbs have been covered by more than half by 5G, and some of the areas even have 100% coverage.
Foxtel Impairment
On 8 May 2020, TLS declared that it expects to make non-cash impairment charges of ~AU$ 300 million along with writing down of the carrying value of its 35% interest in Foxtel from AU$750 million to around AU$450 million.
The outcome of this impairment is subject to the Board review and FY'20 results approval.
In early May, TLS witnessed soared demand for its fixed and mobile networks amidst video calls, work meetings, online learning, etc.
In Queensland, peak traffic on TLS' fixed network noted a jump of ~ 66% and mobile network increased ~9% in comparison with the pre-pandemic period.
Moreover, TLS speeded up capex of AU$500 million into calendar year 2020, to step up its network capacity and expedite 5G rollout.
On 10 July 2020, TLS shares last traded at NZ$3.720, with an increase of 2.20% from its last close.