Summary

Technology-driven companies are sweeping the market with their innovative digital solutions that are not only letting the businesses to stay afloat but are also offering them a competitive edge to outpace their competitors.
Notwithstanding the COVID-19 headwinds, tech and digital stocks are capitalising on the innovative lucrative opportunities that are encircled in the market.
NASDAQ Composite index closed at 11,466.47 points, up by 0.76%, on 25 August 2020, driven by the impressive performance of numerous technology stocks. On the home front, S&P/NZX All Information Technology index, at the time of writing was trading at 1,904, down by 1.64%.
Tech and Digital Stocks such as SPY, ERD, RAK, IKE, PLX have been sweeping the market with their respective innovative business models, COVID-19 proof performance and bolstered financial results, albeit with a couple of hiccups.
In the current times, adapting as well as adopting technology-based products and services have become imperative. Digital transformation is acting as a tailwind which is pushing businesses forward, changing business model, offering new revenue streams, and providing value-addition opportunities.
In the technology-driven era, companies that are offering tech-based solutions/ digital solutions tend to have a competitive edge in the business world, leading to growth.
Noteworthy, technology space is booming, which is exemplified by NASDAQ, which stormed higher and closed at 11,379.72 points, after hitting a high of 11462.05 intra-day, as on 24 August 2020. Closer home, on 25 August 2020, The S&P/NZX All Information Technology ended the session in green as there was a rise of 0.25% to 1,975.930.
Did you read; Exciting Growth Driven Tech Stocks To Beef Up Portfolio
Lately, the US market is riding the wave of IPO launches or speculated launches by new-age buzzing technology companies such as Airbnb, a vacation rental online marketplace entity; and Palantir Technologies, a company specialising in big data and analytics technologies, working with large corporations and government agencies, to process a significant amount of information.
Must watch; Airbnb files for Initial Public Offering - Airbnb IPO
In a nutshell, innovative digital solutions and launch of IPOs are fuelling in growth for numerous tech and digital stocks.
Let us skim through NZX listed tech and digital stocks that are zooming up on NZX.
Did you read; Trading for the First Time on NZX – 5 Tips for Amateurs
Below is the stock performance of the companies under discussion, as on 26 August 2020.
Source: NZX
Smartpay Holdings Limited (NZX:SPY)
On 5 August 2020, Smartpay Holdings Limited, a largest independently owned and operated EFTPOS provider announced that Mr Bradley Gerdis, CEO and MD, Smartpay would step down from his role on 1 September 2020, and Mr Marty Pomeroy, current COO and ED, would further take over the role of MD and CEO.
Furthermore, in late July, Smartpay unveiled its business performance for Q1 FY21 for the period ended 30 June 2020.
During the first quarter, Smartpay witnessed a solid recovery in acquiring revenue in Australia in comparison with earlier announced COVID-19 lows, with June acquiring revenue striking record levels.
In the current scenario, the transacting terminals stood at 95% of pre-COVID-19 levels with a single merchant category to re-open.
Source: NZX announcement, dated 27 July 2020
Rakon Limited (NZX:RAK)
A global high technology company, Rakon, recently held an annual meeting of shareholders on 7 August 2020 and divulged that the Company withstood headwinds of the COVID-19 pandemic and reported soared group revenue of 5% to NZ$119.0 million for the financial year ended 31 March 2020 as compared to FY19.
Other highlights from FY20 were as follows:
The Group achieved gross profit margin of NZ$52 million, up by 0.4% y-o-y.
RAK witnessed an upsurge of 10% (y-o-y) in the underlying Group EBITDA and stood at NZ$8 million.
Furthermore, the Group's net profit after tax (NPAT) experienced a marginal y-o-y growth of 0.6% to stand at NZ$0 million.
Notably, the swelled revenue, net profit after tax and underlying EBITDA reflected an enlarged growth in the telecommunications division.
Rakon further expects underlying EBITDA in the range of NZ$16 million - NZ$18 million for FY2021.
ikeGPS Group (NZX:IKE)
A software solutions company, ikeGPS bolstered its cash position by oversubscribed NZ$9.8 million institutional placement (concluded, 30 July 2020) and Retail Entitlement Offer of NZ$4.1 million (concluded, 14 August 2020).
The proceeds of the raised funds would be utilised to boost the Company's sales, aid current consumer wins, and enlarged sales pipeline; and financial flexibility to fund growth opportunities.
Furthermore, the Company has been sweeping the market with its robust business performance across North America in Q1 FY21 despite the effects of COVID-19.
Although IKE noted enlarged revenue of~NZ$9.8 million and gross margin of NZ$7 million for FY20, operating loss for FY20 stood at ~NZ$5.6 million.
Source: NZX announcement, dated 29 June 2020
Notably, IKE expects to attain revenue of ~NZ$2 million for the quarter ended 30 June 2020 and further projects it's total cash & receivables of NZ$5.2 million by the end of Q1 FY21.
EROAD Limited (NZX:ERD)
On 25 August 2020, EROAD, a transport technology services company announced its confirmation concerning participation in the next stage of in the 2020-2021 multi-state mileage-based user fee truck pilot led by the Eastern Transportation Coalition.
Lately, EROAD also announced that it had lodged an application with ASX to list as a foreign exempt listing (addition to NZX), which is currently under review by ASX. If accepted, ERD is noted to be listed in the month of September 2020.
Recently, EROAD took part in the Canaccord 40th Annual Growth Conference (11 August-13 August 2020) and released a presentation divulging that the Company remains well placed for FY21, demonstrating bolstered customer value proposition, an insight on considerable growth and revenue prospect, as well as monitored performance highlighting enterprise value from current client base throughout business, regions and industry.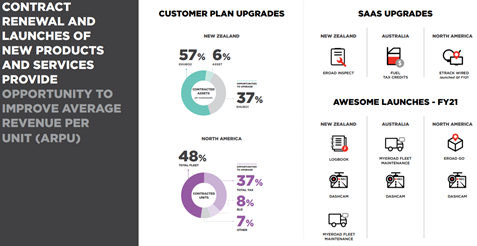 Source: Company's announcement, dated 29 June 2020
Despite economic uncertainty across all the markets, globally, EROAD remains well-positioned for FY21. In the release dated 30 July 2020, the Company unveiled that its NZ sales returned to near normal growth levels across Small and Medium (SMB), and Enterprise growth segments for three months ended 30 June 2020.
Furthermore, 2,326 total units were added during the June quarter, representing biggest contribution from New Zealand with 1,938 units and 256 units from North America.
Plexure Group Limited (NZX: PLX)
A mobile engagement software entity, Plexure, lately made an announcement that it aims to investigate undertaking an IPO and apply for admission to ASX's official list, involving changing of the Company's primary listing from NZX to ASX.
In an update dated 12 August 2020, the Company reported double-digit growth (18% y-o-y) in revenue (NZ$6.8 million) for the first quarter of FY21 ended 30 June 2020, demonstrating both full-year impact of standing contracts as well as the resilience of the business.

Furthermore, Plexure witnessed a surge of 52% in its cost of sales and a plunge of 183% in its EBITDA.
Notably, the June quarter results indicated Plexure's decision to accelerate growth investment, allowing Plexure to secure value accretive opportunities.