Summary

Companies release annual reports to update shareholders on operating and financial activities, undertaken in the previous year. These reports help the investors to assess the performance of a firm.

Marine Global delivered strong results for the financial year 2020, with a net profit of $22.6 million for the year ended 30 June 2020.
Barramundi recorded a net profit of $12.5 million for the year ended 30 June 2020, and its portfolio strongly outperformed the market with a gross performance return of 13.5%.
Marsden Maritime Holdings recorded a successful financial year of 2020, and continued expansion of non-port related activities resulting in a trading surplus of $9.7 million.
New Zealand Stock Exchange offers access to a variety of investment products and tools for investors that include ETFs, savings, investment, insurance, wealth management and research. Stocks that get listed on NZX look for attracting capital, which can be used to finance their projects, fund growth plans, or refinance their debt.
ALSO READ: 3 NZX Growth Stocks on Radar
Many big NZ and foreign entities are required to file annual audited financial statements as per the Companies Act 1993 every year. Every FMC (Financial Markets Conduct) entity needs to register yearly audited financial statements under the Financial Markets Conduct Act (2013).
Let's have a look at the annual reports of 3 NZX listed stocks.
Marlin Global Limited
Marlin Global Limited (NZX: MLN) share price closed the day's trade flat at $1.11 on 25 September.
Marlin Global Limited is a listed investment company, managed by Fisher Funds Management Limited and has interest in making an investment in quality, and growing companies based outside ANZ region.
Marlin was able to generate a positive return and posted strong results for the year ended on 30 June 2020, recording a net profit of $22.6 million with a total shareholder return of 21.5%.
Some of the highlights of Marlin Global for FY20 results are as follows:
Net profit included gains on investments of $26.4 million, dividend and interest income of $0.6 million along with less operating expenses of $4.4 million.
Gross performance return of Marlin stood at 19.8% comparing positively with the benchmark return of just 0.04%
Adjusted NAV return (the net return to an investor after expenses, fees, and tax.) was at 16.6%.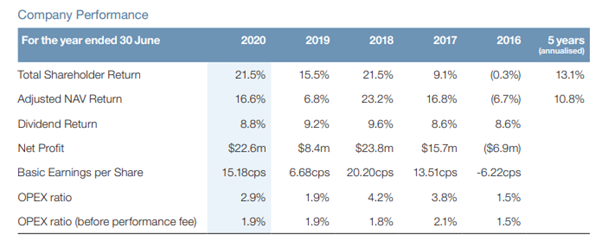 Source: Marlin Global, Annual Report 2020
Marlin paid 7.9 cents per share in quarterly dividends over 12 months to 30 June 2020. The latest declared dividend/distribution including the amount of 2.06 cents per share, was paid on 25 September 2020.
Currently, shares issued under the Dividend Reinvestment Plan (DRP) will be issued at a 3% discount and the share price used to calculate entitlements under DRP has been set as $1.1102.
As per Ashley Gardyne, Senior Portfolio Manager at Fisher Funds Management Limited, the short-term outlook appears to be gloomy as coronavirus continues to impact businesses. There is still a threat of the second wave of infections prevalent till a vaccine arrives. Further, as markets are at all-time highs and valuations are strained, businesses face a challenging investment atmosphere.
INTERESTING READ: A Company Providing Stability to Portfolio and Synchronising Connectivity
However, despite the present challenges, Mr Ashley remains confident on the select group of businesses in the Marlin portfolio's outlook, which he believes will grow substantially and provide strong returns.
Barramundi Limited
Barramundi Limited (NZX: BRM) share price settled the day at $0.77, up by 1.32% from its last close, as on 25 September.
Barramundi is managed by Fisher Funds Management Limited and is a listed investment conglomerate that invests in growing entities of Australia.
DO READ: Three Unique Investment Tips to Build Recession-Proof Portfolio in COVID-19 Crisis
Of late, Barramundi released its annual report, highlighting its financial results of for 12 months ended 30 June.
Some of the highlights from the same are as follow:
Barramundi recorded a net profit of $12.5 million, which compared to an adjusted NAV return of 10.6%.
BRM returned a positive gross performance of 13.5% while the comparative benchmark index was in negative territory at -6.6%.
The profit included gains on investments of $12.7 million, dividend and interest income of $3 million, operating expenses of $3 million and tax of just $0.1 million.

Source: Barramundi Annual Report 2020
Barramundi distributes 2% of the average net asset value per quarter. It paid 5.56 cents per share in dividends over 12 months to 30 June 2020. The next dividend will be 1.34 cents per share and was paid on 25 September. It had a record date of 10 September 2020.
As per Robbie Urquhart, Senior Portfolio Manager, Fisher Funds Management Limited, the economic and investment outlook in the near-term in Australia remains uncertain. The recent surge in cases in Victoria is an impediment to the economic recovery of Australia. He stated that more fiscal and monetary support would be quite supportive of the share market.
TO KNOW MORE, DO READ: Victoria's second wave of COVID-19 is pulling down jobs and consumer spending
Barramundi persists to focus on capitalising investment opportunities that keep coming up as it did in the past by adding REA Group and Woolworths to its portfolio. Overall, Barramundi's portfolio remains well-positioned to withstand the next COVID-19 challenge.
Marsden Maritime Holdings Limited
Marsden Maritime Holdings (NZX: MMH) share price closed the day's trade at $5.87 on 25 September, up by 2.09% from its last close.
Marsden Maritime Holdings is a specified port company with an aim to draw business to the port area via long term lease agreements on land held next to the port. It has stake holdings in many business pursuits in the Greater Marsden Point Area.
Marsden experienced a positive financial year of 2020 and recorded an increased trading surplus of $9.7 million for the year ended 30 June 2020, up by 4.6% compared to last year due to continuous expansion of non-port related activities.
The reported after-tax profit stood at $6.7 million, decreasing by $3 million on pcp due to lower valuation of its investment property assets.
The Company undertook many projects over the financial year of 2020 and is in process to take up more projects and seize growth opportunities.
Let's have a look at some of the projects which includes of the following:
Maritime completed construction of two 4,000m2 bulk store warehouses for INL (International Nutritionals Ltd) in October 2019 and established a new ground lease for South Pacific Industrial, for a temporary (24-month) operation
The Company has also finalised an agreement to lease with a supermarket operator, under which a 2 storey 1,820 m2 building will be constructed. It is anticipated to start operating by January 2021.
Two more projects are also being undertaken, that involves the construction of 2,400 m2 multi-unit building on Marsden Bay Drive and 24 commercial units at 150 each, in 2 buildings of 12 units each.
The Company paid a fully imputed final dividend of 9.25 cents per share on 25 September 2020, bringing the total dividend distribution to 16 cents per share for 2020.
ALSO READ: Why Are Dividend Growth Stocks A Must Have In Every Portfolio: MSFT, JBH
On the outlook front, the level of commercial interest in the Marsden Point area continues to fare well for the future growth of the Company, even after the coronavirus impact.
The Company continues to watch and contribute to the progress of several large government-initiated infrastructure projects that will have positive implications for the Company and the local region.
(NOTE: Currency is reported in New Zealand Dollar unless stated otherwise)
The sole motive of an investor is to grow his/her capital over a period to meet financial goals. In pursuit of this, investors are in a constant hunt for stocks that have capital appreciation potential and those that pay dividends, which one can reinvest to further increase the rate of return. Dividends can also be seen as an incentive for an investor to hold the stock for a longer duration of time, especially when the overall market enters a bear phase, or the underlying invested company goes through business troughs and peaks.
Stocks that have high dividend yield are considered to be a safe bet, but to take a blanket call just on dividend yield would be naive, as there is more to be analyzed to make a sound judgment on the ability of the business to keep paying a dividend over long periods.
Companies over time, increase dividend payout, and in the long term, an astute investor can reap high rewards by picking good dividend stocks, across sectors, thus diversifying and reducing the volatility of one's portfolio. Investors in New Zealand can reap the benefit of dividend imputation credit and further increase their overall return on investment.
So, how should one pick a dividend stock? How to invest in stocks that have the wherewithal to not only pay a dividend but also increase dividend payout over the years?
With Kalkine, you will find answers to these questions, as we conduct a detailed analysis of companies based on quantitative and qualitative parameters.
Sound dividend stocks are investors' delight. They provide the benefits of capital appreciation and the joy of constant income despite the market volatility.
CLICK HERE FOR YOUR FREE REPORT!