Highlights

The retail sector is one of the very few sectors, which experienced a boom amid the global pandemic.
Michael Hill International to distribute dividend next week.
Briscoe Group recorded an impressive interim performance, to pay a dividend in October.
The global pandemic had an adverse effect on all walks of life, thereby dampening the economies of most of the countries.
However, few sectors like healthcare, technology, and retail cashed in the opportunity and hugely benefited during these times.
As per reports, New Zealand's total sales volume grew by 3.3% in the June quarter of 2021, with increased retail spending being witnessed across all the regions.
That said, let us look at the five NZX retail stocks, experiencing a surge in their demand.
Michael Hill International Limited (NZX:MHJ; ASX:MHJ)
The specialty jewellery retailer, Michael Hill International Limited has recently announced to reward its shareholders by paying them a final FY21 dividend of AU3.0 cps, thus taking the full-year dividend to AU4.5 cps.
The dividend payment will be made on 24 September.
At the closing bell, Michael Hill International fell by 1.15% at NZ$0.860, on 14 September.
Related Read: Which are 5 hot NZX dividend stocks to explore in September 2021?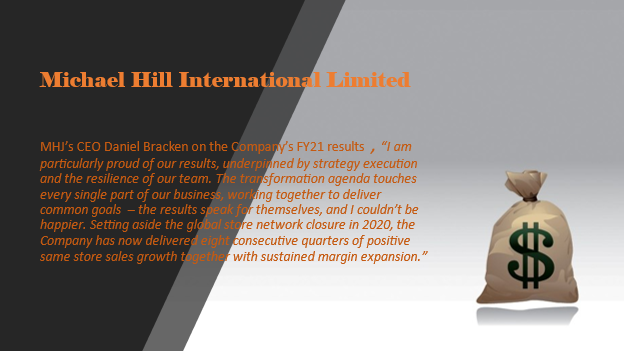 Image source: © 2021 Kalkine Media New Zealand Ltd, data source- Company's announcement
Kathmandu Holdings Limited (NZX:KMD; ASX:KMD)
The clothing and equipment retailer, Kathmandu Holdings Limited has informed the last date of sending director nominations is 23 September in upcoming ASM.
Here, it must be noted that nominations must be sent only by those shareholders who are eligible to attend and vote in the ASM.
On 14 September, at the market close, Kathmandu Holdings was flat at NZ$1.470
Interesting Read: How has Kathmandu Holdings fared after the Australia Lockdown?
Cooks Global Foods Limited (NZX:CGF)
The integrated food and beverage retailer, Cooks Global Foods Limited had yesterday announced to virtually hold its 2021 Annual General Meeting.
The said AGM will be held on 28 September and a presentation would be made available both on CGF's site as well as on NZX.
At the end of the market session, Cooks Global Foods traded flat at NZ$0.043, on 14 September.
Related Read: How to diversify portfolio with NZX small-cap stocks?
Briscoe Group Limited (NZX:BGP; ASX:BGP)
The famous retail chain, Briscoe Group Limited had recently disclosed its interim performance, wherein its NPAT witnessed a growth of 64% and stood at NZ$46 million for the six months ended 1 August 2021.
Moreover, its total group sales clocked NZ$358.4 million, as the Company witnessed a huge customer demand.
BGP maintains a strong balance sheet with net cash amounting to NZ$93.9 million.
The Company has revealed to pay an interim dividend of 11.5 cps, payable on 14 October.
At the closing bell, Briscoe Group, on 14 September, gained 0.14% at NZ$7.010.
The Warehouse Group Limited (NZX:WHS)
The leading general merchandise and apparel retailer, The Warehouse Group Limited will publish its Annual Results on 29 September.
It would be followed by an audio teleconference.
On 14 September, The Warehouse Group declined by 0.52% at NZ$3.830, at the market close.
Related Read: 6 Popular Stocks Worth Watching On NZX- PCT, NZK, SML, WHS, MFT, IFT
Bottom Line
With restrictions and lockdowns across countries, retail stocks have experienced unprecedented growth and huge customer demand as people were forced inside their homes. Due to this, all items, be is staples, groceries to big-ticket items are being ordered online.