Highlights

Being inexpensive, penny stocks are favourites of both new entrants to the stock market as well as seasoned investors.
Geo has notified eligible shareholders of the opening of its placement offer.
Greenfern Industries, the newly listed cannabis company on the NZX, wins Australia's Green Award.
Penny stocks, as we all know, refer to those stocks which are traded for less than a dollar. Despite being high risk, these stocks attract a huge number of investors, for they are cheaply priced, tend to be multibaggers, thereby rewarding their investors with attractive returns.
That said, let's explore the five NZX penny stocks worth looking at in 2022.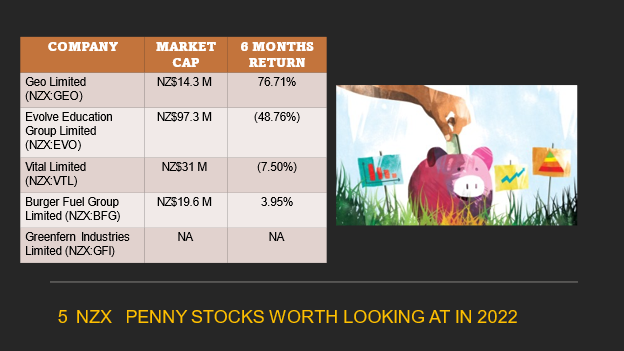 Image source: © 2021 Kalkine Media New Zealand Ltd, data source- Refinitiv
Geo Limited (NZX:GEO)
Geo Limited, a smart software solutions provider, is priced at NZ$0.183, up by 1.67%, at the end of the trading session on 2 November.
Related Read: Are there any 3 NZX penny stocks in tech space?
Recently, the Company has announced the opening of a placement offer worth $NZ1 million for its eligible shareholders, the closing date of which is 19 November.
It is noted that GEO has undertaken the said placement offer to broaden its shareholders' base.
Evolve Education Group Limited (NZX:EVO)
Evolve Education Group Limited, New Zealand's leading early childcare learning centre, has jumped by 2.20% at NZ$0.930, as on 2 November.
Do Read: A glance at 5 NZX stocks' results --SDL, EVO, MOV, GNE, WDT
Though being impacted by COVID-19-related uncertainties, the Group's half-year revenue grew by 15% on pcp and stood at $74.9 million for the period ended 30 June 2021.
It is now concentrating on strategic acquisitions and anticipates an underlying EBITDA between NZ$16 million and NZ$18.5 million for FY21.
Vital Limited (NZX:VTL)
Another NZ-based penny stock that holds strong prospects for 2022 is Vital Limited. On 2 November, the stock last traded at NZ$0.560, down by 1.75%.
Related Read: What are 5 small-cap NZX stocks examples?
In its recently held Annual Shareholder Meeting, VTL shareholders passed resolutions related to the re-election of its retiring directors as well as authorising the Board to fix its auditors' expense.
Burger Fuel Group Limited (NZX:BFG)
Burger Fuel Group Limited has been operating in the Kiwi food space for many years. It was flat at NZ$0.360 by the end of the trading session on 2 November.
Its ex-Chief Operating Officer has recently rejoined the company as a director and would contribute his vast skill base to future direction of the business.
Also Read: Which are the 10 hot NZX-listed penny stocks under 50 cents?
Greenfern Industries Limited (NZX:GFI)
Newly NZX-listed medicinal cannabis company is Greenfern Industries Limited. The stock traded at NZ$0.295, declining by 6.35%, by the market close on 2 November.
Related Read: Greenfern Industries IPO: Why is the cannabis company going public?
Recently, the Company notified its stakeholders of winning the Green Award at the Australian Cannabis & Hemp Industry Awards.
It is noted that the said award was given to exceptional eco-responsible products as well as brands.
Bottom Line
Penny stocks are risky, but we all know that with great risk comes great reward.