Highlights

Penny stocks might have huge growth prospects.
Despite being affected by the COVID-19-related disruptions, Blis Technologies experiences strong growth in its e-commerce channels.
ArborGen Holdings reports a strong 1H FY22 performance, forecasts an impressive EBITDA for FY22.
Penny stocks, often referred to as nano stocks and micro stocks, are very popular among stock market investors as they are inexpensive, and carry the potential of offering gains, i.e., even if values of these stocks increase marginally, the profits generated could be huge.
Hence, investors always keep an eye on penny stocks with sound growth opportunities.
That said, let us explore the five NZX penny stocks that ended in green.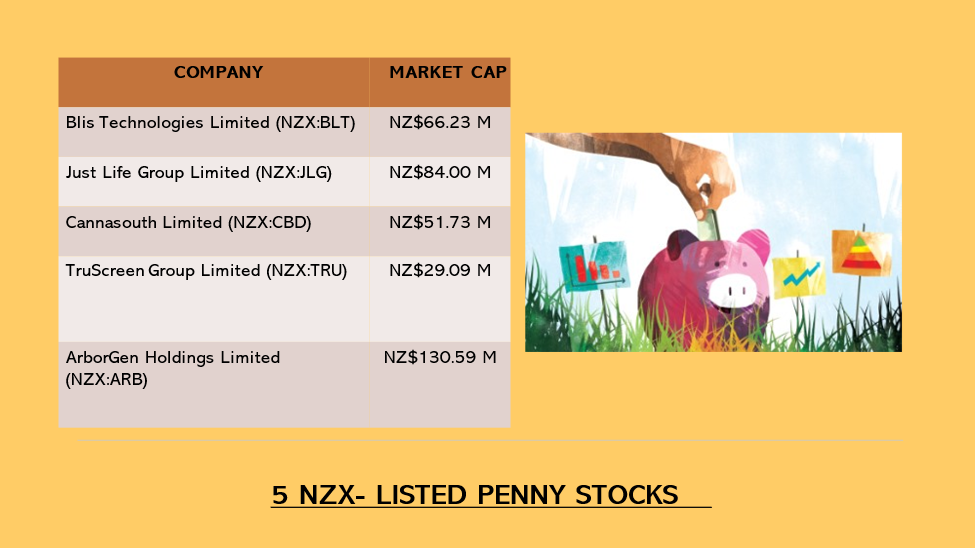 Image source: © 2021 Kalkine Media, data source- Refinitiv
Blis Technologies Limited (NZX:BLT)
Blis Technologies is a medical research-based company. Recently, the Company revealed that its HY22 results were impacted by challenging market conditions across the US market.
Related Read: Blis (NZX:BLT): Did the US' market conditions affect half-year results?
Its overall revenue slumped by 33% to NZ$3.9 million, with an EBITDA loss of NZ$1.5 million during the said period.
However, BLT witnessed strong growth in its e-commerce channels along with new revenue streams from skincare and the Canada launch.
The Company remains positive for FY23 with the establishment of new market initiatives.
On 29 November, at the closing bell, Blis Technologies was up by 1.92% at NZ$0.053.
Just Life Group Limited (NZX:JLG)
Just Life Group Limited aims at improving lives of NZ people by providing them with clean drinking water. Recently, the Group announced that its CFO, Eldon Roberts, will now transit into the role of COO and Graeme Read will take up the position of CFO from February next year.
Must Read: Which are the best 15 NZX penny stocks worth exploring?
The above decisions have been made keeping in mind JLG's ongoing growth and the advancement of business operations.
On 29 November, at the closing bell, Just Life Group rose by 0.47% at NZ$0.850.
Cannasouth Limited (NZX:CBD)
Cannasouth Limited is a famous medicinal cannabis company in New Zealand. A few days ago, the Company declared that it had completed the commissioning of its cultivation facility along with its JV partner, Cannasouth Cultivation Ltd.
Do Read: Why to look at 4 NZX-listed pharma stocks in 2022?
Based in Waikato, the said facility is a new state-of-the-art project involving intensive testing, thereby ensuring high-tech cultivation.
On 29 November, at the closing bell, Cannasouth jumped by 4.11% at NZ$0.380.
TruScreen Group Limited (NZX:TRU)
Famous for manufacturing cervical cancer screening devices is TruScreen Group Limited. Today, the Company has released its half-year results, showing a solid performance.
Related Read: One Medical Device Company With Long Trem Growth Potential
Its revenue and single-use sensor sales growth jumped by 25% and 35%, respectively, on a Y-O-Y basis.
Also, its net operating cash flow was recorded at NZ$1.7million, and its cash position stood at NZ$3.67 million during the end of the said period.
TRU continues to focus on product innovations, rapid expansion in China, its largest market, and also making its presence felt in Central and Eastern Europe and looks forward to a strong FY22 performance.
On 29 November, at the closing bell, TruScreen Group surged by 7.59% at NZ$0.085.
ArborGen Holdings Limited (NZX:ARB)
ArborGen Holdings Limited is a globally acclaimed supplier of advanced forestry seedlings. It has reported a positive revenue and earnings growth of 59% in its US and Brazil markets, amounting to NZ$4.6 million, for 1H FY22.
Moreover, the sale of its ANZ business for NZ$22.25 million, which would be completed on 30 November, would provide ARB with the enhanced financial flexibility to pursue future growth opportunities.
ARB has reaffirmed its US GAAP EBITDA guidance between US$11.3 million to US$11.7 million for FY22.
On 29 November, at the closing bell, ArborGen Holdings climbed by 1.96% at NZ$0.260.
Bottom Line
Often, penny stocks in their growth phase, tend to offer greater value when compared to high-priced stocks of large companies.