Highlights

Penny stocks are low priced stocks and have low liquidity.
They are attractive to investors as they can invest in many shares due to their low price.
These stocks have high volatility, leading to greater potential for reward.
Penny stocks trade at lower prices and can be bought in larger numbers due to their low prices. These stocks have low liquidity but offer high returns in a short time period.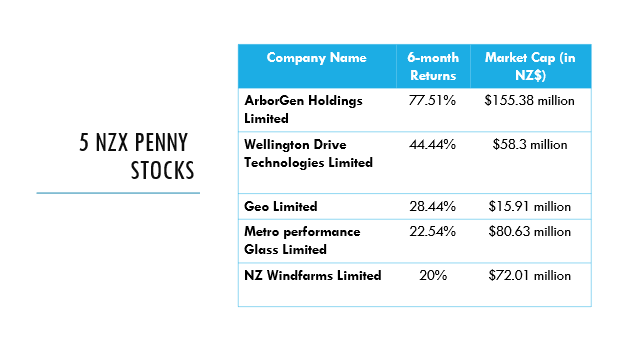 Image source: © 2021 Kalkine Media New Zealand Ltd, Data source- Refinitiv
Here is a look at 5 penny stocks that have performed well in the past six months.
ArborGen Holdings Limited (NZX:ARB)
Engaged in the forestry genetics business, ArborGen delivered an EBITDA of $5.4 million despite COVID-19-related disruptions in FY21. However, the Group reported a 10% decline in seedling sales during the period to 391 million units.
ARB has a FY22 target EBITDA between the range of US$13 million and US$14 million.
ARB delivered a six-month return of 77.51%. The Company ended the day 3.23% in red to close at $0.3.
Wellington Drive Technologies Limited (NZX:WDT)
Leading Internet of solutions Company, Wellington Drive, reported a 49.2% increase in revenue in the first half of this year on pcp, to $30.6 million. WDT also announced recently that 3 million ECR2 motors have rolled off the production line since their launch in late 2016.
RELATED READ: 5 hot NZX technology stocks to explore in September 2021
The Company expects FY21 EBITDA guidance between $3.5 million to $4.5 million before subtracting non-recurring charges.
WDT delivered YTD returns of 44.44%. The Company ended the day 3.7% in red to close at $0.13.
Geo Limited (NZX: GEO)
Software as a Service (SaaS) business, Geo, reported an 87.2% rise in annual recurring revenue retention to 90.5% across FY21 and a strong growth of 286% in new customers in H2 of FY21.
The Group also witnessed a substantial drop in costs because of permanent efficiencies, and short-term cuts in salaries, rent and marketing spend in H1 amid COVID-19.
RELATED ARTICLE: Look at the 5 popular NZX-listed technology stocks
GEO delivered YTD returns of 28.44%. The Company traded flat at $0.14.
Metro performance Glass Limited (NZX:MPG)(ASX:MPP)
High-performing glass and the industry-leading service provider, Metro Performance, resumed its operations in NZ regions that are under Alert level 3 with all Australian plants continuing to run.
DO READ: Metro Performance Glass (NZX:MPG) resumes operations in Alert Level 3 areas
The Group is keeping an eye on changes in COVID-19 restrictions in both countries. It will provide a further update in November 2021.
MPG delivered YTD returns of 22.54%. The Company ended the day 1.15% in red to close at $0.43.
NZ Windfarms Limited (NZX:NWF)
Windfarm owner and operator, NZ Windfarms, announced some governance changes on 2 September. The company stated that John Southworth, the Chair and Director, shall step down from his position in the ASM to be held in October while Christine Spring shall be appointed Interim Chair for the Company if all shareholders agree on the same.
The Group posted the second-highest net electricity revenue of $9.7 million and a net operating a cashflow of $4.9 million in FY21.
NWF delivered YTD returns of 20%. The Company ended the day 4% in red to close at $0.24.
Bottom Line
Though penny stocks can lead to unpredictable gains, they are also high-risk investments at the same time.