Highlights

Mid-cap stocks are the companies that fall between small-cap and large-cap categories.
Mainfreight's sales soared 41.4% for the half-year ended 30 September 2021.
Freightways announced the allotment of share rights to its executives.
Mid-cap stocks are the companies that have a market capitalization between $2 billion and $10 billion. These stocks fall between small-cap and large-cap categories.
These stocks have a higher possibility of growing their earnings and market share and are relatively liquid compared to small caps.
Amid this backdrop, let's walk you through 4 mid-cap stocks that can be considered for next year.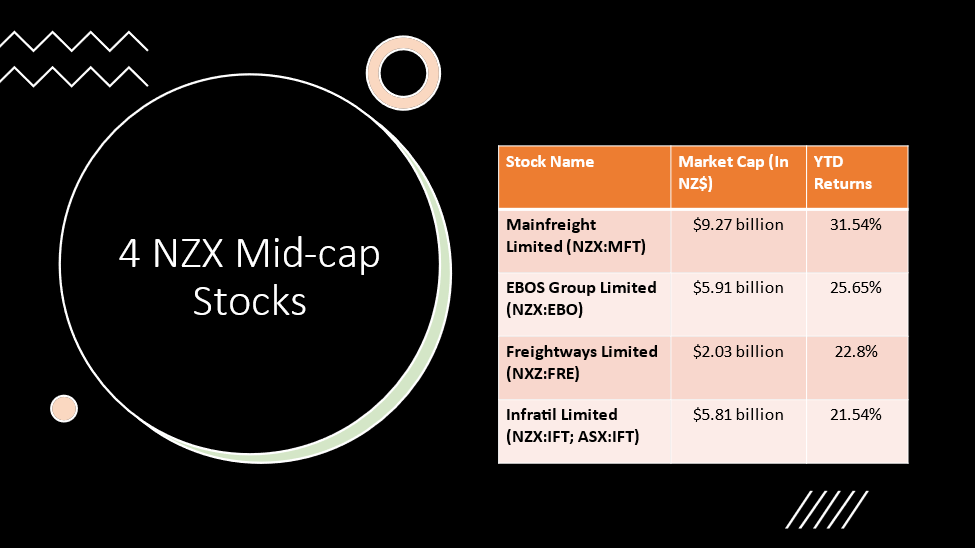 Image source: © 2021 Kalkine Media, Data source- Refinitiv
Mainfreight Limited (NZX:MFT)
Global supply chain company Mainfreight announced a positive half-year performance for the six months ended 30 September 2021. The Group's sales climbed by 41.4% to $2.27 billion, while NPAT increased by $57.8 million to $130 million in the period.
ALSO READ: Would NZX freight and logistics stocks see turnaround in 2022?
High air and sea freight pricing, as well as higher freight levels, boosted MFT's air and ocean income. Present activity and growth are likely to continue all through MFT's network globally for the remaining fiscal year and into next year as well.
MFT ended the day 0.48% in red to close at $91.67.
Ebos Group Limited (NZX:EBO)
EBOS, engaged in marketing and distributing medical, healthcare, and pharma products, delivered a record year with revenue exceeding $9 billion for FY21, up by 5% on pcp. This growth was majorly led by growth in its animal care and healthcare segments.
RELATED READ: 5 NZX healthcare stocks that can be explored ahead of 2022
For Q3 ended 30 September, EBOS's revenue and earnings grew more than 10% compared to pcp. The Group announced a final dividend of $46cps, taking a full-year dividend to 88.5cps.
EBO ended the day 0.75% in green to close at $36.25.
Freightways Limited (NXZ:FRE)
Package, business mail as well as information management services provider, Freightways allotted 94,370 share rights, as per new LTI rules, to executives with a 3-year vesting period starting 1 July 2021.
The Group has noted that annual allotments may be made every year after FRE's results for the full year.
FRE ended the day 1.21% in green to close at $12.55.
Infratil Limited (NZX:IFT; ASX:IFT)
NZ investment holding company Infratil notified this month that the interest rate on its IFTHA bond had been readjusted to 3.14% per annum from 15 November 2021.
ALSO READ: Which NZX companies are prominent in infrastructure space?
The new rates are now visible in the Company's trading system.
IFT ended the day 0.44% in red to close at $8.005.
Bottom Line
Mid-cap stocks provide growth and stability, thus, proving useful in diversifying a portfolio.
(NOTE: Currency is reported in NZ Dollar unless stated otherwise)