Highlights

Investors remain keen to invest in mid-cap stocks for they offer a higher growth potential when compared to large-cap stocks.
SkyCity Entertainment Group notifies its head's retirement.
Contact Energy to hold its ASM in around mid-November.
Midcap stocks are referred to those companies, which have a market cap between NZ$2 billion to NZ$10 billion.
Though being relatively low priced as compared to large-cap stocks, these companies are growth-oriented and have the potential to surpass their big peers.
Hence, investors are attracted to invest in such companies.
That said, let us check out the two popular NZX listed midcap stocks, and whether they have growth prospects in Q4.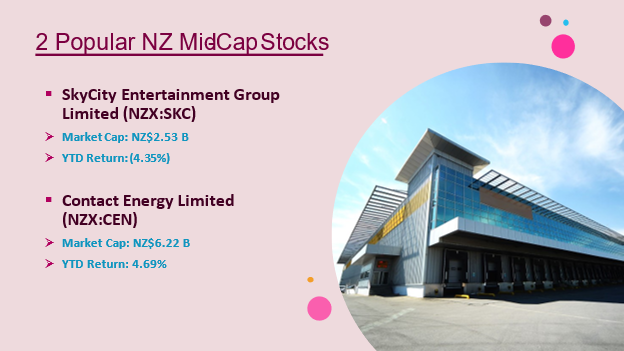 Image source: © 2021 Kalkine Media New Zealand Ltd, data source- Refinitiv
SkyCity Entertainment Group Limited (NZX:SKC; ASX:SKC)
Headquartered in Auckland, SkyCity Entertainment Group Limited is New Zealand's famous gaming, entertainment, and hospitality company.
A few days back, the Company had informed its stakeholders about the retirement of its Chair and Director, Rob Campbell.
Campbell plans to step down early next year so that he could focus on other work commitments.
SKC has begun to seek a suitable replacement for the said position.
On 15 October, at the closing session, SkyCity Entertainment Group was down by 1.26% at NZ$3.140.
Related Read: Why should 5 tourism stocks worry about 2022, not 2021?
Contact Energy Limited (NZX:CEN; ASX:CEN)
Contact Energy Limited is the country's famous electricity generator as well as a leading provider of gas and broadband connections.
Recently, CEN has intimated its shareholders of conducting an online 2021 ASM on 10 November.
If deemed fit by its shareholders, the Company intends to pass resolutions relating to the re-election of David Smol and Jon Macdonald as well as the election of Sandra Dodds and Rukumoana Schaafhausen for the post of directors.
Further, it plans to empower its Board to fix auditor's fees and expenses.
At the closing bell, Contact Energy fell by 1.71% at NZ$8.070, on 15 October.
Interesting Read: Is Contact Energy (NZX:CEN) government owned? Is it based in NZ?
Bottom Line
An ideal investment portfolio has a balanced mix of all the stocks, be it largecap, midcap, or smallcap stocks. With a diversified portfolio, investors are not much affected by the market turbulence.