Summary

Infratil Limited share price has surged by 78%, from a low point of $3.08 on 23 March to a high point of $5.49 on 22 October.
The Group posted an Underlying EBIDTA of $480.9 million for FY20 compared to $431.2 million in FY19 and made investments worth $1,991 million during the year.
The Infrastructure investor raised $300 million in June 2020 via capital raising to fund growth investments and take up new opportunities.
Infratil's CDC business is exploring NZ market with the construction of two 10 Megawatt data centres in Auckland.
The Group has projected EBIDTA impact of $60 million and $470 million in FY21 in its Vodafone business.
Infratil Limited (NZX:IFT) is an infrastructure investment firm based in New Zealand that invests in energy, transport, and social infrastructure businesses.
Infratil Limited shares gave a return of above 70% from $3.08 on 23 March 2020 to $5.49 on 22 October 2020.
FY20 Performance
Infratil listed on NZX, came through the impact of COVID-19 in a good shape.
Let's have a look at Infratil's investments.
Source: Infratil 2020 Annual Report
The Group posted a net surplus of $241.2 million in FY20, which was dictated by the gains achieved by Tilt Renewables from the sale of its Snowtown 2 wind farm for $1,073 million and investments worth $1,991 million undertaken across the Group.
The Group's investment comprised of Infratil's acquisition of $1,030 million of 49.9% worth NZ's Vodafone plus $920 million investments carried out inside Infratil's companies.
Some of the highlights of the Group results for FY20 ended 31 March included the following:
Underlying EBIDTAF from continuing operations stood at $480.9 million for FY20 compared to $431.2 million in FY19, up by 13% showed changes in the portfolio and a rising contribution from data and communications infrastructure.
Capital expenditure investment of $920 million, including $541 million in renewable energy and $227 million at CDC Data Centres.
Group's net debt rose from $1,180.7 million in FY19 to $1,174.7 million in FY20.
Dividends for FY20 stayed flat and stood at 17.25 cents per share.
Infratil's CDC and Vodafone NZ business
CDC Data Centre was established in 2007 and is a leading operator of data centre facilities in Australia and NZ, ensuring accessibility of mission-critical systems.
As per the Auckland investor update provided on 21 October, CDC data centre business in which Infratil has 48% stake, had to adjust with altering coronavirus restrictions but attained EBIDTA growth of 50% from FY19 to FY20.
CDC is setting its foot in the NZ market with more than $300 million initial investment and exploring it, with the construction of two 10-Megawatt data centres in Auckland.
CDC also plans to secure an additional land to provide runway for further growth, grow EBITDA run-rate by 25% year on year and grow its National Critical Infrastructure client base in FY21.
Further, Infratil acquired 49.9% of Vodafone NZ worth $1,030 million in July, last year. The Group has projected EBIDTA impact of $60 million and $75 million in FY21 in its Vodafone business due to adverse effects on roaming, pre-paid and retail revenues amid COVID-19.
Digital adoption rates have speeded up by several years, with a significant rise in mobile and fixed network data. COVID-19 has boosted the demand for its unique set of network assets as connectivity strength has become important.
The Group foresees Vodafone as an evident 5G mobile network leader in the NZ market.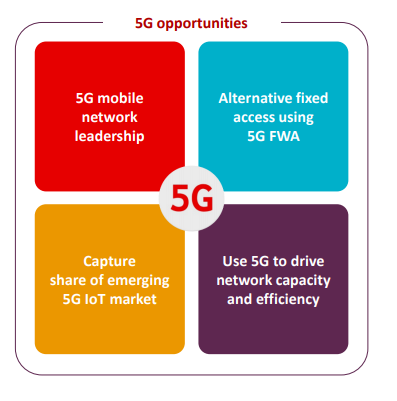 Source: 2020 Vodafone Investor Presentation, dated: 21 October 2020
$50 million Capital raised in June via SPP
On 30 June, Infratil raised $50 million under SPP (share purchase plan). SPP was part of Infratil's equity raising declared on 9 June 2020, where the Company raised $250 million from shares offered to institutional investors, bringing the total amount raised under the capital raising to $300 million.
The Company stated that the shares offered were oversubscribed (applications for $131 million of shares were obtained) due to which investors had to accept fewer shares than they applied for.
The motive behind the capital raising was to increase its share capital to bolster its balance sheet, invest in the existing portfolio and take up new opportunities ahead.
Outlook for FY21
COVID-19 has created an extraordinary level of uncertainty. Infratil expects the following for FY21, considering the COVID-19 uncertainties.
The extraordinary growth and expansion plans of the CDC business will persist, and earnings will rise.
With the growing demand for mobile and broadband power, Vodafone NZ will invest in customer support and enhanced efficiency.
Trustpower will keep assisting while the market for electricity stays flat until initiatives to cut pollution gain more popularity.
Tilt, Longroad and Galileo are likely to continue to recognise prospects and to execute plans to develop renewable generation.
RetireAustralia has a high degree of confusion over the need for its services, what happens with residential valuations and whether it increases access to government funds for aged care.
Wellington Airport is experiencing an increase in domestic traffic following the elimination of international air travel restrictions, and there is a good case of substantial recovery.
Over the last 10 years, Infratil has accomplished its goal of increasing its dividend steadily and sustainably. In 2019, Infratil signalled towards flat dividend outcome for FY20, as a possibility due to a high level of investment activity, and the lower initial level of cash earnings, eventually generated by new acquisitions.
The Group did not provide guidance for FY21 due to the nature and extent of uncertainties surrounding the coronavirus crisis.
(NOTE: Currency is reported in NZ Dollar unless stated otherwise)