Highlights

Infratil investment activity is centered on building scalable platforms.
The Group recently committed US$233 million to a new renewable energy platform called Gurin Energy.
Infratil expects its EBTDAF to be between $505 and $550 million in FY22.
Infratil Limited (NZX:IFT; ASX:IFT) is an NZ-based infrastructure investment firm that owns and runs airports, renewable energy, data and social infrastructure sector businesses.
The Group runs through Trustpower, Wellington International Airport, Qscan Group and associate companies like CDC Data Centres, Vodafone New Zealand, Longroad Energy and other key infra projects.
Infratil conducted its annual meeting for 2021 on 19 August this year.
In FY21, Infratil's investment activity was particularly focused on constructing scalable platforms that have defensive attributes and demand growth for the long term.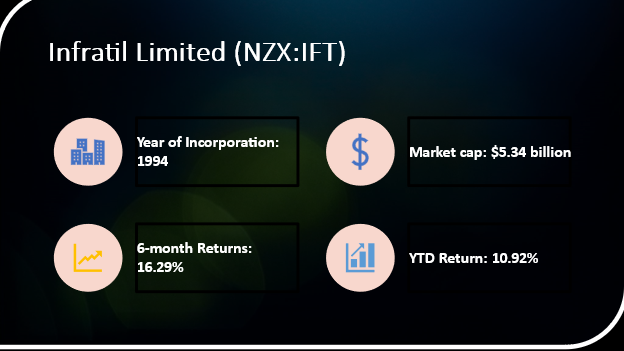 Image source: © 2021 Kalkine Media New Zealand Ltd, Data source- Refinitiv
Some of the highlights of the Group's portfolio and investment activity included the following-
Installed capacity was increased to 133MW in CDC Data Centers with the commissioning of Eastern Creek 3 in FY21.
Vodafone NZ FY21 investment stood at $126 million across 5G and regional network improvements, fixed wireless acceleration and investment in digital transformation.
Growth capital projects were halted at Wellington Airport, but runway overlay was brought forward.
Construction of 907MW of development projects was completed in Longroad Energy in FY21 with some construction in progress on solar and the Muscle Shoals project.
Infratil obtained 56% of Qscan Group in December 2020 for AU$289.6 million. The group also acquired 56% of Pacific Radiology for NZ$313.6 million in May 2021.
Infratil invested early in the wind power generation business via Trustpower and Tilt Renewables. The Group spent $2150 million of capital, building 1106 MW of capacity.
ALSO READ: Infratil (NZX:IFT) to develop renewables in AsiaE
IFT recently pledged US$233 million to create a renewable energy platform, Gurin Energy, in Singapore. The platform will handle a portfolio of established as well as greenfield renewable energy projects across the Asia region.
This comes after the sale of its multi-billion-dollar Australian investment arm, Tilt Renewables.
Infratil finalised the sale of its 65.15% interest in Tilt Renewables on 3 August and earned $1958.3 million after transaction costs.
RELATED ARTICLE: What does Infratil's (NZX:IFT) investment activity reflect?
Infratil applied for $841.8 million of the earnings from Tilt's sale to repay its present drawn bank facilities. The Group has next bank maturities of $65 million in February 2022, $93.7 million of IFT190 bonds (6.85%) in June 2022 and $100.0 million of IFT240 bonds (5.65%) in December 2022.
DO READ: Infratil (NZX:IFT): What are its guidance and outlook for FY22?
On 27 September, at the time of writing, IFT was trading at $8.045, down 0.06%.
Outlook
Infratil expects its EBITDAF between $505 and $550 million in FY22 based on Infratil management's present anticipations and assumptions on the trading performance.
The Group is uniquely placed to redeploy capital with a strong channel of opportunities within existing platforms.
(NOTE: Currency is reported in NZ Dollar unless stated otherwise)