Highlights

Infrastructure stocks aid the country's progression and long-term prospects.
Steel & Tube Holdings declares incentives for its vaccinated staff members.
Metro Performance Glass reveals 1H22 performance; profitability reduced due to COVID-19 impacts.
As per the latest reports of Stats NZ, the September 2021 quarter witnessed a decreased volume of building activity across the Kiwi nation, i.e., it dipped by 8.6% in the said quarter when compared to preceding quarter majorly because of nationwide restrictions and lockdowns.
Also, both residential, as well as non-residential building activity declined by 6.4% and 12%, respectively, in the September 2021 quarter.
On this note, let us look at the top NZX infrastructure stocks.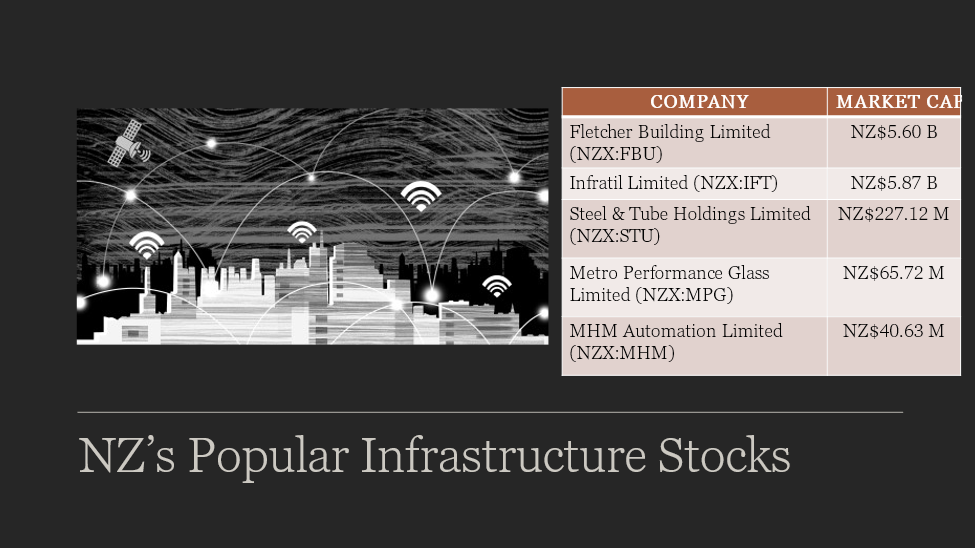 Image source: © 2021 Kalkine Media, data source- Refinitiv
Fletcher Building Limited (NZX:FBU; ASX:FBU)
Fletcher Building Limited is a big name across New Zealand's construction and infrastructure sector. In its recently held 2021 Annual Shareholders' Meeting, the Company passed resolutions related to the re-election of its directors, namely, Doug McKay, Rob McDonald, and Cathy Quinn.
Do Read: Fletcher (NZX:FBU): What is COVID-19 impact on FY22?
Moreover, FBU's shareholders have authorised their directors to fix the auditor's remuneration.
At the closing bell, on 6 December, Fletcher Building gained by 1.16% at NZ$6.950.
Infratil Limited (NZX:IFT; ASX:IFT)
Infratil Limited is a major operator of infrastructural businesses across the country. Recently, the Company revealed the resetting of the interest rate payable on its IFT bonds to 3.14% p.a.
Related Read: Infratil (NZX:IFT): How did it perform in the interim results?
Infratil has stated that the said interest rate would be effective from 15 November onwards.
At the closing bell, on 6 December, Infratil dipped by 2.93% at NZ$7.950.
Steel & Tube Holdings Limited (NZX:STU)
Steel & Tube Holdings Limited is engaged in the production and distribution of steel products across Kiwiland. A few days back, the Company announced an incentive scheme so as to encourage its staff members for getting vaccinated.
Interesting Read: One Steel Company with Decent Growth Prospects
The said incentives were offered in the form of the Company's shares, and a number of employees availed the opportunity.
At the closing bell, on 6 December, Steel & Tube Holdings fell by 0.72% at NZ$1.380.
Metro Performance Glass Limited (NZX:MPG)
Metro Performance Glass Limited is a well-known supplier of glass in New Zealand. Recently, MPG declared its FY22 half-year results.
Must Read: What has been last 6-month returns for 5 NZX penny stocks?
Its 1H22 revenue stood at NZ$116.9 million, which was in line with the preceding year. However, its profitability reduced to $0.4 million, majorly on account of COVID-19 restrictions being faced by the Company along with ongoing global shipping disruption.
The Company is focused on following a prudent cost strategy and product diversification so as to create a solid pipeline of work.
At the closing bell, on 6 December, Metro Performance Glass gained by 2.78% at NZ$0.370.
MHM Automation Limited (NZX:MHM)
MHM Automation Limited is known for developing and supplying automated systems across logistics and food processing sectors. Of late, the Company had organised its ASM.
Related Read: Which are the five popular NZX-listed material stocks?
One resolution was carried out by its shareholders for the re-appointment of BDO as MHM's auditor.
Further, the directors were empowered to fix its fees and expenses.
At the closing bell, on 6 December, MHM Automation declined by 1.59% at NZ$0.620.
Bottom Line
Infrastructural stocks are vital to the country's development, for it not only progresses the economy but also offers job opportunities to thousands of people. Hence, investing in these stocks is recommended as they tend to prove beneficial in the long run.