Summary

As per a presentation, the Company highlighted its key points for delivering more of its core, as well laying foundation for future.
Genesis Energy's plan covers serving its customer, digital innovation, and future-gen.
During November 2020, the Company evaluated its 46% stake held Kupe asset, which has lucrative cash flow and solid growth outlook.
On 9th of December 2020, Genesis Energy Limited (NZX:GNE) revealed a strategy and future plan of action to its shareholders through a presentation, which had all sorts of innovative new ideas for how the Company wishes to grow in the time to come.
New Zealand based energy company Genesis Energy specialises in the sale of LPG and natural gas through various online brands, serving as many as 500,000 clients across the vicinity.
They envision becoming the first choice for customers for energy management. They also hope to limit their GHG (greenhouse gas) emissions to avert the adverse impacts of climate change. They further wish, through different strategies, earn stably in different verticals, hereby helping the Company prosper.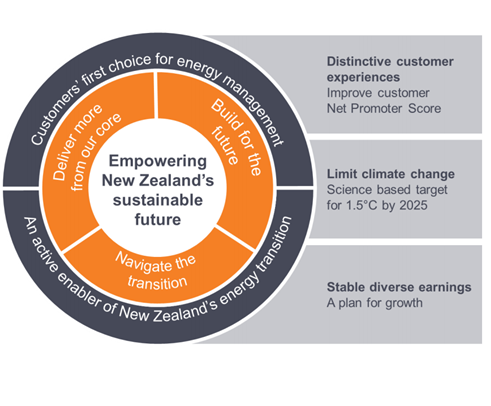 Image Source: Genesis Stakeholder Day Presentation, dated December 9th 2020
Key plan of action for FY2021
Development of innovative products corresponding to current market requirements
To rank amongst the top LPG suppliers in the various regions
To invest in technology in such a way that enhances the customer experience from the beginning to the end
Taking Energy Online to the 2nd tier market
Genesis Energy aims to benefit from the revenue generation through different verticals and use this to diversify into markets where they feel there is most potential for growth in the near future.
With a future centric approach, the Company wishes to develop infrastructure and strategies to take them towards a secure and bright future.
Image Source: Shutterstock
Responsible, sustainable, renewable energy
Genesis Energy is working towards reduction in emissions through the future years by creating a reliable, renewable, and cost-effective electricity system that benefits one and all.
According to their target, by the year 2025, they will have reduced direct emissions by 36% and indirect emissions by 21% respectively.
Kupe review
As on November 27, 2020, Genesis Energy Limited announced that they were undertaking a review of its Kupe asset. Owning 46% of the Oil and Gas Field of Kupe, it is known to be a strong asset with positive cash flow and opportunities for further growth.
The review was aimed at determining a future course of action keeping in mind the risks involved. The outcome of the review is expected to be announced in the mid of 2021.
Stock performance
The year began on a high note for the Company. On 6 January 2021, at the time of writing, Genesis Energy was trading at NZ$3.78, up by 2.16%.