In these uncertain times, it can be said that investors are looking protection of their capital or for stocks paying decent dividends. As we know, the outbreak of COVID-19 has disrupted the global financial markets and there is uncertainty about the outlook. Amidst all these, here is a stock possessing decent outlook and which can withstand the global economic downturn. It looks like the company is possessing decent fundamentals which could help it moving forward. Also, this stock has delivered a return of ~24.43% in the span of only 3 months. This stock has also performed well in the past.
Investore Property Limited (NZX: IPL)
Summary:
One of IPL's key strategic pillars is proactive capital management, to maintain healthy as well as flexible balance sheet, while preserving sustainable returns for its investors.
Moving forward, the focus of the company revolves around monitoring the impact of coronavirus, seeking to minimise impact to IPL's business, while also supporting tenants to maintain sustainable and profitable businesses.
The company also focus towards maintaining disciplined capital management to allow for execution of the strategy.
Investore Property Limited (NZX: IPL) is a commercial property ownership business that has been created to invest in quality Large Format Retail property assets. The company was established in the month of October 2015 in relation to the purchase of 19 Countdown supermarkets from Antipodean Properties Limited and Antipodean Supermarkets Limited.
Sustainable Profit in the Past
In FY17, the company's net income stood at $28.52 million, which in FY20 stood at $28.62 million. However, the company's gross rental income has registered CAGR of 13.32% during the same time period. In FY17, the company's gross rental income stood at $37.40 million, and it has increased to $54.42 million.
Financial Performance (Source: Refinitiv (Thomson Reuters))
Consistent Performance in FY20
The company's financial performance in FY20 was consistent with the previous year. Net rental income stood at $48.1 million as compared with $47.4 million in FY19, which the company believes to be very optimistic given that it settled the sale of Countdown Dunedin South and, therefore, did not get any rental income from this property during the year.
Overall, profit before other income and income tax marginally decreased in FY20 and stood at $26.7 million as compared to $27.0 million in FY19. PAT also decreased in FY20 due to a net valuation movement of $7.7 million for FY20 as compared with the net valuation movement in FY19 of $17.2 million. Distributable profit grew by $0.2 million on a y-o-y basis to $21.1 million, and the company also declared a cash dividend of 7.60 cents per share.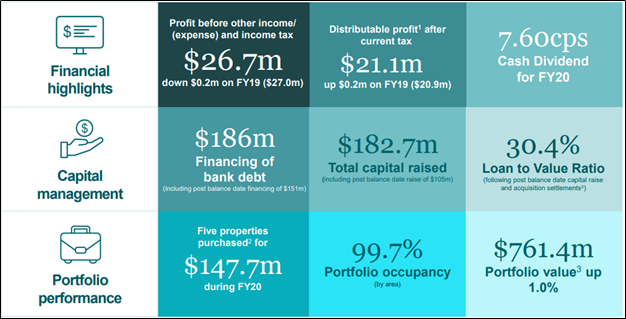 Performance in FY20 (Source: Company Reports)
New Acquisitions in FY20
During the year, the company acquired or agreed to acquire, five properties, consistent with its strategy of targeted growth and acquisitions that enhance geographical and/or tenant portfolio diversification.
In August 2019, the company acquired Countdown New Brighton for a purchase price of $5.75 million. It is situated in the area of Christchurch that the Christchurch City Council has allocated for redevelopment, and it is considered that this property will gain from the revitalisation of the area.
The company also purchased a small property in the month of March 2020, close to its existing Countdown in Papakura, Auckland for a total value of $1.2 million.
The company decided to purchase three large format retail properties from SPL for a total purchase price of $140.75 million in November 2019.
Portfolio Metrics (Source: Company Reports)
Major Tenants are from everyday needs
The company largely focusses on large format retail properties, with tenants that operate in categories that are 'everyday needs', such as supermarkets, pharmacies, and hardware stores. These 'everyday needs' tenants represent types of spend that stay solid through various market conditions. Additionally, the company has limited number of leases (by Contract Rental) that contain contractual rights for the tenants to suspend or abate rental payments because of lockdown restrictions by government.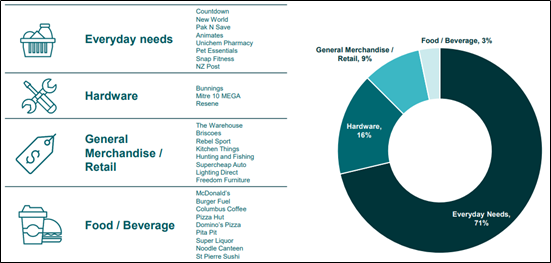 Breakdown of Tenants (Source: Company Reports)
IPL Has a Strong Balance Sheet
During the year, the company refinanced $35 million of its banking facilities and undertook a capital raising to acquire the three properties from SPL, raising $77.7 million of gross proceeds. The net proceeds from the capital raising were applied to pay down drawn debt.
Road Ahead
In the coming years, the company will maintain with its strategy of targeted growth to sustain its objective of increasing distributions and total returns to investors over the period of medium to long term. The company will also maintain a disciplined investment approach, concentrating on opportunities that can improve the present portfolio of the company. The company's strategy revolves around proactively managing the capital to maintain healthy as well as flexible balance sheet for growth, while at the same time, preserving sustainable returns to the investors.
The company assumes to pay at least a cash dividend of 7.60 cps for FY21, in line with its dividend policy of paying in the range of 95 per cent to 100 percent of the distributable profit.
Key Points to Consider
The company is exposed to several financial risks like interest rate risk, credit risk as well as liquidity risk. The company's overall risk management strategy focuses towards minimising potential negative economic impact of the unpredictable events on financial performance.
On September 4, 2020, the share price of IPL ended the session at NZ$2.19 per share, reflecting a fall of 0.45% on an intraday basis. It has a market capitalisation of ~NZ$806.22 million.